Susie Wolff made her full test debut with former champions Williams on Friday, the biggest step by a woman driver in Formula One for more than 20 years, with race regulars paying her compliments.

"I think she was pretty good, she was pretty quick and that's really fantastic to see a lady driving Formula One," Ferrari's Felipe Massa told reporters after the final day of a young driver test at Silverstone.

"I was really happy when I saw the lap times and pretty happy for her."

Wolff, now 30, may not be a young driver but she was as thrilled as any of those making their test debuts after completing 89 laps and setting the ninth fastest time of the 16 drivers on track during the day.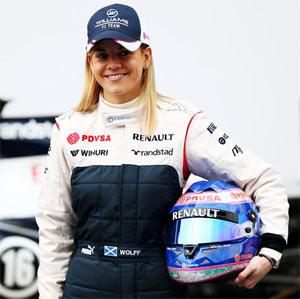 Her best lap of one minute 35.093 seconds compared to the day's fastest of 1:32.894 set by triple champion Sebastian Vettel in his Red Bull.

"It was important for me to show I had the performance," the Scot, wife of Mercedes motorsport head and Williams shareholder Toto Wolff, told reporters.

"It was fantastic today. The team did a great job getting me through the day, talking me through everything step by step," she said.

"Physically it wasn't easy, but it was what I was expecting. I was well prepared so it was completely manageable. My only problem was my seat as I was moving around a little," added the development driver who spent seven seasons racing in the DTM (German Touring Car) series but scored only four points.

Formula One has not had a female driver in decades, with Italian Giovanna Amati the last to try and get on the grid when she failed to qualify in 1992. Compatriot Lella Lombardi was the last to start a race, in 1976.

Wolff has taken part in straight line aerodynamic tests, without other racing drivers present, and as development driver was the first to drive this year's car before pre-season testing.

Spaniard Maria De Villota was appointed test driver for Marussia last year, before she lost an eye in an accident during an aerodynamic test in England. However she never took part in a general test with other drivers.

Britain's Katherine Legge also tested a Minardi in Italy in 2005.
Photograph: Paul Gilham/Getty Images