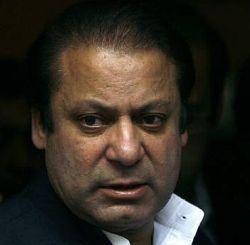 Pakistan has taken several initiatives, including the revival of back channel diplomacy, to improve ties with India, Prime Minister Nawaz Sharif said on Thursday.
Sharif informed visiting British Foreign Secretary William Hague, who called on him at his office, about the "initiatives aimed at improving relations with India, including the revival of back channel diplomacy and the resumption of the dialogue process".
Hague expressed full support for all initiatives to normalise ties between India and Pakistan, according to a statement issued by Sharif's office.
The statement did not give details of all the Pakistani initiatives to improve ties with India though Sharif has appointed former Foreign Secretary Shahryar Khan to spearhead Track II diplomacy and hold talks with India officials to prepare the ground for resolving outstanding issues.
Khan has already visited India, where he called on Prime Minister Manmohan Singh.
Sharif has also indicated his desire to boost trade ties, including the import of electricity to overcome an energy crisis.
Officials of the two sides are working on the schedule for the next round of talks.
Efforts are also afoot to organise a meeting between the prime ministers of the two countries on the sidelines of the UN General Assembly session in New York in September.
However, there has been no movement so far on key Indian concerns like the speedy prosecution of seven Pakistani suspects charged with involvement in the Mumbai attacks and giving India Most Favoured Nation-status.