Asian Games gold medallist Sudha Singh qualified for the upcoming London Olympics in the 3000m steeplechase by breaking her own National record in the VIII meeting Iberoamericano de Atletismo championship in Huelva, Spain.
The 25-year-old Indian, who barely missed the Olympic qualification mark at the Shanghai Diamond League last month, showed tremendous form to clock an impressive 9:47.70 secs, which earned her the Olympic B-grade.
By clocking 9:47.70 secs on Thursday night, Sudha broke her national record of 9:49.25 secs, set at the Shanghai Diamond League, a statement from the Athletics Federation of India said.
Like in Shanghai, Sudha again finished 11th in the race, which was eventually won by Ethiopian Etenesh Diro with a timing of 9:21.54 secs.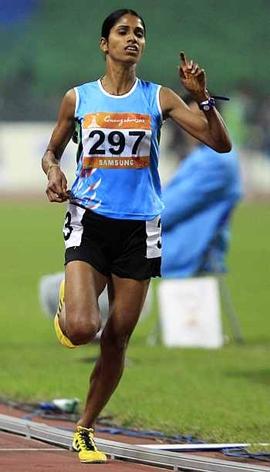 Sudha's 9:47.70 secs timing was her seventh national record in five years. Her first record came in the Jamshedpur nationals when she bettered controversial Tamil Nadu athlete Shanthi Soundararajan's previous mark by nearly 26 secs.
After improving upon the record twice, Sudha lost it briefly in 2010 to training partner O P Jaisha during the inter-state meet at Patiala, but recaptured in style during her fifth place finish at the 2010 Commonwealth Games in Delhi.
Sudha also became the inaugural Asian Games champion in the steeplechase event at Guangzhou with a time of 9:55.67 secs.
After her stint with Belarus coach Nikolai Snesarev, Sudha along with Jaisha and two other long distance runners -- Kavita Raut and Preeja Sreedharan -- received training under Claudio Berardelli since late 2011.
Meanwhile, reigning Asian champion in long jump Mayookha Johny won an international competition in Rhede, Germany, on Thursday evening by successfully jumping to 6.60m.
Having already qualified for the London Games in the triple jump event, Mayookha is desperately trying to attain the norm in long jump as well but was 5 cm short of the requirement.
Among other Indian athletes who have already qualified for the quadrennial sporting extravaganza, shot putter Om Prakash Singh Karhana surpassed the 20-mark when he registered 20.04m at his training base at Szombathely, Hungary, on Wednesday.
Singh tossed the iron ball an incredible distance of 20.69m there on May 12 and won an international meet in Vienna, Austria, with 19.82m on May 29.
Discus thrower Krishna Poonia, after finishing fourth in the Prefontine Classic in Eugene on June 1 with a throw of 62.11m, improved her performance at Portland where she won a silver medal at the Post Pre Elite Women's event hurling the discuss to 62.34m.
The Commonwealth champion registered her personal best of 64.76m at the Hawaiian island of Wailuku last month.