A summary of sports events and persons who made news on Friday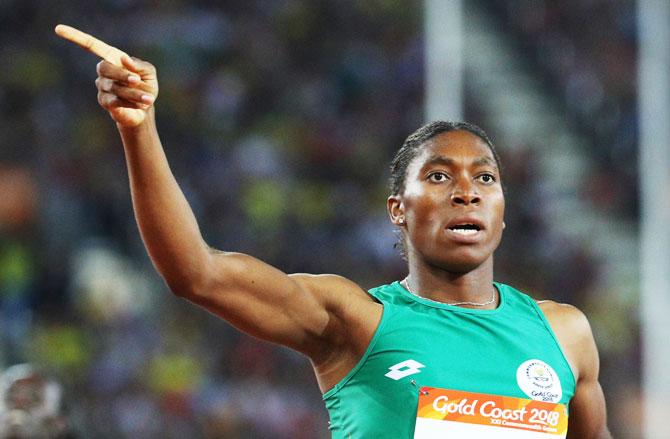 South Africa will challenge athletics' new rules on hyperandrogenism as it seeks to keep up double Olympian Caster Semenya's status as the queen of middle distance athletics, Athletics South Africa (ASA) said on Thursday.
The body said it has found the new regulations to be skewed after a week's consultation with the country's sports ministry and Olympic committee.
The International Association of Athletics Federations (IAAF) last week confirmed new rules which effectively give Semenya a choice of taking the medication to restrict her testosterone or move to longer distance events.
"As a member federation, we will engage the IAAF as our mother body and if they do not change their minds on this new rule after this engagement, we will proceed to the Court of Arbitration for Sport (CAS) for further assistance on the matter," ASA said in a statement.
But it gave no details on what grounds it would seek to set aside the new rules, which come into effect on Nov. 1 and will likely most effect Semenya.
"ASA once again takes the opportunity to re-affirm our support for all our athletes who may be affected by this new ruling," the statement added.
Kenya's Kiprop tested positive, no mix-up: AIU
The Athletics Integrity Unit (AIU) confirmed on Friday that former world 1,500 metres champion Asbel Kiprop had tested positive for the banned blood booster EPO and rejected some of the extraordinary allegations the Kenyan made against officials.
Kiprop said on Thursday in lengthy statement that his doping sample might have been tampered with by testers who not only tipped him off about their visit in November last year but also took a payment from him.
The AIU, an independent body that manages all doping- related matters for athletics, conceded on Friday that he had been given advanced notice but that it was satisfied there had been no interference with his sample.
"In the course of these proceedings, Mr Kiprop has made a number of public allegations in relation to the sample collection process," read a statement.
"These allegations have been investigated by the AIU. The AIU is satisfied that there has been no mix up or tampering with the sample."
Kiprop's case is now with an International Association of Athletics Federations (IAAF) disciplinary tribunal and the 28-year-old faces a ban of four years from the sport if found guilty of doping.
Among the more claims made by Kiprop, a senior police officer, was that he paid the testers an unspecified amount of money and did not consider it untoward.
"I did not at the time expect that the request for the money had anything to do with the sample," Kiprop said in the statement.
Woods six behind first-round leader Peterson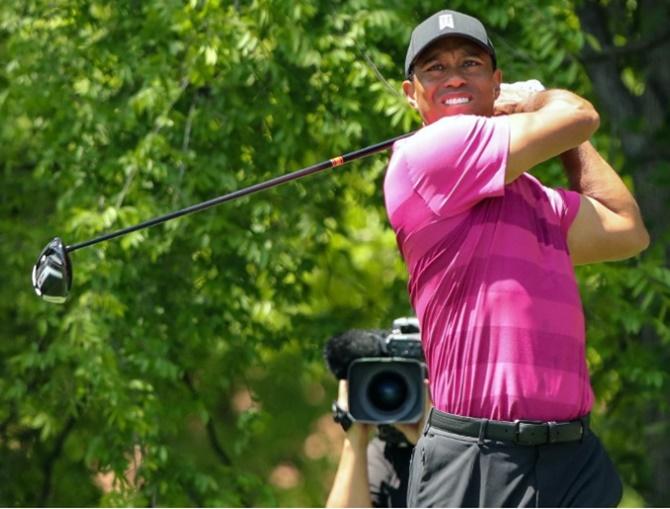 Tiger Woods struggled to adjust to slow greens as he slipped six strokes behind American leader John Peterson in the opening round of the Wells Fargo Championship in North Carolina on Thursday.
On a day when two-times Wells Fargo winner Rory McIlroy started with a smooth three-under-par 68, Peterson made consecutive eagles for a sizzling 65 at Quail Hollow in Charlotte.
Peterson, a former American collegiate champion, led a group of five players by two strokes, while Woods missed two putts from inside five feet en route to a 71.
Woods, a 79-times PGA Tour winner who needs three more wins to match Sam Snead's all-time record, used a new set of irons but it was the flatstick that caused his problems.
"I struggled with my speed all day," Woods said. "It's weird. The greens are slow. They're springy and firm. That's not a combination you would expect. I struggled making the adjustments today."
Woods, healthy again after a spinal fusion more than a year ago, is playing his seventh tournament of the year.
He said he was now in "playing shape" and the goal was "just trying to get a little better."
The 42-year-old and four-times major winner McIlroy are both making their first starts after disappointing performances at the U.S. Masters.
Woods tied for 32nd at Augusta National, while McIlroy squandered a chance to complete the career grand slam after starting the final round in second place behind eventual champion Reed.
McIlroy says he licked his wounds for about a week after a final round 74 at the Masters, but is now trying to look forward rather than back.
IOC warns AIBA to speed up reforms or risk missing Tokyo Games
World boxing body AIBA is slow in implementing necessary reforms and needs to act now or risk being banned from the Tokyo 2020 Games, the International Olympic Committee President Thomas Bach said on Thursday.
The IOC had warned AIBA in February to sort out its finances, the sport's governance and anti-doping issues but a progress report presented this week was insufficient, Bach told a news conference.
"This report shows some progress and shows goodwill but still lacks execution and in some areas lacks substance," the German former Olympic fencer said.
"So our concerns on governance, financial and sporting integrity are continuing and we think that we need to see action on the plans."
AIBA has been riven with in-fighting for months, with former president CK Wu first provisionally suspended and then stepping down last November after a bitter dispute with his own executive committee.
No problem for Froome to race in Giro, says rival Dumoulin
Defending Giro d'Italia champion Tom Dumoulin said on Thursday that the allegations against fellow competitor Chris Froome were harming cycling and he saw no problem with his rival participating in the event.
Froome is under investigation by the UCI, world cycling's governing body, over an adverse doping test result after a urine sample showed excessive levels of an asthma medication at last year's Vuelta in Spain. He has denied any wrongdoing.
"He (Froome) has every right to be here and it's his choice to be here. It's not good for cycling in general and not good for him that his case has not been resolved yet," Dutchman Dumoulin said at the Giro's launch in Jerusalem.
Froome appeared unperturbed by the repeated questioning about the allegations and said he had managed to maintain his focus on his sport.
Brazil gymnastics coach accused of sexual abuse
A sexual abuse scandal is engulfing Brazilian gymnastics this week as a former national coach has come under investigation for allegedly abusing dozens of boys.
The scandal in Brazil follows the sentencing of former USA Gymnastics team doctor Larry Nassar to up to 300 years in prison for abusing more than 250 young female gymnasts entrusted to his care.
Fernando de Carvalho Lopes, who trained one-time floor world champion and Olympic silver medallist Diego Hypolito, was accused in a report by Brazil's TV Globo of sexually abusing dozens of young male gymnasts while training them at his club near Sao Paulo in the past two decades.
Lopes told Globo he was innocent. A lawyer for Lopes, Luis Ricardo Davanzo, did not respond to requests for comment on Thursday. Lopes was not immediately reachable for comment.
Globo said it spoke with 40 current or former gymnasts who said they had been abused by Lopes. Another athlete accused him of abuse in an interview on Wednesday night with the network.
Police confirmed an investigation into Lopes, but told Reuters the case was sealed and they could not give details. Brazil's national gymnastics confederation did not respond to a request for comment.
IOC to appeal all CAS decisions on 28 cleared Russians
The Court of Arbitration for Sport's decision to overturn doping bans imposed on 28 Russian athletes will be challenged by the International Olympic Committee at a Swiss tribunal, the IOC said on Thursday.
In February CAS overturned the bans and sanctions imposed on 28 out of a total of 39 Russian athletes for alleged anti-doping rule violations.
The other 11 athletes were confirmed to have committed doping offences although CAS said it had reduced their lifetime Olympic bans to a suspension from this year's Games in Pyeongchang.
The 39 had been sanctioned by the IOC for their alleged involvement in doping at the 2014 Sochi winter Olympics.
While CAS has yet to publish its full decisions on the athletes, the findings in two cases were published days ago.
Cross country skier Alexander Legkov was cleared of any anti-doping rule violation while bobsledder Aleksandr Zubkov's appeal was partially upheld by CAS which did, however, say that the latter was responsible for an anti-doping rule violation.
CAS said its investigation found that the evidence put forward by the IOC "did not have the same weight in each individual case" regarding Legkov and Zubkov.
The IOC said it was intending to appeal all of these 28 cases, once they have been published, in order to stop athletes they consider to be drugs cheats from competing at future Games.
Praneeth marches on, Verma crashes out of NZ Open badminton
B Sai Praneeth was the lone Indian left in fray at the New Zealand Open Badminton Championship after he entered the semifinals of the men's singles event in Auckland.
Even as third seed Praneeth marched on, Sameer Verma, seeded fifth, was shown the door by top seed and two-time Olympic champion Lin Dan of China.
Praneeth hardly broke a sweat as he took just 28 minutes to quell the challenge of Sri Lanka's Niluka Karunaratne 21-7, 21-9 in the quarterfinals. Praneeth will next face second seed Jonatan Christie of Indonesia in the semifinals. However, it was curtains for Verma as he failed to counter Lin Dan's attacking game and vast experience to lose 19-21, 9-21 in another semifinal duel.
Lin Dan will be up against qualifier Kwang Hee Heo of Korea in the other semifinal.
Besides, fifth seeded Indian men's doubles pair of Manu Attri and B Sumeeth Reddy also crashed out after losing in the quarter-finals.
They were defeated in straight games 10-21, 15-21 by fourth seeds Bodin Isara and Nipitphon Phuangphuapet of Thailand.
IAAF suspends five Russian walkers from competing over banned coach
The governing body of world athletics has suspended five Russian race walkers from competition pending further investigation of their participation in a training camp with a banned coach.
The decision to revoke the neutral status of Klavdiya Afanasyeva, Olga Eliseeva, Yuliya Lipanova, Sergey Sharypov and Sergey Shirobokov, a silver medallist from the 2017 world championships, means they will not be eligible to compete at the race walking team championships in China later this week, the International Association of Athletics Federations (IAAF) said in a statement on Friday.
The IAAF said the decision had been made pending a probe into 'a number of serious issues' related to their participation in a training camp in Kyrgyzstan last month with coach Viktor Chegin, who was banned for life from athletics over the Russian doping scandal.
Russia's athletics federation was suspended by the IAAF in 2015 following a World Anti-Doping Agency (WADA) report containing allegations of state-supported doping, which Moscow has denied.