Summary of sports events and persons who made news on Tuesday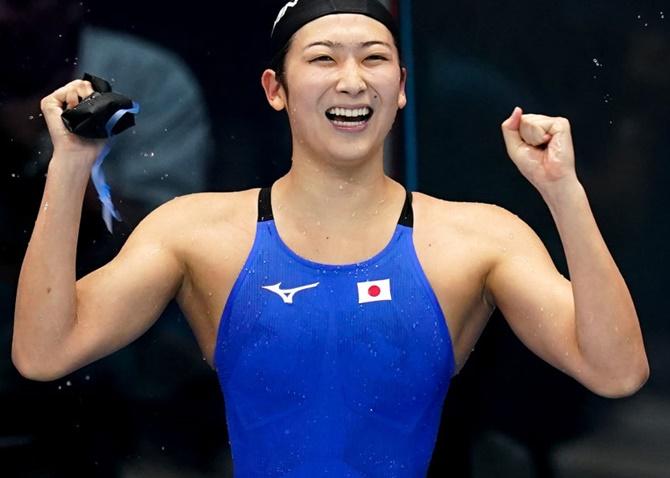 Japanese swimmer Rikako Ikee, who won six titles at last year's Asian Games and was considered a strong medal contender for the 2020 Tokyo Olympics, said on Tuesday she had been diagnosed with leukaemia.
The 18-year-old was named Japanese Swimmer of the Year last month after her record-breaking exploits in the Jakarta pool.
"I was feeling ill and urgently came home from Australia, underwent testing and the diagnosis was leukaemia," Ikee wrote on Twitter.
"I can't believe it, it's a confusing situation. But with treatment this is a disease that can be cured."
The diagnosis will deprive the world junior 50 metre freestyle, 50m butterfly and 100m butterfly champion of the chance to race at the senior world championships in Gwangju, South Korea later this year.
Ikee, who swam the fastest time in the world in the 100m butterfly and second fastest in the 50m butterfly last year, said she would miss Japan's swimming trials to focus on treatment.
"I am going to take some time off and focus on treatment and as soon as possible I want to show an even stronger Rikako Ikee," she added.
Only North Korean shooter So Gin Man, who won seven golds and a silver at New Delhi in 1982, has won more titles at one Asian Games than Ikee.
Ikee, whose gold medal haul was the most for a female athlete at a single Asian Games, also picked up two relay silvers to match So's record tally of eight medals.
Winning all six of her gold medals in record times in Jakarta propelled her onto the world stage and made her a major name in Japan.
Coming home sixth in the 100m butterfly at the Rio Games as a 16-year-old, Ikee had been expected to compete for medals at Tokyo 2020 but must now focus on getting healthy before thoughts turn to the summer showpiece in 528 days' time.
Canada's sport minister calls report on abuse in sport 'tragic'
Canada's Sport Minister Kirsty Duncan on Monday called the findings of a CBC report to abuse in amateur sports in the country "tragic and completely unacceptable."
Duncan's comments came a day after the first of a three-part investigative series was published on Sunday and reported at least 222 coaches who were involved in amateur sports in Canada have been convicted of sexual offences in the past 20 years.
"As a former athlete and coach, I know there are problems across the system," Duncan said in a statement. "We must not condone a sport culture that promotes winning at all costs. This has to change."
According to the CBC report, the offences involve more than 600 victims under the age of 18 and that the charged and convicted coaches were involved in 36 different sports.
The report also said the charges include offences such as sexual assault, sexual exploitation, child luring and making or possessing child pornography.
Duncan, who is also Canada's minister of science, will this week meet in Alberta with federal, provincial and territorial representative ahead of the 2019 Canada Winter Games, and said ending abuse and harassment in sport will be a top priority.
Last June, Duncan announced new measures for federally-funded national sport organizations and said financial support would be withdrawn if certain measures were not met.
Among those measures were demands to strengthen mandatory anti-harassment policies, immediately disclose any incident of harassment, and put in place an independent third party to address such cases.
"It is incumbent on all national sports organizations to step forward and speak out," said Duncan. "There is absolutely no room for denial or delay. We need to be transparent and work together on this. Canada's young people depend on us, and they deserve better."
The Canadian Olympic Committee (COC) and Canadian Paralympic Committee (CPC) said in a joint statement that they look forward to meeting Duncan to advance the conversation about abuse and take action to better protect those in sport.
"Part of our talks will focus on better harmonized mechanisms and actions to address harassment, abuse, and discrimination in the areas of awareness, prevention, reporting, management, and monitoring," the COC and CPC said.
"The goal is to ensure a common understanding among stakeholders and supporting the safest possible environment for all participants from the club level all the way to Team Canada."
Australia streamlines integrity watchdogs
Australia's sports integrity watchdogs are being streamlined into a single agency to better fight doping, match-fixing and organised crime, the federal government said on Tuesday.
The new agency, to be called 'Sport Integrity Australia' merges the Australian Sports Anti-Doping Authority (ASADA), the National Integrity of Sport Unit and the integrity functions of funding body Sport Australia.
A new 'National Sports Tribunal' will also be set up and trialled for two years to hear anti-doping violations and other sports disputes.
It will have "the power to call evidence to establish facts and ensure natural justice," the sports and home affairs ministries said in a media release.
Sports minister Bridget McKenzie cited the ball-tampering scandal that engulfed the Australian men's cricket team in South Africa last year to underline the importance of anti-corruption efforts in the country.
"We have seen the massive fall-out from the cricket ball-tampering scandal and the loss of belief in our national cricket team and we are determined to prevent incidents like this from happening," McKenzie said.
"Australian sports lovers deserve to know that the sport they watch and the teams they support are competing on a level playing field and playing fairly.
"When Australians – and especially our kids – see examples of sports being corrupted, it means they become disillusioned and less likely to get involved."
The measures are in response to the independent Wood review, which was commissioned in 2017 to survey Australia's sports integrity arrangements.
The report of the review issued last year found Australia was increasingly vulnerable to serious integrity breaches and the intervention of organised crime in sports.
The government had accepted "the overwhelming majority" of the review's 52 recommendations across match-fixing, anti–doping, disputes arbitration, and "co-ordinating Australia's national and international response to sports integrity matters", McKenzie said.
Among the recommendations taken, the government had signed up to the Macolin Convention, the Council of Europe's multilateral treaty against match-fixing.