A summary of sports events and sports persons, who made news on Sunday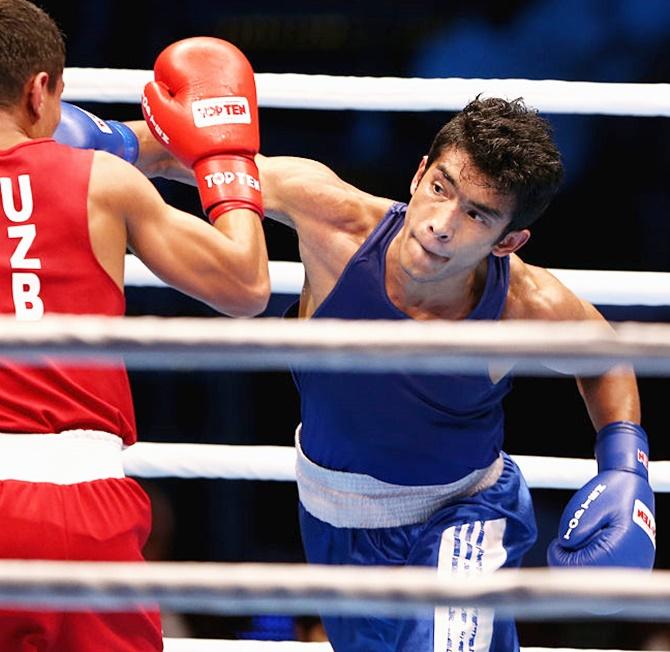 Indian boxers packed quite a heavy punch at the 48th Grand Prix Usti Nad Labem, clinching five gold medals, two silver and one bronze medal at the event in the CzechRepublic.
World Championships bronze-medallist Shiva Thapa (60kg), former Commonwealth Games gold-medallist Manoj Kumar (69kg), Amit Phangal (52kg), Gaurav Bidhuri (56kg) and Satish Kumar (+91kg) claimed gold medals after winning their respective summit clashes on Saturday.
Kavinder Bisht (52kg) and Manish Panwar (81kg), on the other hand, settled for silver medals. Earlier, Sumit Sangwan (91kg) had claimed a bronze after going down in the semi-finals.
Shiva, who recently won a silver medal at the Asian Championships, also clinched a dominant 5-0 victory over Slovakia's Filip Meszaros to record another morale-boosting triumph ahead of next month's World Championships in Hamburg, Germany.
Another Hamburg-bound boxer, Manoj, too claimed a 5-0 verdict against local favourite David Kotrc. However, Satish Kumar had to stave off a stiff challenge from German Max Keller for his gold.
Manish, on the other hand, lost to Germany's Ibragim Bazuev to settle for a silver medal.
The tournament marked the end of a fortnight-long training-cum-competition trip for the Indian boxers ahead of the world showpiece scheduled from August 25 to September 2.
Divij-Raja pair out of Atlanta Open with semis defeat
Divij Sharan and Purav Raja's impressive run at the Atlanta Open ended with a semi-final defeat at the hands of Wesley Koolhof and Artem Sitak in Atlanta.
The fourth seeded Indian team lost 6-7(3), 4-6 to the unseeded Dutch-Kiwi combination.
The duo shared US$9,920 as prize money and won 90 ranking points each.
It was the third time this year that Sharan and Raja advanced to the semi-finals or beyond at the ATP 250 level.
They had ended runners-up at the Chennai Open in January and semi-finalists at the Open Sud de France in February.
Aditya, Suhaani win bronze at Asian School Chess Competition
Mumbai's Aditya Patil and Suhaani Lohia clinched bronze medals at the Asian Schools Chess Competition, in China.
Aditya, a student of DhirubhaiAmbaniInternationalSchool, won the bronze medal in the Under-7 rapid championship held in Panjin, China. The championship concluded on Saturday.
There were a total of 26 players from 10 countries who took part in the competition, of which the eighth-seeded seven-year-old Aditya scored 5/7, and finished at the third spot.
En route to the bronze, Aditya beat fellow Indian and the top seeded Kiaan Agarwal, who has a FIDE rating of 1328. Kiaan won the bronze medal in the classical format.
WCM Suhaani Lohia bagged the bronze medal in the Asian schools Under-9 girls blitz championship, held in China.
Aditya and Suhaani are coached by FIDE master Balaji.
India amass 24 medals at Jordan Open TT
India bagged a rich haul of 24 medals, including seven gold, at the Jordan Junior and Cadet Open in Amman, Jordan.
India bagged seven gold medals, seven silver and 10 bronze to complete a sweep of sorts, making the trip to Amman successful.
But for Hsu p-Hsuan, who stopped the Indian surge, Payas Jain would have added one more to the gold tally but had to be satisfied with the silver after going down to the Taipei boy 4-11, 6-11, 6-11 in the cadet singles final.
Even the team title was denied to India in the cadet section when Payas, Yashansh Malik and Chinmaya Somaiya found the going tough against Hsu Po-Hsuan, Lin Yen-Cun and Peng Chih who claimed team gold, leaving India the second best finishers.
However, the Indian girls, following the footsteps of the boys' team, ensured team title besides the hopes boys and hopes girls (cadet) adding to the golden kitty on the concluding day.
Payas overcame Iran's Mohammad Amin Samadi to win the boys singles title with a 11-5, 11-9, 12-10 triumph while Anargya Manjunath grabbed the singles crown when she scored a 11-7, 6-11, 11-5, 12-10 victory over Taipei's Cheng Pu-Syuan in a needle final contest.
Jeet Chandra, Manush Shah and ParthVirmani, the 'A' team India beat their counterparts in 'B' 3-1 to finish 1-2 in that order.
Team B consisted of Snehit Suravajjula, Anukram Jain, Shivaji Roy and Mudit Dani.
Jeet beat both Shivaji (11-4, 11-8, 11-6) and Snehit (14-12, 12-10, 13-11), all extended sets, while Parth accounted for Snehit in the opening five-setter rubber.
It was, indeed, a surprise as Snehit suffered three consecutive defeats, despite being the owner of the singles title which he won a day before.
Earlier, India 'A' beat Thailand 3-1 in the quarter-finals and then Qatar 3-0 in the semi-final.
Swimming: Dressel makes history with three world golds in one night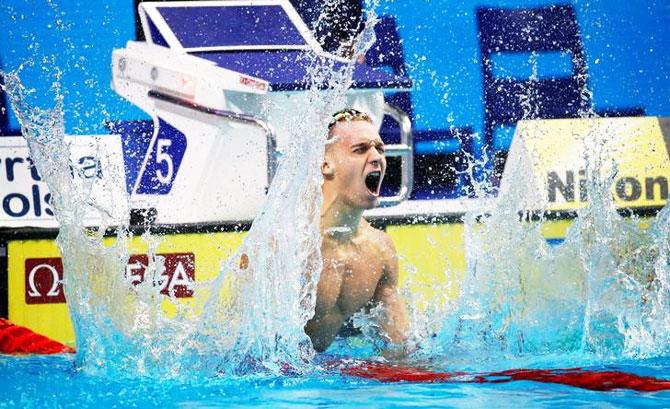 IMAGE: Caeleb Remel Dressel of the US reacts after finishing first in the Men's 100m Freestyle Final at the 17th FINA World Aquatics Championships in Budapest, Hungary, on Sunday. Photograph: Stefan Wermuth/Reuters
Caeleb Dressel of the United States became the first swimmer to win three gold medals in a single evening at the world championships after producing a trio of storming performances on Saturday.
Dressel's sprint heroics were compiled in just under two hours, interspersed by Sarah Sjostrom's world record in the women's 50 metres freestyle on another stunning night's racing at the Duna Arena.
With the men's 4x100m medley to come, he needs one more title to draw level with Michael Phelps's record of seven golds at the 2007 championships.
"It was physically challenging, mentally straining with lots of emotional energy," Dressel said of his night's work.
"You have to enjoy the moment and refocus very quickly."
Dressel began his historic evening in the men's 50m freestyle, posting a world textile best time of 21.15 seconds. Brazil's Bruno Fratus took silver, 0.12 seconds back, with Ben Proud of Britain snatching bronze.
The 20-year-old Dressel then had 33 minutes to ready himself for the men's 100m butterfly.
He never trailed and delivered two lengths of sizzling pace in 49.86 seconds. Edging ever closer to Phelps's 2009 world record, he finished 0.04 seconds shy of the eight-year-old mark.
After just over an hour to recover, Dressel then led the US quartet out in a world-record rout in the 4x100 metres mixed freestyle relay.
Australia's quiet world championship was overturned by defending champion Emily Seebohm in the women's 200m backstroke.
Hopes had rested heavily on Seebohm with Australia on the cusp of finishing without a world title for the first time in 31 years.
Amid a cacophony of noise, Seebohm shut out the pressure to clock two minutes 05.68 seconds, an Oceanic record, as her final arm stretch was enough to hold off local hope Katinka Hosszu by 0.17 seconds. Kathleen Baker of the U.S. took bronze.
To end the night, the US freestyle team's victory never looked in doubt.
Dressel's 47.22 seconds set the tone, before Nathan Adrian, Mallory Comerford and Simone Manuel, in the anchor leg, cruised home in three minutes 19.60 seconds.
The defending champions finished more than three seconds ahead of their 2015 mark. The Netherlands won silver, with Canada taking bronze.
Diving: Miracle man LoBue claims high diving world title
Steve LoBue admitted to a "surreal moment" as he became the first American to win gold in the men's 27 metres high diving at the world championships on Sunday.
LoBue's career-high victory came two years after he was hailed as a "miracle man" after hitting his head on the diving platform at a cliff diving event in France.
The 32-year-old rallied from fourth place after the first two rounds to claim gold with 397.15 points at a specially-constructed six-metre pool in the River Danube.
He beat Michal Navratil of the CzechRepublic by 6.25 points, with Alessandro De Rose of Italy taking bronze.
"When hundreds of hours of training come together in the three seconds it takes to jump from 27m, I couldn't be happier," LoBue told a news conference.
"It is a surreal moment and I'm looking forward to a nice month of rest with my family before competing again."
In 2015, the South Florida-based diver hit his head during a routine in La Rochelle but completed the dive and then emerged from the competition with just a facial cut and bandage over his left eye.
Reflecting on the incident, LoBue said: "There are a lot of people who may have succumbed to the fear but I had to complete that dive two weeks later."
In Sunday's final, defending champion Gary Hunt had held a slender 2.65 point lead over LoBue heading into the final round.
The Paris-based diver was title favourite having won the cliff diving series for the last six years.
Considered high diving's most difficult routine, Hunt attempted a forward three somersault and four-and-a-half twist with a running take off for his final dive.
However, the judges marked the Briton down for over-rotation on entry and he placed fifth.
"We never want to see someone mess up but this time I am overjoyed it worked in my favour," added LoBue.
Isner powers way to Atlanta Open Final
American John Isner used his strong serve to overpower Gilles Muller 6-4, 6-2 on Saturday and advance to his fifth consecutive final at the BB&T Atlanta Open in Atlanta.
Second seed Isner needed just 75 minutes to extend his spectacular success at the tournament. He lost to Australian Nick Kyrgios in last year's final but won the tournament in 2013, 2014 and 2015.
"It was a very good match. Absolutely nothing to complain about today," Isner told reporters. "I feel great physically, maybe the best I have felt in quite some time. More importantly than that I am pretty confident as well."
Isner will bid for his fourth Atlanta title on Sunday when he faces fourth-seeded American Ryan Harrison, who posted a 6-7 (5), 6-3, 6-4 victory over fifth-seeded Brit Kyle Edmund.
The 32-year-old Isner broke Muller in the third game of the first set to gain early advantage and twice in the second before erasing three break points while serving for the match.
"He made it very tough for me today," Muller said after dropping to 2-4 versus Isner in his career.