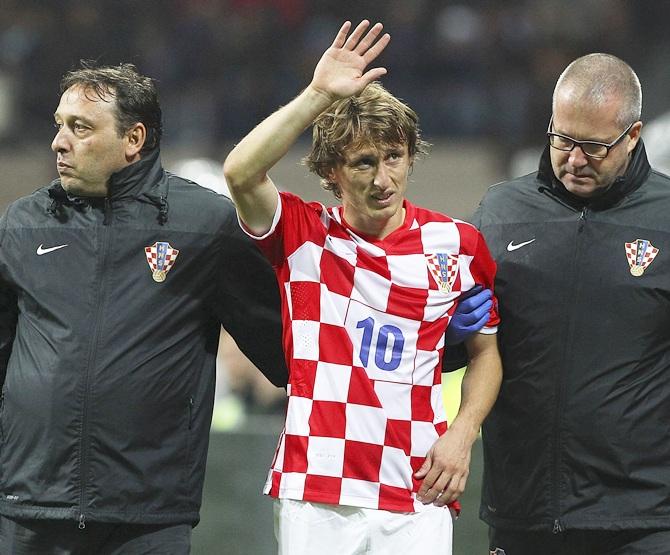 Luka Modric, centre, of Croatia walks off with an injury. Photograph: Marco Luzzani/Getty Images
Real Madrid midfielder Luka Modric is set to miss the rest of the year with a thigh injury, the La Liga leaders said in a statement on Monday.
Modric went off injured in the first half of Croatia's Euro 2016 qualifier in Italy on Sunday and team doctor Boris Nemec's initial fears that tendon damage would keep him on the sidelines for over a month have been confirmed by tests at his club.
"An examination by medical staff from Real Madrid have discovered a tear in a thigh tendon in his left leg," Real said.
Modric, with his precise passing and fluid movement in midfield, has been a key figure in Real's bright start to the season that sees them top La Liga with 27 points from 11 games.
Thiago Silva gets firm response from Dunga over captaincy
Dunga, head coach of Brazil. Photograph: Feng Li/Getty Images
Brazil coach Dunga gave a predictably firm response on Monday to Thiago Silva's complaints that nobody had told the defender he was no longer captain of the side.
Silva captained Brazil at this year's World Cup, when he was praised for holding together a shaky back four, but was left out of the team for last week's friendly in Turkey and could also start on the bench away to Austria on Tuesday.
"I respect the history of each individual in the Brazil team but this is my way of working," Dunga told reporters.
"Nobody loses out on anything when they are with the Brazilian team," said the prickly coach. "The Brazil team is the Brazil team, every day here has to be conquered; every single second, every single training session.
"We believe in hierarchy and in rules, so that everyone in the group gets on with everyone else," he added. "We believe in organising our work, we don't like improvisation."
Neymar has been captain since the World Cup but Silva said neither the Barcelona player nor Dunga had told him of the decision.
"I never spoke to anyone; it was done without any conversation. That's what upsets me," Silva told Brazilian media on Sunday.
Dunga, who was previously Brazil coach for four years until the 2010 World Cup, was brought back for a second stint to rebuild the team after a disastrous end to this year's World Cup, when they lost their semi-final 7-1 to Germany.
He has made an impressive start with five straight wins and no goals conceded.
Croatia FA urges 'end to hooliganism' after Italy trouble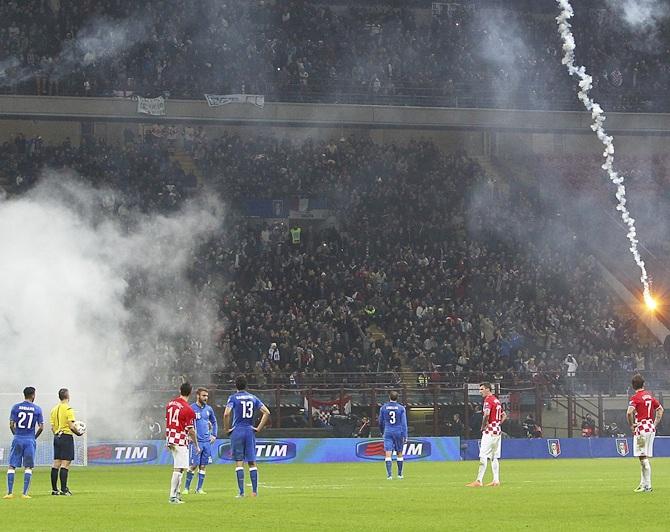 Play is stopped after fireworks are thrown onto the pitch by the Croatia fans during the EURO 2016 Group H Qualifier match against Italy. Photograph: Marco Luzzani/Getty Images
The Croatian Football Association (HNS) has urged the country's government and "the entire society" to combat hooliganism after flare-throwing Croatia fans marred the Euro 2016 qualifier against Italy in Milan on Sunday.
The visiting fans twice halted play, tossing flares onto the San Siro pitch and later clashed with the police. Croatian media reported that 17 fans were arrested.
"These hooligans have shocked soccer-loving Europe and deserve nothing but condemnation of the entire society. We call upon the Croatian judiciary to process all those who took part in the incident," HNS said in a statement entitled 'Let's put an end to hooliganism' and posted on their website.
"We also urge the other segments of the Croatian society, starting with the government, to see those incidents as the last straw, which will prompt all those in power to an energetic and decisive action," it said.
Croatian fans have a history of unruly behaviour ranging from racism and fascist chants to flare-throwing and clashes with the police.
"Such incidents are obviously the result of the failure to act earlier. They are a shame for the Croatian state and have resulted in unforeseeable consequences for Croatian soccer and the national team," the HNS statement said.
Getafe's Leon cleared to play after court ruling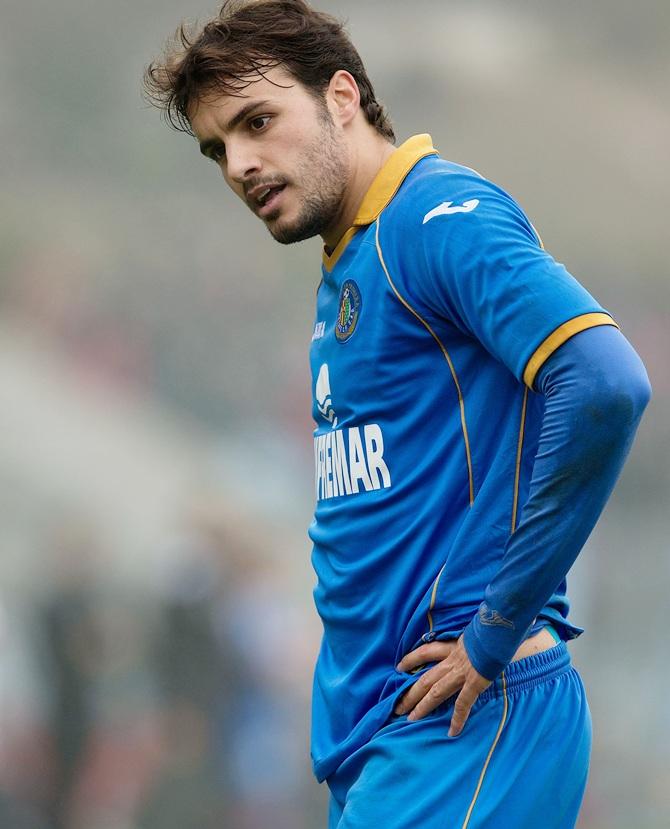 Pedro Leon of Getafe CF reacts. Photograph: Gonzalo Arroyo Moreno/Getty Images
Getafe midfielder Pedro Leon was given the green light on Monday to resume playing after winning a court ruling ahead of a final decision that could limit the powers of the Spanish league (LFP)to stop clubs getting into debt.
Leon was not registered at the start of the season by Getafe as his salary would push the La Liga club over the new wage cap imposed by the LFP and he refused to accept a wage cut.
The 27-year-old is challenging the decision and a judge in a Madrid court allowed him to play pending a hearing. He will need to pay a 30,000 euro guarantee and present his argument against the LFP within 20 days.
"I order the LFP to give prior approval of a license for Pedro Leon," read the order from Judge Villena Cortes.
"(He must be) permitted to play for Getafe without it contravening any rules and there cannot be any sanction for this reason."
The LFP said in a statement it would look to appeal against the decision.
"(The LFP) will study with the help of its legal team the possibility of presenting an immediate appeal against the order," it read.
"It wishes to express publicly its concern over what this means for the economic and financial stability of professional football."
After the government's sports council (CSD) rebuffed an initial challenge at the end of October by the player, Leon's agent told Spanish radio his client was "suffering a great deal" as he was being prevented from doing his job.
A statement from the Spanish players' union (AFE) on Monday praised Leon's determination in standing up to the LFP.
Garcia 'hires' former tennis star Ferrero as caddie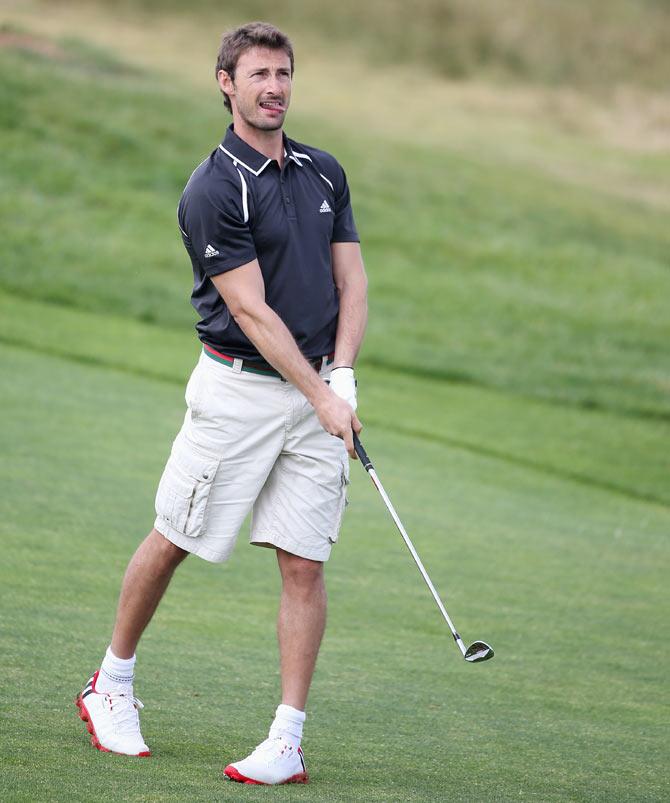 A team participates in a 49er Class international sailing regatta (This image is used for representational purposes). Photograph: Matthew Stockman/Getty Images
Former Spain No 1 tennis star Juan Carlos Ferrero. Photograph: Richard Heathcote/Getty Images
World No 6 Sergio Garcia has roped in former French Open tennis champion Juan Carlos Ferrero as his caddie for his title defence at next month's Thailand Open, the Spaniard said on Tuesday.
Garcia will face stiff competition at the Dec 11-14 event with twice US Masters champion Bubba Watson, US Open champion Martin Kaymer and former world number ones Lee Westwood and Ernie Els also in the field at the Amata Spring club.
Ferrero, also Spanish, topped the tennis rankings in 2003 after claiming his only major title at Roland Garros but retired in 2012 after 14 years on the men's tour.
"I've played golf with him many times but he never caddied for me before," Garcia said in an Asian Tour news release.
"We just talked about it and he mentioned about it and we decided to do it. He is excited about it."
Garcia's girlfriend Katharina Boehm was on his bag when he won the title last year.
"Katharina is fine," Garcia added.
"She is happy to step aside and support from the side lines. It always helps to have a friend on your bag.
"It is good fun to be able to enjoy golf and have a good time with a good close friend."
Varadkar leads team to win at sailing regatta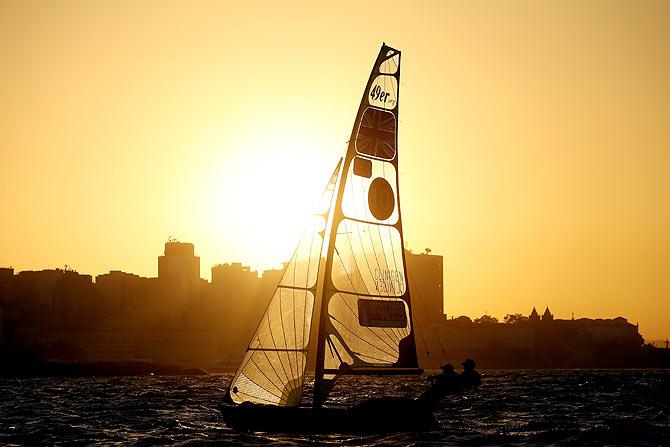 Rakesh Varadkar and his team, including 17-year-old Rahul Deshpande and Azim Patrawala won the Seabird Class at the Commodore G S Ahuja Memorial Regatta, 2014 for combined Class off the Mumbai shore on Sunday.
The event, hosted by The Sea Cadet Corps, saw over 300 participants and over 100 boats hit the sails in various classes.
The Mumbai coastline took a colourful hue with boats competing at the event that was held in coordination with Royal Bombay Yacht Club, Bombay Sailing Association and Colaba Sailing club, Naval Sailing Club and Army Yachting Node and gave sailing enthusiast an evening to remember.