Summary of sports events and persons who made news on Saturday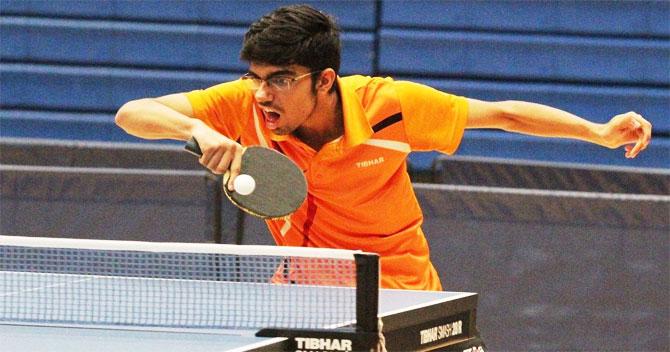 India's Manav Thakkar settled for a bronze medal in the Under-21 singles competition, while Harmeet Desai progressed to the pre-quarter finals of the men's singles in the ITTF Challenge Belgosstrakh Belarus Open in Minsk, Belarus, on Friday.
Manav, who had an impressive run in the tournament, lost to Russia's Denis Ivonin in the semi-finals (2-3), missing out on the gold.
He began well, winning the first game 11-5, but lost the next 4-11. They shared the next two games too but Ivonin had the last laugh, winning the hard-fought decider 11-9.
Manav made a huge impact earlier, upsetting the U-21 World No. 8 from Japan, Yuki Matsuyama.
Harmeet too impressed in his outing, beating Russia's Alexey Liventsov 4-2. He took the opening game 11-9 but lost the next two (6-11, 10-12). The Indian then came into his own and won the next three (11-7, 11-6, 11-6) to enter the next round.
He takes on China's Zheng Sun in the pre-quarters. Manav, who also competed in the men's singles, lost to Belgium's Robin Devos 0-4 (3-11, 11-13, 13-15, 10-12)
Lakshya Sen cruises into Badminton World Junior Championship semis
Young Indian shuttler Lakshya Sen defeated Aidil Sholeh Ali Sadikin of Malaysia 21-8, 21-18 to storm into the semi-finals of the men's singles event of the BWF World Junior Championship in Markham, Canada.
The World No 3 Lakshya opened strongly against his Malaysian rival and completed the quarter-finals tie in just 31 minutes. He surged ahead with a solid lead in the first game where his opponent was a mute spectator.
But in the second game, the Malaysian did well to keep abreast of Lakshya and was separated only by a few points. The Indian used his court craft and hitting to led throughout.
In the semi-finals, Lakshya will take on the top-seeded Kunlavut Vitidsarn of Thailand, who disposed of Indonesian Alberto Alvin Yulianto 21-14, 21-17.
"He is a very good player and I am aware of it. I will have to be on my feet to beat him. I am up for the challenge," Lakshya said.
However, the Indian pair of Vishnu Vardhan Panjala and Srikrishna Sai Podile went down to Koreans Tae Yang Shin and Chan Wang in the quarter-finals. The 10th-seeded Koreans won 21-11, 21-8 in the men's doubles quarter-finals.
The Indian doubles pair was no match to the Koreans which worked in tandem and complimented each other with better display, especially at the net.