A summary of sports events and sports persons, who made news on Thursday
IMAGE: Great Britain's Andy Murray during a practice session. Photograph: Toby Melville/Reuters
ndy Murray has agreed to play at the June grass-court tournament in Rosmalen in the Netherlands, as the former world number one steps up his bid to fully recover from hip surgery in time for Wimbledon.
The Scot has not played a competitive match since losing to Sam Querrey in the Wimbledon quarter-finals last July and underwent an operation on the hip at the start of the year after rest and recuperation failed to resolve the issue.
"The two-time Wimbledon champion will continue his comeback from injury on the grass courts of Rosmalen in the Netherlands," the organisers of the June 11-17 tournament said in a statement on Thursday.
Murray, who has not played in the Netherlands since reaching the quarter-finals of the Rotterdam Open in 2015, posted pictures of himself playing in Nice this week in an encouraging sign that he is working his way back to full fitness.
"I am looking forward to getting back on the grass and to play Rosmalen for the first time," the 30-year-old said.
"I've heard lots of good things about the tournament and the courts are meant to be very good -- it's the perfect way for me to prepare for Wimbledon."
The ATP World Tour 250 series event was won by Luxembourg's Gilles Muller in 2017.
Mercedes find bug that robbed Hamilton of victory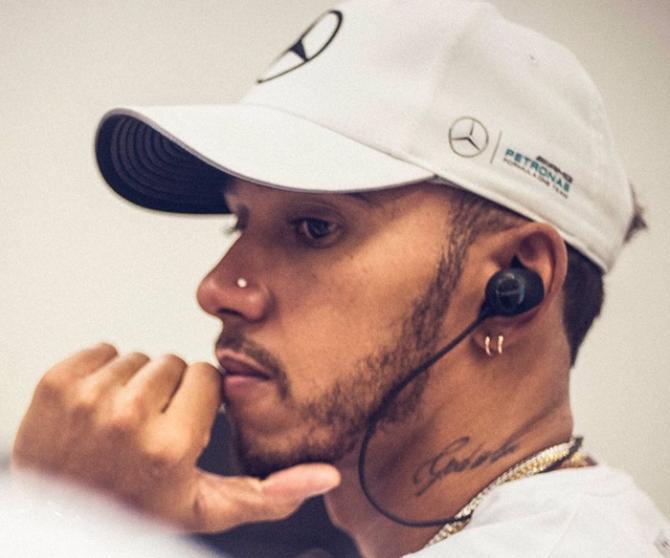 IMAGE: Lewis Hamilton is pensive. Photograph: Lewis Hamilton/Twitter
Formula One world champions Mercedes have found the computer bug that cost Lewis Hamilton victory at the season-opening Australian Grand Prix and taken steps to ensure it does not happen again.
Trackside engineering director Andrew Shovlin said in a debrief on the Mercedes website that the problem was not what had been originally suspected after Sunday's season-opening race in Melbourne.
"The issue isn't actually with the race strategy software that we use," he said. "It was an offline tool... and we found a bug in that tool that meant that it gave us the wrong number."
Shovlin explained that the tool was used to create delta lap times, in this case the difference between Hamilton's car remaining on track under virtual safety car conditions while Ferrari's Sebastian Vettel pitted.
"It's never quite an exact science because you don't know how fast a car is going to be able to come through that pit entry, you don't know quite how closely they'll stick to the delta," Shovlin added.
Mercedes had thought their four-times world champion needed to be within 15 seconds of Vettel to retake the lead from his rival, whereas the actual margin was "slightly short of 13".
The difference was crucial, with Vettel re-emerging in front of the surprised Briton on a circuit where drivers struggle to overtake and need to save fuel, engine and tyres in the later stages.
Had Hamilton known, he could have gone faster after his earlier stop to give himself a greater margin.
During a virtual safety car period, all cars on track have to slow down but there is a short stretch between the safety car line and the start of the 60kph pit lane limit where anyone pitting can speed up.
"We thought we had a bit of margin and then obviously you saw the result," Shovlin said.
"In future we're going to make sure we have more margin because we want to be able to cover for Vettel doing an amazingly good in-lap to the pits, or having an incredibly fast stop," he added.
Maini to continue as Haas F1 development driver
Arjun Maini will continue as a Haas F1 Team development driver in 2018 while simultaneously competing in his first full season in the FIA Formula 2 Championship with Trident.
Maini, a 20-year-old from Bengaluru, is paired with 19-year-old American Santino Ferrucci. Both are Haas' development drivers and both compete for Team Trident.
"Being involved with an F1 program has really accelerated my learning in terms of what I need to do on the racetrack and with my engineers. In fact, it's already helped me transition from GP3 to F2. I'm one step closer to my goal of competing in Formula One thanks to Haas," said Maini.
Maini joined Haas in 2017 and on the weekend of his signing, promptly won his first GP3 Series race May 14 at Circuit de Barcelona, becoming first Indian to do so.
He completed his first full season of GP3 ninth in the championship standings with 72 points. Maini competed in 14 of the 18 GP3 races in 2016 and despite missing the first four races, he finished 10th in points with a best finish of second, earned July 23 at the Hungaroring in Budapest.
"Arjun enjoyed a breakout season in GP3 last year and we're keeping a close watch on his progress this year in F2," said, Guenther Steiner, Haas team principal.
"He has a history of finding success at every level in which he's competed and we're supportive of his efforts as he steps up to F2."
Maini recently completed an F2 test from March 21-24 at Bahrain International Circuit in Sakhir where he set the fastest time on the second day. The F2 season opener is April 7-8 at Bahrain.
F2 is the stepping-stone division to Formula One, and the 24-race series runs in conjunction with the Grand Prix calendar.
Spain's Martinez leaves compatriot Muguruza's coaching team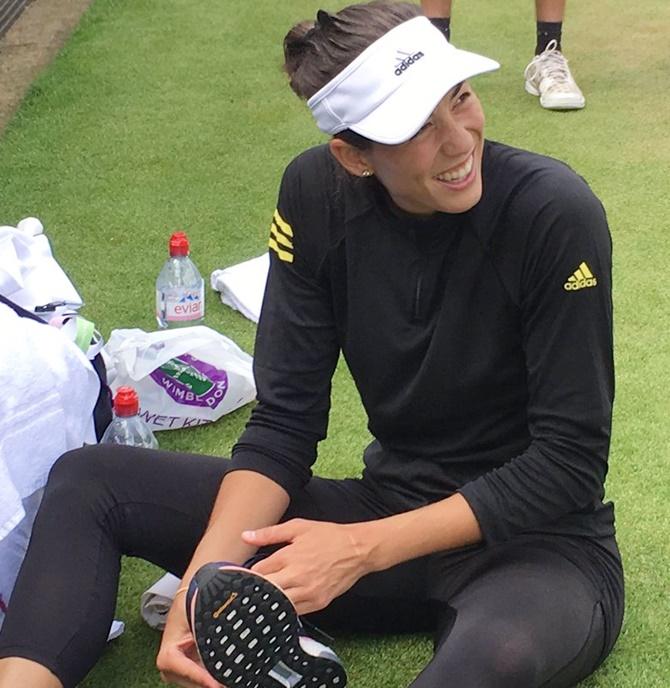 IMAGE: Garbine Muguruza. Photograph: Wimbledon/Twitter
Former Wimbledon champion Conchita Martinez said on Wednesday that she had left Garbine Muguruza's coaching team following her Spanish compatriot's exit at the Miami Open in the round of 16.
Martinez first joined Muguruza's set-up during the temporary absence of the world number three's regular coach Sam Sumyk last year and helped the Spaniard win her first Wimbledon crown. Martinez rejoined the twice major winner's team in February.
"I want to share the news that my collaboration with Garbine has finished after Miami," Martinez, a former finalist at the Australian Open and French Open, said on Twitter.
"She has decided to go back working full time with her coach. Like always it was great to work these past tournaments with her. I wish her and the rest of the team the best for the rest of year," added Martinez.
The 24-year-old Muguruza was beaten by US Open champion Sloane Stephens 6-3, 6-4 in Miami on Monday.
FIFA probes racist abuse at Russia-France friendly
FIFA said on Wednesday it was probing racist abuse directed at French players by Russian fans during a pre-World Cup friendly between the countries.
A Reuters photographer at pitch level for France's 3-1 win on Tuesday night in St Petersburg heard monkey chants directed at French players on several occasions, including when N'Golo Kante came to the sideline for a throw-in.
"FIFA is collecting the different match reports and potential evidence in regards to the discriminatory incident reported in the media, including the one from the Fare observer who was present at the game," FIFA said in a statement, referring to a network that combats discrimination in soccer in Europe.
The incident sparked calls to persevere in the fight against racism in soccer with less than three months before the World Cup.
French Sports Minister Laura Flessel-Colovic wrote on Twitter: "Racism does not have its place on soccer fields. We must act together at the European and international level to stop this intolerable behaviour."
Russia has pledged to crack down on racism as the country faces increased scrutiny ahead of this year's World Cup, which it will host from June 14 to July 15 in 11 cities including Moscow, St Petersburg and Sochi.
Michigan university paid firm to monitor Nassar victims' social media: report
A public relations firm billed Michigan State University for more than $500,000 for January as it tracked social-media activity surrounding the case of convicted physician Larry Nassar that often included the accounts of his sexual assault victims and their families, USA Today reported on Wednesday.
Michigan State University's Office of Communication and Brand Strategy previously had been doing the work, which also included collecting and evaluating news articles, and some of its employees continued to do so in January, the newspaper said.
Officials at the public relations firm, Weber Shandwick, were not immediately available for comment. Michigan State University did not immediately respond to a request for comment.
Nassar, who formerly was a faculty member and physician at an on-campus clinic at Michigan State University and was also a doctor for USA Gymnastics, received two prison sentences of up to 125 years and up to 175 years after hundreds of young women testified about decades of sexual abuse at his hands. Michigan State University has been criticized for its handling of complaints about Nassar stretching back years.
New York-based Weber Shandwick billed the university a total of $517,343 for more than 1,440 hours of work, according to documents that the newspaper said it obtained through a public records request. The firm's billing included work done by 18 employees whose rates ranged from $200 to $600 per hour, the newspaper reported.
In addition to tracking the social media activity of Nassar's victims and family, the firm tracked those of journalists, celebrities and politicians, the newspaper reported.
John Manly, a lawyer who represents more than 120 women who filed civil suits against Nassar and the university, did not immediately respond to a request for comment.