A summary of sports events and sports persons, who made news on Wednesday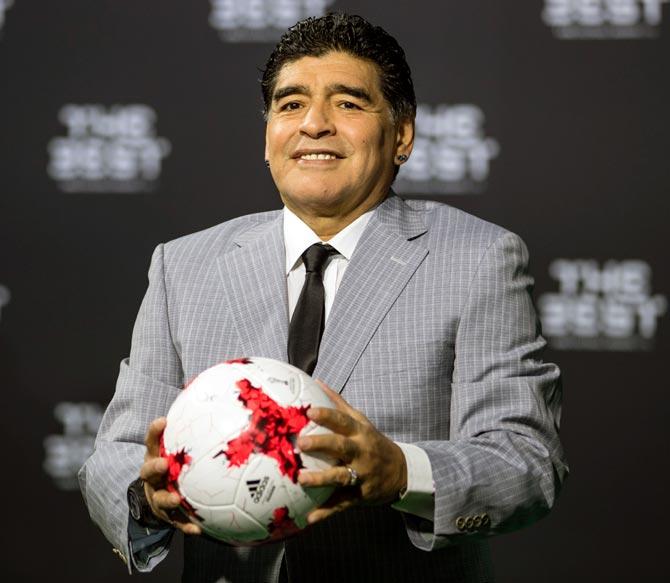 IMAGE: Diego Maradona will be felicitated by Mamata Banerjee during his trip to Kolkata. Photograph: Philipp Schmidli/Getty Images
Argentine legend Diego Maradona is set to kick off the football carnival in India during his September 18-19 visit, about a month ahead of the City of Joy's historic date with FIFA U-17 World Cup Final.
This will be the 1986 World Cup winner's second visit to the city after December 2008.
Confirming this in a video-conference call with the promoter of the trip in the wee hours today, the 56-year-old said he is very excited to visit West Bengal after nearly 10 years.
"It is such an honour for me to be able to make this trip. Kolkata is a very special place and I have good memories from my trip there many years ago, the fans were fantastic," Maradona said.
"India is a very passionate football nation, and I look forward to meeting a whole new generation of fans while continuing to spread the overwhelming love that I have for this beautiful game."
The two-day visit to the city will be made more special as the icon will play a charity football match, called 'Match for Unity' against city's favourite son and former India captain Sourav Ganguly on September 19, the day of Mahalaya that marks the beginning of Durga Puja festival, Satadru Dutta, who is the partner of 7d Ventures and Founder of MokshSports Ventures, the promoter of Maradona's trip told PTI.
Maradona will also be felicitated by West Bengal Chief Minister Mamata Banerjee.
US officials want study of world records proposal
US athletics officials want to study the ramifications of a controversial European proposal that would lead to the rewriting of world records, given it would also affect those that have never failed doping tests.
Under the proposal endorsed by the European Athletics Council earlier this week, any athlete breaking a record would have had to been drug-tested multiple times in the lead-up to the record. A sample taken afterwards also would have to be available for re-testing for 10 years.
The International Association of Athletics Federations (IAAF), the world governing body, did not start storing blood and urine samples until 2005, meaning records set before then could potentially be at risk.
Any action pertaining to records, from 'retirement' of records to changing criteria for the record books, has the potential to affect records that are clean as well as those that are tainted," USA Track & Field (USATF) spokeswoman Jill Geer said in a statement to Reuters on Tuesday.
"There is no perfect solution, just as there is no perfect anti-doping system."
The proposal could potentially see British marathoner Paula Radcliffe, a vocal critic of drug use in athletics, and triple jumper Jonathan Edwards lose their records since performances not meeting the proposed guidelines would no longer be officially sanctioned but would remain on the "all-time list".
Radcliffe, whose mark was set in 2003, has branded the proposal "cowardly".
"I am hurt and do feel this damages my reputation and dignity," she said in a statement on Twitter.
Mike Powell's 1991 long jump mark and ­Hichman El Guerrouj's 1500m record from 1998 also would be under threat.
There is no suggestion that any took drugs.
The IAAF is expected to discuss the idea at its August council meeting and Geer said they would also talk about the proposal with their athletes and other athletics bodies.
"USATF will vet the matter with our athletes, fellow federations and the IAAF," Geer added.
"Ultimately, it is a matter for the IAAF family to examine and determine what is best for the integrity of the past, present and future of the sport on a global level."