Anand starts badly in St. Louis Rapid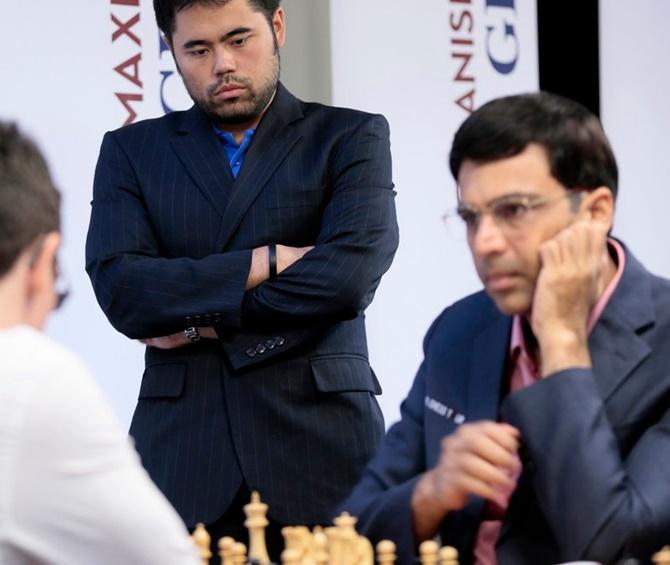 IMAGE: Viswanathan Anand in action. Photograph: Twitter
Former world champion Viswanathan Anand failed to change gears and suffered two losses on the opening day of St. Louis Rapid and Blitz chess tournament, a part of the Grand Chess Tour.
Having done brilliantly for a joint second place in the just-concluded Sinquefield Cup at the same venue, Anand needed a change of guard for the faster version of the game.
The Indian ace was pegged back by an opening round loss against Hikaru Nakamura of United States and then suffered another debacle against Levon Aronian of Armenia in the third round.
The second round had ended in a draw for Anand against Lenier Dominguez of Cuba.
Anand could muster just one point under the rules from three games here and will have to come back much stronger in the remaining six rounds of this $ 150000 prize money tournament.
A win in rapid is worth two points here while a draw fetches half a point. In the blitz however, standard one point will be awarded for a win and half for a draw.
After the end of the first day and three rounds, Fabiano Caruana of United States, Le Quang Leim of Vietnam, Ian Nepomniachtchi of Russia and Aronian emerged as co leaders on four points each.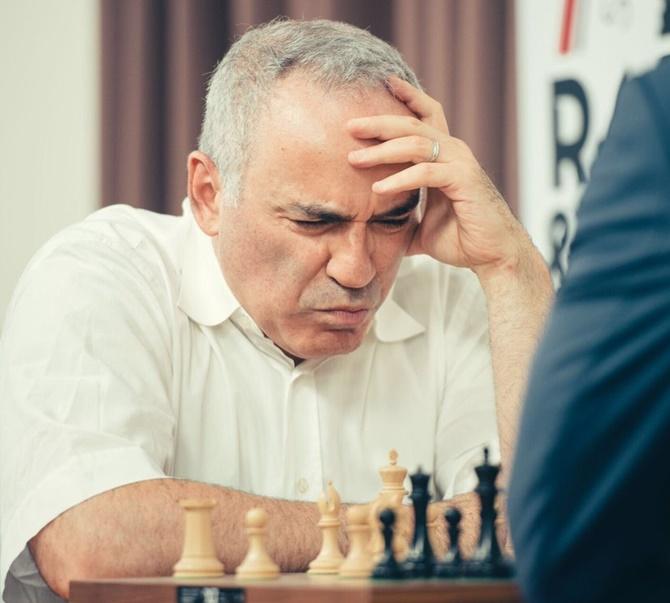 IMAGE: Garry Kasparov back after 12 years. Photograph: Twitter
However, the highlight of the day was legendary Russian Garry Kasparov's come back to competitive fold after a gap of 12 years. It was shortly after the last game of Linares 2005 when the Russian, the strongest ever player on the planet then, decided to hang his boots.
The comeback announcement had already invoked massive enthusiasm in the fans and players alike and when he sat down to play his first move, it was incidentally with the other Russian Sergey Karjakin.
The game ended in a draw. Kasparov troubled his former small-time protege Hikaru Nakamura before taking another draw. In the third game of the day too, Kasparov was held to a draw by Dominguez but said he was extremely satisfied on day one of his return.
With four leaders on four, Kasparov, Dominguez, Nakamura and Karjakin have an identical three points for a shared fifth spot. Anand and David Navara of Czech Republic are currently at the bottom having one point each.
The second day will see Anand clashing with Kasparov, which will revive more than 25 years of rivalry.
Standings after round 3: 1-4: Levon Aronian (Arm), Ian Nepomniachtchi (Rus), Le Quang Leim (Vie), Fabiano Caruana (Usa) 4 each; 5-8: Garry Kasparov, Ian Nepomniachtchi, Sergey Karjakin (All Russia), Hikaru Nakamura (USA) 3 each; 9-10: V Anand (Ind), David Navara (Cze) 1 each.
Harika starts her campaign with a win at the Abu Dhabi
Indian Grandmaster Harika Dronavalli started her campaign in style, beating compatriot Mithil Ajgaonkar at the Master's Tournament of the Abu Dhabi International Chess Festival.
The World No. 9 Indian, playing with white pieces, started off aggressively as she found an opening in the initial phases of the game.
It was an uphill task for Ajgaonkar from there on and eventually succumbed to the pressure after toiling for a long three and a half hours.
Indian men's hockey team beat Netherlands 2-1, win series
Gurjant Singh and Mandeep Singh scored a goal apiece as a resolute Indian men's hockey team overcome world No. 4 Netherlands 2-1 in an exciting encounter.
Led by Manpreet Singh, the team last night featured nine players from the junior team, but still beat an experienced Netherlands squad through goals from Gurjant (4th minute) and Mandeep (51).
India, thus, won the three-match series.
India straightaway sought to put pressure on the home team and the positive intent worked as they drew first blood through a penalty corner awarded in the fourth minute.
While it was Varun Kumar who attempted the dragflick which was padded away by the Dutch keeper, Gurjant was quick to pick up the rebound and work his reverse stick magic to put the ball high up into the net and score his first international goal for the men's side.
India continued the strong attack as they made forays into the striking circle. Armaan Qureshi made a great attempt to take India's lead to 2-0 with a shot on goal but it went slightly wide.
Soon after, the Dutch won a PC but debutant goalkeeper Suraj Karkera was up to the task to defend. With final three minutes remaining, Dutch forwards made three strong shots on goal but an alert Karkera kept them from converting. However, Saander de Wijn through a PC scored in the 58th minute but that didn't stop India from walking away with a 2-1 win.