South and North Korea paraded together at an international sporting event for the first time at the 2000 Sydney Olympics, but have not done so since the 2007 Asian Winter Games in China.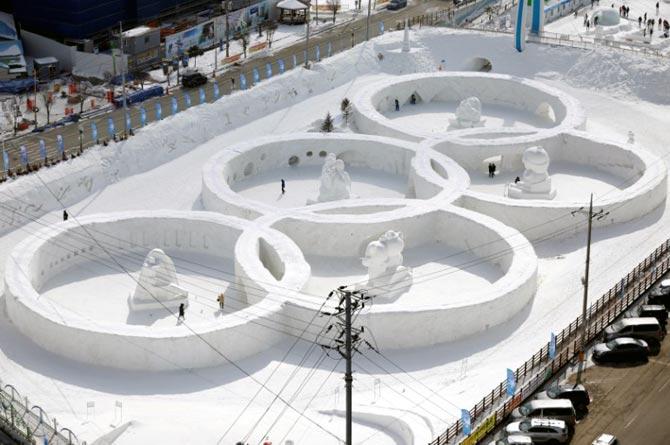 IMAGE: An ice sculpture of the Olympic rings is seen during the Pyeongchang Winter Festival, near the venue for the opening and closing ceremony of the PyeongChang 2018 Winter Olympic Games in Pyeongchang, South Korea. Photograph: Kim Hong-Ji/Reuters
North and South Korean athletes could parade together at the opening ceremony of next month's Pyeongchang Winter Games, under a proposal the International Olympic Committee will consider next week, a source said.

That option, as well as a combined Korean women's ice hockey team, are among several proposals the IOC will discuss, the source within the Olympic movement said on Thursday.

The two countries, technically still at war after their 1950-53 conflict ended with a truce, agreed on Tuesday that North Korea would send a large delegation across the border to next month's Games.
That deal was struck during their first official talks in more than two years amid high tensions over the North's weapons programme.

The IOC will host talks in Switzerland on January 20 to discuss details about North Korea's participation at the Games.

"These two things are being talked about," the source said when asked about a possible joint parade and ice hockey team.

The source could not say how likely they were to happen. "All details will be discussed next week."

Seoul previously proposed that the two countries' athletes march together at the opening ceremony, and said Pyongyang had responded positively.

South and North Korea paraded together at an international sporting event for the first time at the 2000 Sydney Olympics, but have not done so since the 2007 Asian Winter Games in China.

The two Koreas have competed as a single nation in table tennis and soccer but have never at a multi-sports event.

"This is a very positive start to the New Year for the global Olympic movement and for long-term peace on the Korean peninsula," said the President of the Olympic Council of Asia (OCA), Sheikh Ahmad Al Fahad Al Sabah of this week's talks.

"The OCA ...looks forward to seeing the flags of two of our member National Olympic Committees flying high together at Pyeongchang 2018."

North Korean leader Kim Jong Un and Donald Trump have waged a war of words in the past year, with the US President warning he would have no choice but to "totally destroy" North Korea if America was forced to defend itself or its allies.

Trump said on Saturday he would be willing to speak to Kim, though not without pre-conditions.

On Monday, the IOC extended the deadline for North Korean athletes to register for the Games. So far only a figure skating pair has secured a spot, though several other athletes could qualify through special places offered by the Olympic body.

Karthikeyan to stay in Super Formula for a 5th season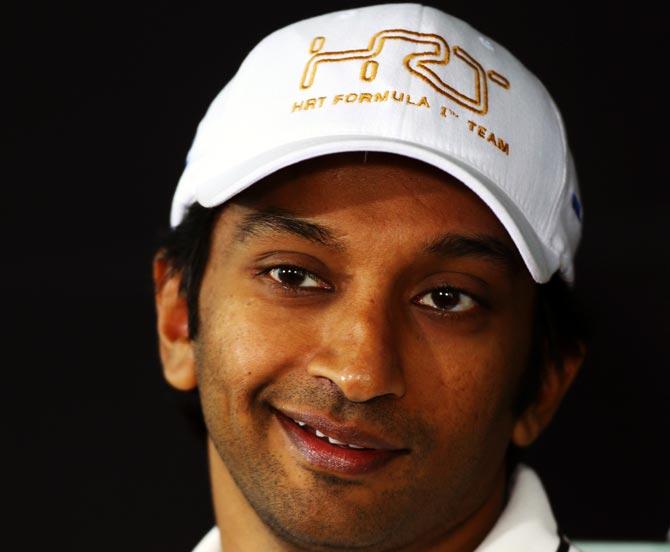 IMAGE: Former F1 driver Narain Karthikeyan. Photograph: Paul Gilham/Getty Images

India's first Formula One driver Narain Karthikeyan on Thursday confirmed that he will race in the Japanese Super Formula for a fifth consecutive season.

It will be the first time in the championship that Karthikeyan will represent the same team, the Honda-powered Nakajima Racing in this case, for a consecutive year.

Toyota has dominated the championship of late but Karthikeyan said his car showed glimpses of speed in what otherwise was a forgettable last season when he failed to score a point for the first time in four years.

"Last season was a forgettable one to be honest. Though towards the end of the year, I did feel the car was quick. We hope to build on that and I realise that I have to be at the top of my game. It is a super competitive championship," Karthikeyan said.

With the confirmation, the speculation over his switch to Super GT 500 also ended. The 40-year-old had tested the Super GT machinery for the first time in December when he was joined by 2009 F1 champion Jenson Button at Malaysia's Sepang International Circuit.

Super Formula, erstwhile known as Formula Nippon, is Japan's premier single-seater series since 1973. It is also the fastest single-seater series outside of Formula One.

Other popular names in the field include WEC World Champion and Le Mans 24-hour winner Andre Lotterer, former F1 drivers Kamui Kobayashi and Kazuki Nakajima.

Asian Games bronze medallist wrestler dies in road accident

Famous wrestler and double bronze medalist in 1974 Tehran Asian Games Sukhchain Singh Cheema was killed in a road accident near Patiala bypass on Wednesday evening.

The 67-year old wrestler was returning home from his farm in Bhanri village when the accident occurred, police said. The accident took place near Shermajra chowk in Patiala.

A car coming from Rajpura side rammed into Cheema's vehicle, which turned turtle. He succumbed to his injuries in a local hospital.

Cheema, a Dronacharya awardee, is survived by his wife and two sons.

Cheema was the son of 'Rustum-e-Hind' wrestler Kesar Singh Cheema. Sukhchain, who was running a Rustem-e-Hind Akhara in Patiala, had bagged double bronze medals during Tehran Asian Games in 1974. He won medals in both freestyle and Greco-Roman style category.

Cheema's son Palwinder Singh Cheema who is a DSP in Punjab police, was also 'Rustum-e-Hind'.