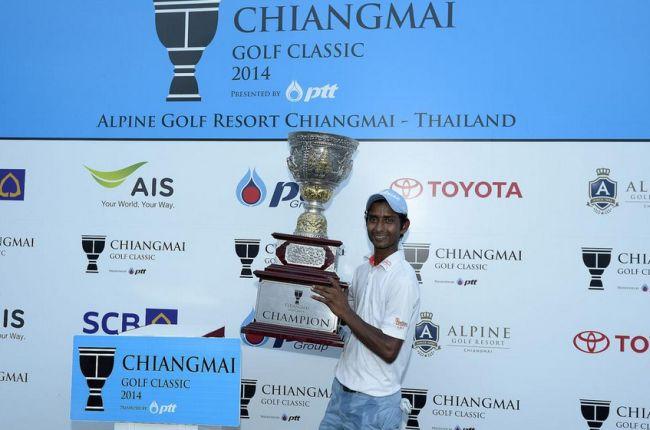 Rashid Khan. Photograph: Twitter
India's Rashid Khan produced a strong back nine performance to win the Chiangmai Golf Classic by one shot for his second Asian Tour title on Sunday.
Trailing overnight leader Thanyakon Khrongpha of Thailand by two strokes, the 23-year-old carded a four-under-par 68 in the final round to finish on 17-under.
Thanyakon (71) and Khan's compatriot Jyoti Randhawa (69) finished tied for the second spot.
Khan was trailing by three strokes after the Thai started with a birdie on the opening hole but he kept his composure and picked up four shots in six holes from the ninth to climb back in contention.
"This win is really special because it is my second win this year and first outside of India," Khan told reporters after his victory. "It was a really good week.
"I recovered very nicely on the back nine. I was confident with my game and I played very well on the back for three days.
"So heading on the last few holes, I was very confident I could win the tournament."
The 24-year-old Thanyakon, eyeing his first Asian Tour win, had a roller-coaster round during which he mixed four birdies with three bogeys.
Randhawa, an eight-time Asian Tour winner, sunk two consecutive birdies on the 14th and 15th holes to put Khan under pressure but missed a birdie chance on the 18th and an opportunity to force a playoff.
"I played under pressure these last two days and I managed to get my swing right," the 42-year-old Indian said. "These young guys look up to me and try to beat me but now I have to keep up with them."
Klitschko knocks out Pulev to retain IBF crown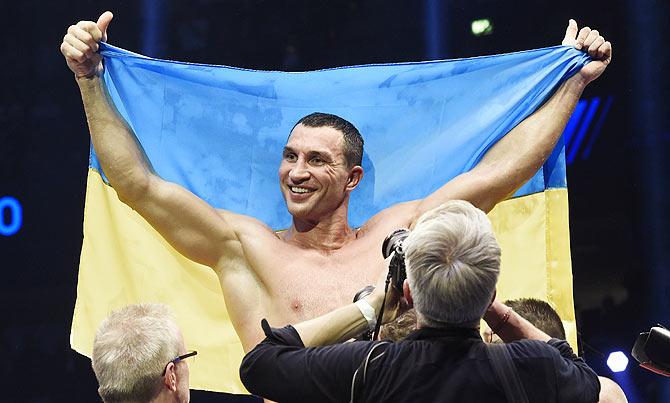 Ukrainian WBA, WBO, IBO and IBF heavyweight boxing world champion Vladimir Klitschko celebrates with a Ukrainian flag after he knocked down challenger Bulgarian heavyweight boxer Kubrat Pulev (not pictured) during their title fight in Hamburg on Saturday. Photograph: Fabian Bimmer/Reuters
World heavyweight champion Vladimir Klitschko knocked out Bulgarian challenger Kubrat Pulev with a fierce left hook in the fifth round on Saturday to retain his IBF title and end his opponent's unbeaten record.
The 38-year-old Klitschko, who also holds the WBO, IBO and WBA titles, knocked down the 33-year-old twice in the opening round as Pulev initially struggled to keep his taller opponent at a distance.
The Bulgarian, who had won his previous 20 fights, was again floored in the third round when he was sent sprawling by a thundering left hook.
He looked to be finding his way back into the fight, landing a big right that rattled the Ukrainian but another giant left hook finished the job in round five with a dazed Pulev staying down for the count.
"I made my professional debut here 18 years ago and I love this city," a beaming Klitschko, who has his base in the northern German city, said in a ringside interview.
"It was difficult to get that hook in. I kept trying but he managed to stay away. I tried it a few times and at the end it worked."
Klitschko has now improved his record to 63 wins out of his 66 fights with 54 knockouts. Pulev is 20-1.
"I feel good," Pulev said, nursing an ice pack on his quickly swelling right cheek.
"I am satisfied with my performance. Vladimir is a good opponent but I think he had a bit of luck.
"Now I want revenge and it will be different result," said the Bulgarian.
UK athlete Jessica Ennis-Hill receives rape threats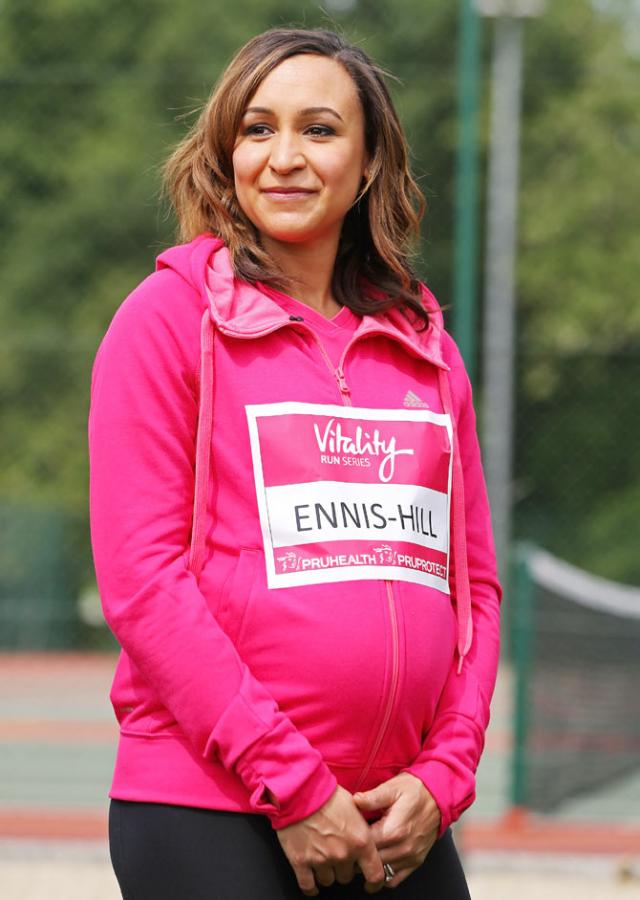 British athlete Jessica Ennis-Hill. Photograph: Steve Bardens/Getty Images for Laureus
British track and field athlete Jessica Ennis-Hill has been at the receiving end of rape threats on Twitter, after she warned against the reinstatement of convicted rapist footballer Ched Evans.
The Olympian announced in a statement on Friday that she would want her name removed from the Sheffield United's Bramall Lane stand if Evans were to be re-signed. The footballer started training with the club this week, sparking widespread debate.
A tweet directed at Ennis-Hill read that she is a stupid 'c***' saying that she would remove her name if Evans is signed and added that he hopes the footballer rapes the athlete, The Independent reported.
After receiving criticism for his threat, he replied saying that freedom of speech mate, adding that he would say what he wants when he wants.
Another user tweeted to the sportswoman another threatening message saying that he hopes Evans gets Ennis-Hill, and added that she was a little 's***'.
The police has been informed about the threats. South Yorkshire Police revealed that they were aware of the tweets and have started an investigation into the messages.
A statement said that officers are making efforts to contact the individual concerned, but have launched an investigation into the posts online.