A summary of sports events and sports persons, who made news on Monday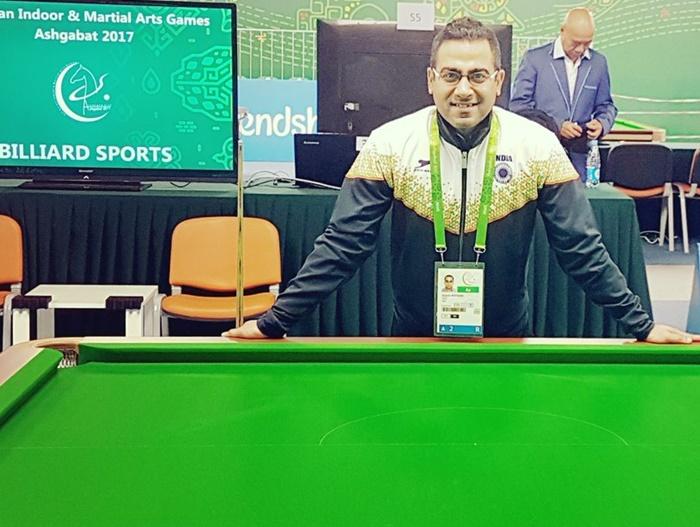 IMAGE: Sourav Kothari poses. Photograph: Twitter
Indians added five medals, including a gold through cueist Sourav Kothari, on the 10th day of the 5th Asian Indoor and Martial Arts Games, in Ashgabat, on Monday.
Kothari won the gold in men's English billiards singles as he defeated Praprut Chaithanasakun of Thailand 3-1 (100-80, 101-0, 29-101, 101-88) in the final.
This is the first medal in cuesports in this year's competition.
Displaying supreme grit and determination, Kothari won the match 3-1.
He capitalised on a last minute error by Praprut, who needed just 20 points to win the frame. Coming from behind, the Indian braved the early jitters and pressure of the big final to win the first frame by 100-80 points.
Building on the good start, Kothari went all guns blazing into the second game, even as a visibly edgy Praprut gave the Indian an opportunity to make a dent.
Kothari never looked back, grabbing the opportunity with both hands to construct a fabulous unfinished break of 101 points to seal the second frame (101-0) and take a dominating 2-0 lead.
However, in the third game, Praprut rose to the occasion and Kothari seemed under pressure as he came close to the finishing line.
A regulation canon missed by Kothari handed a brilliant opportunity to Praprut, who steadily went on to construct a break of 57 points and managed to win the third game 101-29.
Kothari was caught off-guard and the pressure was back on him as Praprut yet again started building a break after both the players missed a couple of openings in the 4th game.
Sitting on 88 points, on a break of 73 and needing just 12 more to force a sudden death decider, Praprut gave an unexpected chance to Kothari and he took control of the table.
Faced with the daunting task of getting the remaining 89 points while Praprut sat just a few shots away from winning the game, Kothari showed uncanny resilience and calmness under intense pressure to construct a break of 89 points amidst a roaring crowd and sealed the frame 101-88.
In tennis, the mixed doubles pair of Vishnu Vardhan and Prarthana Thombare bagged a silver. They lost to the Thai duo of Nuttanon Kadchapanan and Nicha Lertpitaksinchai 7-5, 4-6, 2-6 in the final.
Wrestlers added three bronze through Sandeep Tomar (men's freestyle -61kg, Deepak (men's freestyle -86kg) and Pooja Dhanda (women's freestyle -58kg).
With 7 gold, 8 silver and 14 bronze, India remained at 12th spot in the medals tally with just two days left in the Games.
Lakshmanan wins 5,000m gold in Athletics Nationals
Reigning Asian champion Govindan Lakshmanan of Services cruised to victory in the men's 5000 metre race on the opening day of the 57th National Open Athletics Championships at the Nehru Stadium in Chennai.
Lakshmanan, fresh from winning a gold in the 3,000m event at the Asian Indoor Games in Ashgabat, Turkmenistan, clocked a time of 14 minutes, 4.21 seconds to emerge winner.
Abhishek Pal of Railways came in second, clocking a time of 14 minute 8.38 seconds. Mann Singh of Services took the bronze with a time of 14:08.87.
It was way below Lakshmanan's personal best (of 13:35.69), which he achieved during the Worlds in London.
In the 5000m women's race, L Surya won in a time of 16 minutes, 2.85 seconds to lead a Railways one-two ahead of Chinta Yadav (16:40.45). Saigeeta Naik of All India Police took the third place.
Incidentally, Surya is the daughter of Lakshmanan's long-time coach S Loganathan.
In the men's shot put, Tejinder Pal Singh of Services pipped former national record holder Om Prakash Singh to the gold by hurling the iron ball to 18.86 metres.
Tejinder sealed the first place with his final throw after trailing Om Prakash for most part of the competition.
Railways' Jasdeep Singh claimed the bronze medal in the event.
Sarita P Singh of Railways won the women's hammer throw with an effort of 60.54m.
Davinder Singh Kang, who reached the final round of men's javelin throw in the World Athletics Championship in London last month, qualified for the final.
The men's long jump saw two athletes from the host state Tamil Nadu qualify for Tuesday's final.
Results (All finals):
Men: 5,000m: 1. G Lakshmanan (Services) 14:04.21; 2. Abhishek Pal (Railways) 14:08.38; 3. Mann Singh (Services) 14:08.87.
Shot Put: 1 Tejinder Pal Toor (Services) 18.86m; 2. Om Prakash Singh (ONGC) 18.80m; 3. Jasdeep Singh (Railways) 18.51m.
Women: 5,000m: 1. L Suriya (Railways) 16:02.85; 2. Chinta Yadav (Railways) 16:40.45; 3. Saigeeta Naik (All-India Police) 16:53.97.
Hammer Throw: 1. Sarita P Singh (Railways) 60.54m; 2. Gunjan Singh (Railways) 59.10m; 3. Jyoti (Haryana) 57.07m.
Nieva now High Performance Director of men's and women's teams
India's men's boxing coach Santiago Nieva was elevated to the position of High Performance Director for both men and women while women's chief coach G S Sandhu was made Director of the national coaches' commission.
The decisions were taken at the Boxing Federation of India's executive meet in New Delhi.
The appointment of Nieva as High Performance Director comes a few days after women's foreign coach Stephane Cottalorda quit his position within a month of coming here, complaining of delay in payment of his salary.
"I can handle both the jobs. I have played similar roles in Sweden as well but obviously, the expectations are much higher here," Nieva said.
Asked whether time management will be an issue, Nieva said:"I know it involves juggling my time at both the men's and women's camps (while the men's camp is in Patiala, the women's camp is in Delhi) but I feel it is manageable and I am confident of delivering results," he added.
Nieva took charge of the men's team in April this year.
In another significant development, one of the two chief coaches for men, Shiv Singh, was handed the reins of the women's camp.

Two players in lead in FIDE rating chess tournament
Top-seeded Ravichandran Siddharth and IM norm-holder Ram S Krishnan of BSNL were in joint with six points each after six rounds in the 6th Sri MSV Memorial International FIDE rating chess tournament in Chennai.
Two players from Kerala - O T Anilkumar and M A Joy Lazer were in second spot with 5.5points each.
A total of 17 players including FM Vinothkumar, Syed Anwar Shazuli, B Savitha Sri, S Harini and Gunasekaran were in third spot with five points each.
Important results (Sixth round): Syed Anwar Shazuli lost to Ravichandran Siddharth 6; Alan Diviya Raj 5 lost to Ram S Krishnan 6; P Vijay Shreeram drew K Gunasekaran 5; S Ganesh Babu 5 drew Kishore Kumar Jaganathan 5. B Savitha Shri 5 drew S Harini 5; Joy Lazar 5.5 beat P Srikrishnan 4.5; K S Sridhar 4.5 lost to O T Anilkumar 5.5; R Ashwath 5 beat A R Ilamparthi 4.