Asian Athletics C'ships: Indians bag 5 medals including two silvers on opening day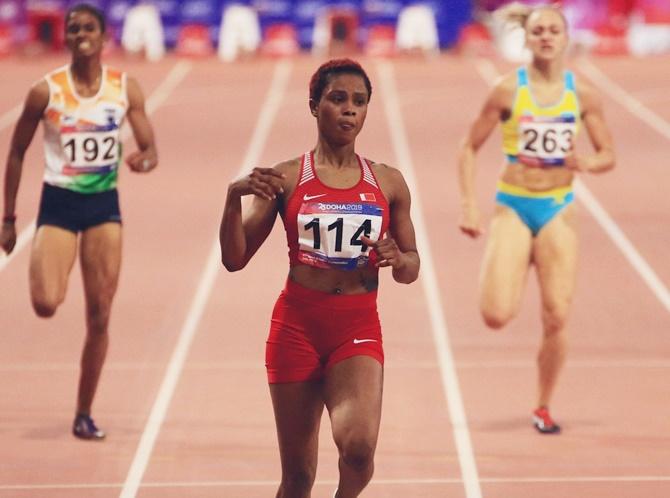 Javelin thrower Annu Rani and 3000m steeple chaser Avinash Sable led the charge with a silver each as India won five medals on the opening day of the Asian Athletics Championships on Sunday.
Quartermiler M P Poovamma, 5000m runner Parul Choudhary and 10000m runner Gavit Murali Kumar bagged a bronze each on a day which saw sprint sensation Hima Das suffer a lower back spasm during her 400m heat.
However there was no such worry for Dutee Chand as she smashed her own national record in 100m dash to qualify for the semifinals.
The 26-year-old Annu, who had won a bronze in the 2017 edition in Bhubaneswar, hurled the spear to a best distance of 60.22m to grab the silver. China's Lyu Huihui won the gold with an effort of 65.83m at the Khalifa Stadium.
Annu's performance was, however, more than 2m short of her national record shattering effort of 62.34m during the Federation Cup at Patiala last month, which earned her a berth in the World Championships to be held at the same venue in September-October.
"I was keen on doing well as I knew I had trained well for the event. I was pumped up and would have got my career best had I not thrown from far behind the line," Annu said after winning the medal.
The other Indian in the fray, Sharmila Kumari finished seventh with a best throw of 54.48m.
Sable clocked 8 minute 30.19 seconds to win a silver in men's 3000m steeplechase, his first international medal in his maiden international competition.
"I just gave my everything in the last 250m. I am really happy to win my first medal for the country," he said.
The 24-year-old Parul finished third in women's 5000m race, clocking a personal best of 15 minutes 36.03 seconds. She bettered her earlier personal best of 15:58.35 which she had clocked during the Federation Cup last month.
"I did not worry about the leaders stepping up the pace. I ran according to plan and how my body felt," Parul said.
The other Indian in the fray, Sanjivani Jadhav finished fourth with a time of 15:41.12 Bahrain took both the gold and silver through Mutile Winfred Yavi (15:28.87) and Bontu Rebitu (15:29.60).
The 28-year-old veteran Poovamma clocked 53.21 seconds in women's 400m race final to finish third behind Elina Mikhina (53.19) of Kazakhstan and pre-race favourite Salwa Naser (51.34) of Bahrain.
Poovamma's compatriot Hima had failed to finish the women's 400m heats in the morning as she developed a lower back spasm halfway through her race.
The 19-year-old Indian slowed down near the 180m mark and then clutched her lower back as she felt pain due to spasms before lying down on the track as the other runners sped away.
Gavit Murali won India's final medal of the day with a bronze in men's 10000m race with a personal best time of 28 minute 38.34 seconds. He finished behind two Bahrain runners, Dawit Fikadu (28:26.30) and Hassan Chani (28:31.30).
In men's 400m, Muhammed Anas and Arokia Rajiv qualified for the finals from their respective semifinals. Rajiv won his semifinal race with a time of 45.96 seconds while Anas clocked 46.10 to finish fifth in the other semifinal.
Saritaben Gayakwad (58.17s) and M Arpitha (58.20s) qualified for women's 400m hurdles finals from their respective heats while M P Jabir (50.17s) did the same in men's 400m hurdles.
National record holder Jinson Johnson and Mohammed Afsal also qualified for the 800m finals from their respective semi-finals.
Earlier in the morning session, 23-year-old Dutee clocked 11.28 seconds to set a national record while winning her heat in the women's 100m race.
She has qualified for the semifinals. Dutee bettered her earlier national record of 11.29 seconds which she set last year in Guwahati.
The Odisha runner, however, could not touch the 11.24 second qualification mark for the World Championships.
In women's 800m, Gomathi Marimuthu clocked 2:04.96 to finish second in her heat and qualify for the finals.
In men's triple jump, Chitravel finished ninth with a jump of 15.66m to qualify for the finals.
Kavinder Bisht stuns world champ to enter Asian C'ship semis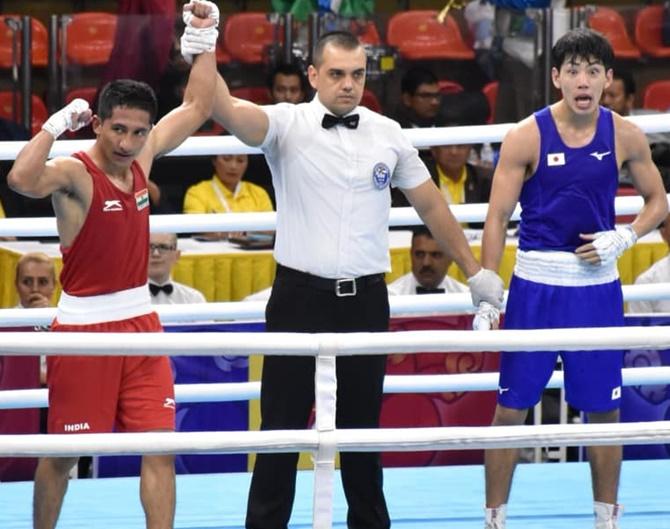 Kavinder Singh Bisht (56kg) upstaged reigning world champion Kairat Yeraliyev to be assured of his maiden Asian Championship medal, while Sonia Chahal (57kg) advanced to the last-four of the women's draw at the continental showpiece, in Bangkok, on Monday.
Bisht clinched a split verdict over Yeraliyev, who hails from Kazakhstan, in a high-intensity contest, while world silver-medallist Sonia (57kg) also fetched a similar victory over Korea's Jo Son Hwa.
Also making the semis was national champion Deepak Singh (49kg), who did not have to step inside the ring to fight for the spot after Afghanistan's Ramish Rahmani gave him a walkover owing to injury.
However, world championship bronze-medallist Lovlina Borgohain (69kg) bowed out of contention after a quarterfinal loss to reigning world champion Chen Nien-Chin of Taiwan.
The highlight of the morning session was Bisht, who came into the tournament after a gold medal at the GeeBee Tournament in Finland. The boxer from Uttarakhand showed tremendous grit against a tough opponent.
Yeraliyev succeeded in drawing Bisht into a trap in the opening three minutes of the bout but the Indian fought back hard in the next two rounds.
Bisht fought mostly with a shell guard and managed to thwart Yeraliyev's relentless attacks.
By the second round, the Kazakh, who is a two-time bronze-medallist at the event, dropped his guard. Although Yeraliyev seemed the quicker of the two, Bisht was managing to outmanoeuvre him quite comfortably.
Yeraliyev was also a bronze-medallist from last year's Asian Games.
Sonia also endured an exhausting bout against Hwa but came out trumps. The fast-rising boxer from Haryana struck some clean jabs in her thrilling win.
However, it was deja vu for Borgohain.
She was up against a rival, who defeated her just months ago in the world semifinals. The stage was different but the result was the same as Chen dominated the bout from start to finish for a 5-0 triumph.
France reach sixth Fed Cup final
Caroline Garcia and Kristina Mladenovic led France to their sixth Fed Cup final as they won the doubles to seal the two-time champions' dramatic 3-2 victory over Romania in their semi-final on Sunday.
The two 25-year-olds defeated world number two Simona Halep and Monica Niculescu 5-7, 6-3, 6-4 to wrap up the tie in front of an enthusiastic home crowd in the Normandy city of Rouen, ending Romania's dreams to reach their maiden final.
France, who won the competition in 1997 and 2003, will visit Australia in the Nov. 9-10 final.
Earlier on Sunday Australia, inspired by in-form Ashleigh Barty, defeated Belarus 3-2 in the other semi-final in Brisbane.
Halep and Niculescu began in dazzling fashion, taking the opening set but the French pair replied in style, levelling the score after striking 25 winners in the second set.
The French duo won on their first match point to seal the rubber and the tie as Niculescu thumped a service return into the net.
Garcia and Mladenovic were playing together for the first time since they were defeated by the Czech Republic in the deciding doubles of the 2016 Fed Cup final.
"Every match was incredible," said delighted France captain Julien Benneteau.
"It was always my intention as captain to put them together and no, it was not hard to do it. The final will be a massive challenge for us, with nothing to lose. But now we will have a good night."
Halep had earlier given the Romanians a 2-1 lead as she needed all her skill and determination to battle past aggressive baseliner Garcia 6-7 (6), 6-3, 6-4 in a thrilling encounter that lasted two hours and 21 minutes.
"I knew it would be more difficult than yesterday," the reigning Roland Garros champion said. "She started very fast, hitting the ball very strong, and I think I was a bit slow."
The Romanians, who won their only previous Fed Cup tie against France in 1976, made it to the last four after upsetting defending champions Czech Republic in an epic quarter-final in Ostrava in February.
Pauline Parmentier 6-3, 2-6, 6-2, who had won just one of her eight Fed Cup rubbers, beat Irina Begu 6-3, 2-6, 6-2 to send the tie to the decider with the Romanian struggling with an ankle injury in the third set.