Summary of sports events and persons who made news.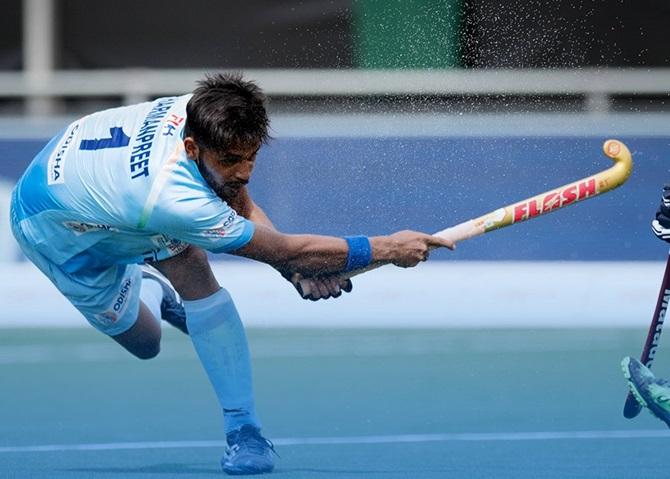 The Indian men's hockey team started their Australia tour on a winning note, beating WA Thundersticks 2-0 to at the Perth Hockey Stadium, in Perth, on Wednesday.
Goals from Birendra Lakra (23rd minute) and Harmanpreet Singh (50th) secured victory for the visitors in their opening match of the tour, on which they also play the Australian national team on May 15 and May 17.
Both the teams played fluently in the first quarter and created a few scoring opportunities. Debutant Jaskaran Singh got the first real chance for India in the fifth minute but failed to keep his shot on target.
The Thundersticks did try to penetrate India's defence but failed to get past Harmanpreet and Rupinder Pal Singh, who were rock solid at the back.
Akashdeep Singh also had a shot at goal for India towards the end of the first quarter, but Thundersticks's goalkeeper Ben Rennie made a fine save to deny the visitors.
India started dominating proceedings in the second quarter, but captain Manpreet Singh and Mandeep Singh were both denied by rival goalkeeper Rennie.
Patience, however, paid dividends as India took the lead in the 23rd minute through a fine field goal by Lakra.
After conceding, Thundersticks tried to stage a comeback but India's defence again proved to be too strong for the home side.
India's efforts in the closing stages of the second quarter saw them win a penalty-corner, but Rennie made a diving save to deny the visitors and keep the scoresheet at 1-0 at half-time.
The third quarter was a hard-fought one as both India and Thundersticks tried to take the upper hand.
In the 40th minute, Birendra Lakra was in the thick of action again as he found Sumit on the edge of the circle, who showed a burst of pace and made a circle entry towards the right side, but could not produce a final pass.
Mandeep also found himself in a similar position two minutes later, but Thundersticks defended well to thwart the danger.
The last quarter started well for the Indians as they pushed for a second goal, which finally came through a penalty-corner conversion by Harmanpreet in the 50th minute.
Just three minutes from the final hooter, the home side were awarded back-to-back penalty-corners but India defended stoutly to keep their lead intact.
India plays Australia 'A' next, on May 10.
Harikrishna in joint lead in Sweden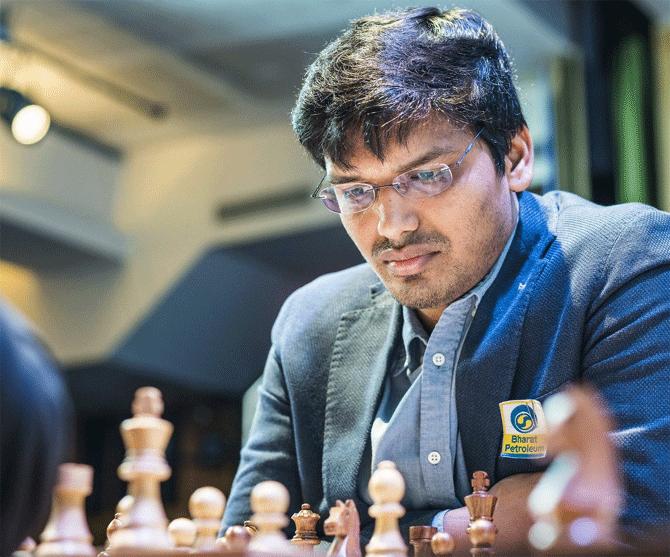 Young Indian Grandmaster Nihal Sarin returned to title contention with a crushing victory over World junior champion Parham Maghsoodloo of Iran in the fifth round of the TePe Sigeman & Co. chess tournament in Malmo, Sweden.
With just two rounds left in the category-17 event, Nihal shares the third spot with Liviu-Dieter Nisipeanu of Germany and Nils Grandelius of Sweden, while Maghsoodloo and Hillarp-Persson, also of Sweden, are next in the standings with two points each.
Ivan Saric of Croatia is at the bottom of the table with just 1.5 point to his name.
Nihal got off to an modest start but Maghsoodloo could not come up with dominant moves, putting the Indian in the driver's seat. Nihal then kept the pressure up till the Iranian cracked. The Kerala-based Grandmaster won a queen and finished the game with a flawless conversion.
"I spent a lot of time agonizing over the loss against Hari in the previous round. I just wanted to get better and not lose, so today was a much better day," Nihal said.
The top seeded Indian P Harikrishna was held to a draw by Saric but remained in joint lead on 3.5 points alongside England's Gawain Jones, who split the point with Nisipeanu.
Saric seemed to emerge with a slightly better position from the opening in an Anti-Marshall against Harikrishna. However, it was an endgame and Harikrishna did not take much time to start doing what he usually does best. After the first time control, the Indian took control of the proceedings even as Saric had enough defensive resources to hold.
In the other game of the day, Grandelius accounted for his Swedish counterpart Persson.
Results of Round 5: Ivan Saric (Cro, 1.5) drew with P Harikrishna (Ind, 3.5); Nihal Sarin (Ind, 2.5) beat Parham Maghsoodloo (Iri, 2); Nils Grandelius (Swe, 2.5) beat Tiger Hillarp-Persson (Swe, 2);.Liviu-Dieter Nisipeanu (Ger, 2.5) drew with Gawain Jones (Eng, 3.5).
Russian athlete Savina gets 12-year doping ban
Russian middle-distance runner Kseniya Savina has been banned for 12 years for anti-doping violations by global athletics authorities, the Russian athletics federation said on Wednesday.
Her coach and husband, Alexei Savin, received a four-year ban for violating anti-doping regulations, the federation said.
The Athletics Integrity Unit (AIU), which monitors anti-doping issues in athletics, had said last month that the two had been charged with "tampering and complicity", in violation of anti-doping regulations.
Russia has been rocked by several sporting bans in recent years after international investigations found evidence of widespread, state-sponsored doping in athletics and a string of other sports.
The Russian anti-doping agency RUSADA and Russia's athletics federation were suspended after a 2015 report commissioned by the World Anti-Doping Agency (WADA) found evidence of state-sponsored doping in Russian athletics.
RUSADA was reinstated last year. Russia's athletics federation remains suspended by the IAAF.