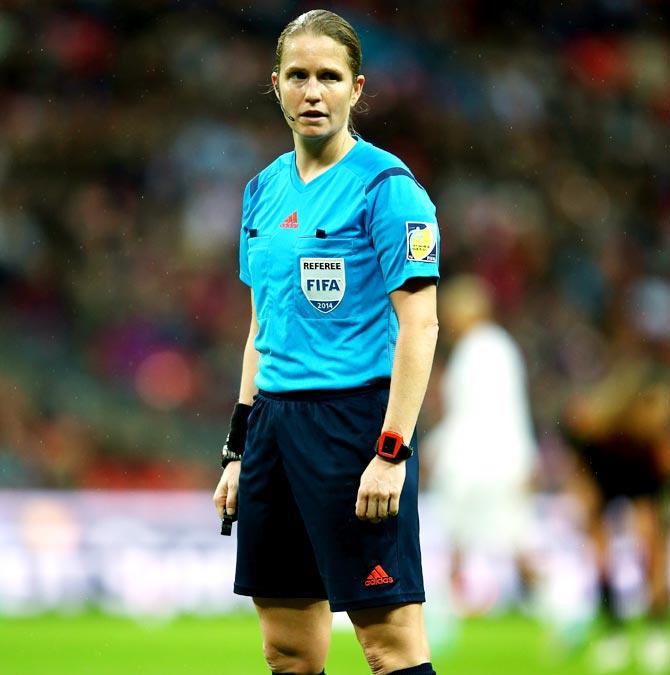 IMAGE: Referee Esther Staubli. Photograph: Richard Heathcote/Getty Images
In line with FIFA's objective to further develop women's football, a new milestone has been achieved in India as Esther Staubli is set to become the first female referee to officiate a match at the ongoing FIFA Under-17 World Cup 2017.
Staubli has been appointmed as the referee for the encounter between Japan and New Caledonia to be played on 14 October at Vivekananda Yuba Bharati Krirangan Stadium in Kolkata on Saturday.
"Staubli is one of seven women referees invited to the FIFA U-17 World Cup 2017 India where all the male and female match officials, nominated by FIFA's Referees Committee, have completed a host of activities together in a series of seminars, including theoretical sessions in the classroom and practical sessions on the field of play," FIFA said in a media release on Thursday.
"The benefits of joining forces are mutual when men and women team up to hone their interpretation, positioning and decision-making abilities. Another positive aspect is that the women referees have an opportunity to gain more experience. High-level competition matches are often limited during the year in their respective regions and so such opportunities are crucial as the referees prepare for the FIFA Women's World Cup in 2019," it further added.
In having the opportunity to now work together with their male colleagues at the FIFA Under-17 World Cup, FIFA's female referees are one step further in their preparation and in their careers at the top level.

That FIFA has selected female referees for a men's tournament is a logical consequence of an education programme that FIFA's Refereeing Department started in 2016.
The positive results and improvements seen in the joint preparations have shown that the time has come for elite female referees to officiate in men's competitions together with their male colleagues
Will Scholes be Oldham's new manager?
Former Manchester United midfielder Paul Scholes has been interviewed for the manager's job at League One club Oldham Athletic, BBC Radio Manchester reported on Wednesday.
The 42-year-old, an Oldham fan, ended his glittering playing career in 2013 after making more than 700 appearances for United and helping them win 11 Premier League titles.
Scholes has since worked as a television pundit and is part-owner of National League North club Salford City along with former United team mates Ryan Giggs, Gary and Phil Neville, and Nicky Butt.
Oldham are 19th in the third tier of English soccer.
FIFA's Valcke says reputation destroyed by ban
Former FIFA secretary general Jerome Valcke said his reputation had been destroyed by his 10-year ban from football as he appeared before a hearing to overturn the punishment at sport's highest appeal court on Wednesday.
The Frenchman, whose job was to ensure the smooth running of FIFA, and in particular the World Cup, was right-hand man to now banned president Sepp Blatter before both were embroiled in a corruption scandal which swept soccer's governing body in 2015 and led to a significant change in leadership.
Valcke was found guilty by FIFA's former ethics judge Hans-Joachim Eckert of misconduct over the sale of World Cup tickets, abuse of travel expenses, attempting to sell TV rights below their market value and destruction of evidence.
After being sacked from his post in January 2016, he was initially banned for 12 years, which was reduced to 10 by FIFA's own appeal committee last June. He has denied wrongdoing and is now appealing at the Court of Arbitration for Sport (CAS).
"It takes years to create your reputation, it needs one second to destroy, that's where I am," he told reporters. "I am living in peace with my family, I remain strong in my world and that is what I protect."
He said the hearing was "difficult".
"You have to be very clear with your statements," he said. "I hope that the panel of the CAS will have got my point of view.
"I often ask the question to myself, why such a desire from FIFA to destroy not only what has been done in the past and what has been done by myself?"
Valcke, who has resettled near Barcelona, is still facing criminal proceedings in Switzerland.
In March last year, the office of Swiss attorney-general Michael Lauber said Valcke was suspected of criminal mismanagement and other offences. He denies any wrongdoing.
Valcke joined FIFA in 2003 as marketing director but was fired in December 2006 for his part in botched sponsorship negotiations with credit card firms MasterCard Inc and Visa Inc.
Within months of that settlement, Valcke was not only back at FIFA but was at the helm of the administration as secretary general, answering directly to Blatter.
He was widely credited with getting the 2010 and 2014 World Cup tournaments, held in South Africa and Brazil respectively, up and running in time after delays in the preparations.
Brazil Olympic committee chief resigns amid bribe scandal
The head of Brazil's Olympics committee announced his resignation on Wednesday following his arrest last week for arranging alleged bribes to win Rio de Janeiro's selection as host of the 2016 Summer Games.
Carlos Arthur Nuzman, 75, had said last weekend that he was temporarily stepping down. But in a letter to the committee Wednesday he said he needed to devote himself to his legal defence and would not be returning.
In the letter, seen by Reuters, he denied any wrongdoing.
Brazilian federal prosecutors have said Nuzman paid roughly $2.5 million in bribes to gain support for Rio de Janeiro's candidacy to host the Games. The city was named as host in 2009.