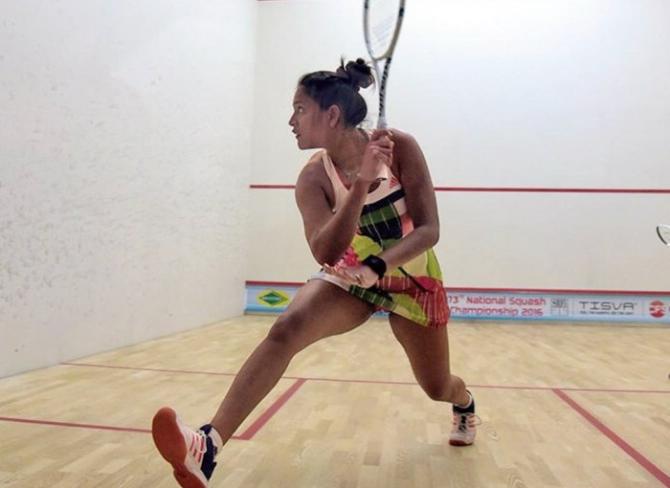 IMAGE: Dipika Pallikal in action. Photograph: Twitter.
Dipika Pallikal's run at the Oracle NetSuite Open ended with a crushing semi-final defeat at the hands of Malaysia's eight-time world champion Nicol David in San Francisco.
David, who would appear in the final of this event for the first time in her career, outclassed Pallikal 11-3 11-0 11-5 in just 22 minutes.
David was in charge of the proceedings right from the start as she glided around court and gave Pallikal no chance to launch any kind of attack.
Pallikal found some of her range in the third game but could not do anything to break David's dominance. David will take on England's world no. 6 Sarah-Jane Perry, who knocked out top seed and defending champion Laura Massaro in Thursday's semi-final.
India 'A' women's hockey team go down 0-7 to New South Wales
India A women's hockey team was handed a humiliating 0-7 defeat by New South Wales (NSW) in a one-sided contest at the 2017 Women's Australian Hockey League in Perth.
In what was only the second match in their maiden appearance, India A failed to even put up a fight against a strong NSW.
NSW took a 3-0 lead in the first quarter of the match itself to put the Indian eves on the back foot.
Field goals by Emily Smith (2nd minute), Courtney Schonell (6th minute) and Jaime Hemmingway (12th minute) gave NSW an early edge over the visitors.
Jessica Watterson added another goal to NSW's tally in the 18th minute, taking their overall lead to a dominating 4-0 in the second quarter.
In the final 15 minutes, NSW increased the intensity of their attack. A major error in the circle saw India give away a penalty stroke in the 46th minute, which was successfully converted by Kaitlin Nobbs.
Another penalty stroke given away in the 48th minute saw NSW take their total number of goals to six with Emily Smith converting it.
But the agony was still not over for the Indians as Abigail Wilson netted another field goal in the 52nd minute to make it 7-0.