A summary of sports events and sports persons, who made news on Wednesday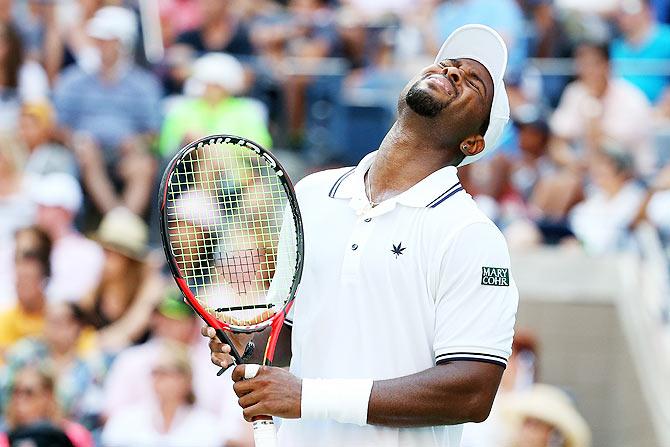 IMAGE: US tennis player Donald Young (in pic) has accused Briton Ryan Harrison of making racism comments against him during their match at the New York Open on Monday. Photograph: Streeter Lecka/Getty Images
The ATP are investigating "allegations of racial prejudice" after Ryan Harrison's stormy first-round clash against fellow American Donald Young at the New York Open on Monday.
The men's tour said in a statement on Tuesday they would review video and audio from the match after the two players had a heated debate at a change of ends during the encounter won by world number 44 Harrison, with the umpire intervening to calm the situation.
Following his 6-3, 7-6(4) defeat Young took to Twitter to offer his views on what had happened.
"I'm shocked and disappointed, Ryan Harrison, to hear you tell me how you really feel about me as a black tennis player in the middle of our NY match.
"I thought this was supposed to be an inclusive gentleman's sport," the 28-year-old world number 65 said.
Young did not elaborate on what was actually said between the pair, but Harrison was quick to respond.
"The accusations made by Donald Young tonight following our match are absolutely untrue," he said on Twitter.
"I'm extremely disappointed that someone would say this in reaction to a lost tennis match. Any video/audio will 100 percent clear me and I encourage anyone with the available resources to find it."
The ATP issued a statement later saying it had begun an investigation into the matter.
"The ATP takes any allegations of racial prejudice extremely seriously. A further review of all video and audio recording from the match will take place as this matter is investigated further," it said.
"No further comment will be made until the completion of the investigation."
United States Tennis Association spokesman Chris Widmaier said the organisation would stay in close contact with the ATP during the investigation.
Straight after the match Harrison gave an interview in which he said any bad feeling had been in the heat of the moment.
"At the end of the day, you see everybody, you like everybody and you want to be friends and friendly with everybody, but everybody out here I compete against, even the ones I like, they are the ones trying to take away my livelihood," he said.
"I have to do what I can to get through, and I was proud of myself for doing that."
Nishikori wins comeback match in New York
Kei Nishikori returned to an ATP Tour level event for the first time since last August and cruised into the second round of the inaugural New York Open with a 7-5, 6-3 win over American wild card Noah Rubin on Tuesday.
The Japanese fifth seed, fresh off winning a Challenger event in Dallas, trailed 3-0 in the first set but pulled level and then never looked back against Rubin, who was playing in front of his hometown crowd in Uniondale.
It marked the latest step forward for Nishikori, who last August suffered a severe right wrist injury that caused him to miss last year's U.S. Open and the Australian Open at the start of this season.
The former US Open finalist has since eased his way back to competition by playing in Challenger events, dropping a first-round clash in Newport Beach before his triumph in Dallas.
Next up for Nishikori in the tournament that moved from Tennessee to Long Island after four decades, will be a clash against Russian Evgeny Donskoy, a 7-5, 6-1 winner over Dominican Victor Estrella Burgos.
Konta defeats qualifier Pera to avenge Melbourne shock
Johanna Konta powered past qualifier Bernarda Pera 7-6(5), 6-1 in the first round of the Qatar Open on Tuesday to avenge her shock defeat by the American in the Australian Open last month.
Briton Konta was broken in the 11th game of the first set but dragged the contest into a tiebreak, which she edged. She then switched gears in the second set to seal the victory in an hour and 28 minutes.
Twice Wimbledon champion Petra Kvitova also advanced to the second round with a clinical 6-0, 6-3 victory over wildcard Cagla Buyukakcay. She next faces Poland's Agnieszka Radwanska.
Fourth seed Garbine Muguruza, playing her first event since an early exit at the Australian Open, beat China's Duan Yingying 6-3, 6-4 in 87 minutes to progress to the round of 16.
"It was a very tough match," Muguruza, who needed eight match points to see off her opponent, said.
"It doesn't matter how many match points I had, but I won. That's the important part, and I'm so happy because it's been so long since I've competed. It's good to have a victory."
Former coach Bennell found guilty of multiple sex offences
Former soccer coach Barry Bennell was found guilty of multiple sexual offences against boys in the 1980s, British media reported on Tuesday.
The 64-year-old, who was once a talent spotter at Crewe Alexandra and a coach at ManchesterCity, was convicted of 36 charges including rape and indecent assault by a jury at Liverpool Crown Court.
The BBC reported the jury had failed to reach verdicts on seven counts and would continue discussions on Wednesday. It said the judge directed them to find Bennell not guilty on three other counts.
Bennell was charged in November 2016 after prosecutors received a file of evidence from Cheshire Police, the force in charge of the area of northwest England where Crewe Alexandra are based.
Bennell, who had denied 48 alleged offences between 1979 and 1990 relating to 11 complainants, chose not to give evidence in his defence during the month-long trial and appeared by video link from prison due to illness.
He had pleaded guilty before the trial started to seven counts of indecent assault involving three boys.
Allegations of child sex abuse in English soccer from the 1970s through to the 1990s have shocked Britain and led to deep soul-searching in the game amid fears hundreds of young boys might have been involved.
US senators raise concerns about extent of sexual abuse in sports
US Senators investigating sexual abuse in sports said on Tuesday they were concerned about "potential systemic issues" involving abuse after written responses from the US Olympic Committee and USA Gymnastics did not provide significant new details about how they responded to accusations of abuse.
The Senate subcommittee is waiting for responses from the national governing bodies of 53 other Olympic sports, from swimming to figure skating, to help determine the extent of abuse.
The US Senate opened its investigation on Jan. 25 after the first sentencing hearing for Larry Nassar, the former doctor for USA Gymnastics' national team who has pleaded guilty to molesting female athletes. Nassar was sentenced in January and February in two separate hearings to 40 to 175 years and 40 to 125 years in prison.
Senators Jerry Moran, a Republican, and Richard Blumenthal, a Democrat, said in a joint statement that they wanted to know if officials at the sport's national governing body and the US Olympic Committee (USOC) could have stopped Nassar's abuse.
"After our initial review, we remain concerned about potential systemic issues within these institutions and plan to seek additional clarification," the senators, who oversee the Senate's Subcommittee on Consumer Protection, said in the statement.
USOC and USA Gymnastics did not reply to requests for comment about the senators' remarks.
The senators shared copies of the written responses from the US Olympic Committee, USA Gymnastics and MichiganStateUniversity, where Nassar was also employed and treated young athletes. The president and the athletic director of MichiganStateUniversity have resigned, and the school said last week it would fire a dean who oversaw the college where Nassar worked.