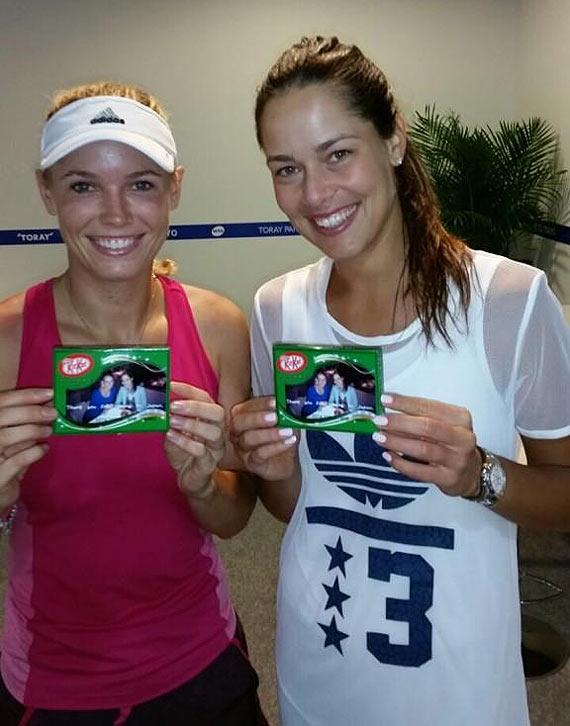 Caroline Wozniacki and Ana Ivanovic show off their pictures on the chocolate wrapper. Photograph: Ana Ivanovic/Twitter
Tennis stars Caroline Wozniacki and Ana Ivanovic were in for a tasty surprise on their arrival in Tokyo before the commencement of the Japan Open.
The two tennis beauties were featured on the cover of a popular chocolate brand and Ivanovic couldn't hide her happiness at the promotional stunt.
"This is the kind of fans we have in Japan! They printed our photo on the box of kit kat!!! @CaroWozniacki How cool!," Ivanovic tweeted.
The Japan Open starts September 29 to October 5.
Balotelli slept with Liverpool fan to become a better player!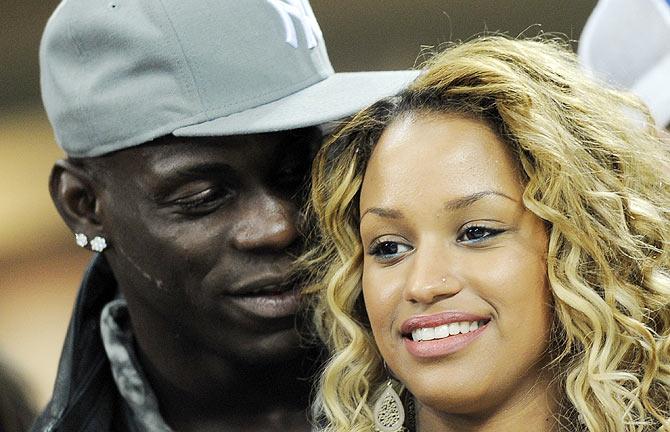 Liverpool's Mario Balotelli and ex-girlfriend Fanny Neguesha. Photograph: Claudio Villa/Getty Images
Mario Balotelli slept with a Liverpool fan claiming that it was nice as it "helps his football", it has been revealed.
According to the fan, Emma Dalton, who contacted the 24-year-old Italian footballer on social media as a joke, Balotelli flirted with her for days before inviting her to a party at his rented home, the Mirror reported.
Dalton said that she should never have gone to the footballer's house as he was only interested in one thing from her and then wanted her out of the way.
A source said that Balotelli, after having non-romantic sex, asked Dalton to leave along with her friends, who were invited too and had called a taxi to go back.
The source added that the way he did it made the 23-year-old fan feel really cheap, like he had just used her and was chucking her out.
The following day Balotelli called and said he just wanted to be "good friends" as he wanted to get back together with his former fiancee Fanny Neguesha.