Bolt to race in Monaco prior to London swan song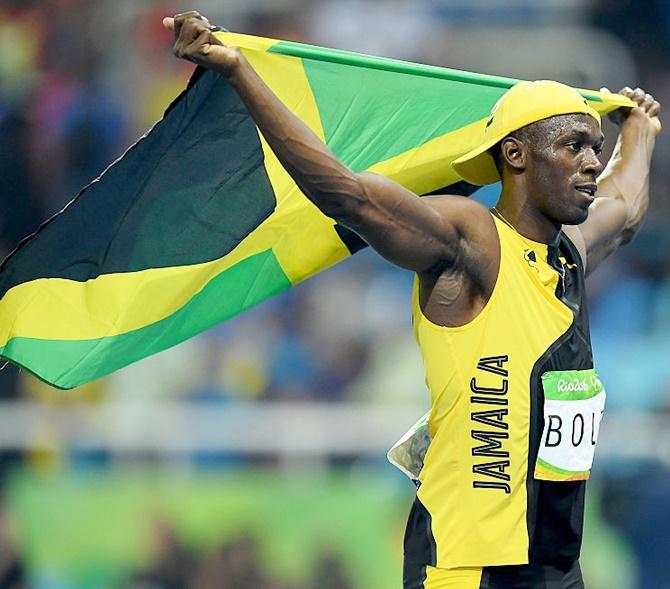 IMAGE: Usain Bolt of Jamaica. Photograph: Matthias Hangst/Getty Images.
Jamaican sprinter Usain Bolt will run the 100 metres at the Herculis EBS meeting in Monaco on July 21, two weeks before his final world championships appearance in London, organisers said on Wednesday.
The eight-time Olympic gold medallist, who ran his final race in his home country earlier this month, last raced at the Louis II Stadium in 2011.
"Organisers of the Herculis EBS meeting have confirmed that Usain Bolt will compete at the IAAF Diamond League meeting on 21 July as part of his farewell tour," the governing IAAF said on its website.
The double sprint world record holder, who has also amassed 13 world championship medals, will make his final bow in August in the British capital, where he will only run the shorter sprint despite having a wildcard for the 200m.
Devendro enters semis to confirm medal in Ulaanbaatar
Commonwealth Games silver-winner L Devendro Singh (52kg) assured himself of his first international medal of the year by advancing to the semifinals of the Ulaanbaatar Cup boxing tournament in Ulaanbaatar, Mongolia on Thursday.
Devendro, who jumped to the flyweight category late last year, defeated Russia's Dimitrii Yusupov to make the last-four stage of the tournament.
The triumph is a major confidence-booster for the 23- year-old from Manipur, who missed out on the Asian Championships earlier this year after surprisingly going down in the trials. He had also lost early in the Strandja Memorial in Bulgaria and the King's Cup in Thailand.
Among other Indians in the fray, it was curtains for King's Cup bronze-medallist Rohit Tokas (64kg), who lost to Chinzorig Baatarsukh of Mongolia.
Five-time world champion M C Mary Kom (51kg), who got a bye into the quarter-finals, will open her campaign against the winner of the bout between Russia's Anna Aedma and Korea's Chol Mi Bang.
In the men's draw, Strandja Memorial silver-medallist Mohamed Hussamuddin (56kg) will face China's Ma Xin Ming, while King's Cup gold-medallist K Shyam Kumar (49kg) will meet Enkhmandakh Kharkhuu of Mongolia in his last-eight stage contest.
IOC's Bach to meet US President Trump at White House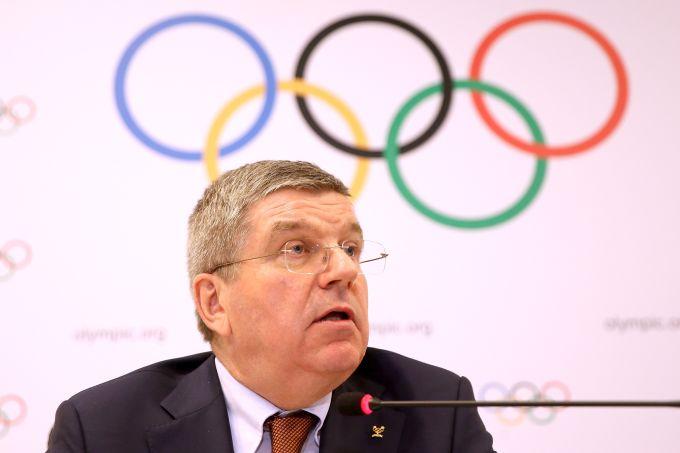 IMAGE: Thomas Bach. Photograph: Matthew Stockman/Getty Images.
International Olympic Committee President Thomas Bach will meet US President Donald Trump at the White House on Thursday, a source within the Olympic movement told Reuters, as Los Angeles bids against Paris to host the 2024 summer Games.
The source gave no further details about the meeting, which comes a day after Bach announced a new IOC sponsorship deal with chipmaker Intel Corp in New York that is set to run until 2024.
Trump has publicly backed the Los Angeles 2024 Games bid but has so far had no active involvement in the campaign.
The IOC has said it is planning to award both the 2024 and the 2028 Games at its session in September and the two cities are likely to share them among themselves.
McIlroy backs PGA Tour drug testing reforms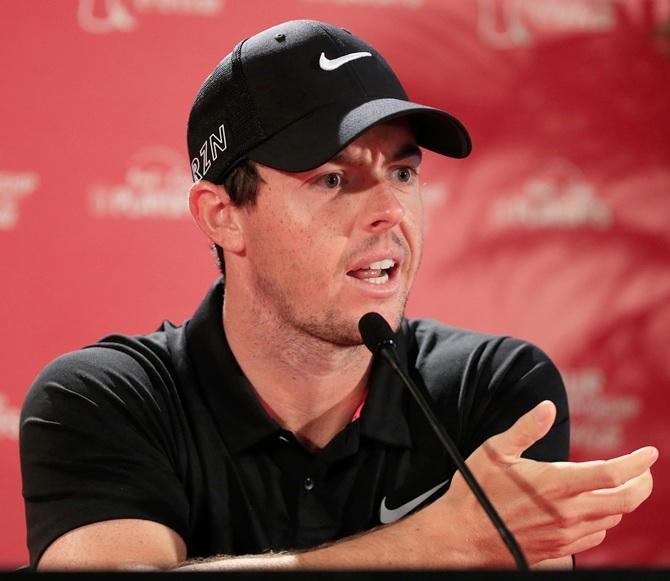 IMAGE: Northern Ireland's Rory McIlroy speaks to the media. Photograph: Sam Greenwood/Getty Images.
Four-time major winner Rory McIlroy has voiced support for the PGA Tour's drug-testing reforms that introduce blood screening and revise the list of banned substances to match the World Anti-Doping Agency's directory for the 2017-18 season.
Last July, the 28-year-old Briton expressed concern over the lack of regular drug testing in golf compared with other Olympic sports and advocated the introduction of blood testing.
The PGA tour said on Tuesday that urine tests would still make up a bulk of examinations but blood screening would be introduced to detect human growth hormone.
Policies regarding player suspensions for illegal drugs use will also be made more transparent.
"If we're not blood testing we're not doing all we can to make sure that golf is a clean sport, so I obviously welcome the news," McIlroy was quoted as saying by the Daily Telegraph ahead of Thursday's first round of the Travelers Championship.
"If golf wants to be a sport in the Olympics, it needs to get on board with everything that all the other sports do as well.
"I really don't think anyone should be fearful as I don't think that golf has any sort of drug problem at all. You have to be so careful about what you take, but that's part and parcel about being an athlete."
McIlroy, who has battled a recurring rib injury since January, has not won a tournament this year and missed the cut at the U.S. Open earlier this month, but hopes he can still finish the season on a strong note.
"I always felt 2017 was going to be a bit of a transitional year...," he added.
"It's still got two majors (left) and I'd like to finish it well."
"But if I look back over my first 10 years as a pro, am I happy with where my career's at? I would say, 'yes, I guess'. But I definitely feel like in the next 10 years, that I can do better."