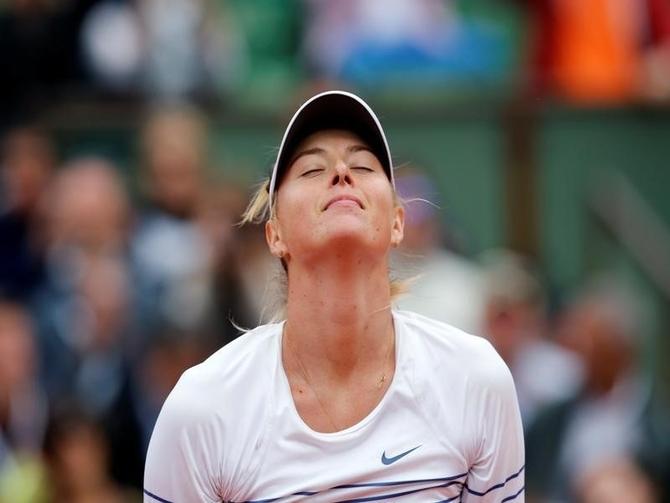 IMAGE: Maria Sharapova of Russia celebrates after beating Samantha Stosur of Australia during their women's singles match at the French Open tennis tournament at the Roland Garros stadium in Paris. Photograph: Jean-Paul Pelissier/File Photo/Reuters.
Maria Sharapova's reduced suspension for a doping violation is set to provide a healthy boost to her bank balance with corporate sponsors reaffirming their commitment to the Russian player.
The 29-year-old can return to the court next April after the Court of Arbitration for Sport reduced her two-year ban by nine months on Tuesday.
Sharapova's stunning admission in March that she had tested positive for meldonium at the Australian Open, and her subsequent ban by the International Tennis Federation, saw a number of sponsors distance themselves from her.
Swiss watchmaker Tag Heuer cut ties with the former world number one while Porsche, a unit of Volkswagen AG, was among those to suspend its relationship with the Russian.
However, in the wake of Tuesday's verdict the German luxury carmaker confirmed it would discuss its tie-ups with Sharapova.
"We welcome the CAS verdict and are delighted for Maria," Porsche said in a statement published by Russian news agency TASS.
"No contracts have been terminated. We will be discussing a future collaboration over the next days and weeks."
Nike Inc, the world's biggest sportswear brand, initially suspended its partnership with Sharapova after her admission in March but said it would continue to work with the player after her two-year ban was announced in June.
"We are pleased that Maria will be back playing the sport she loves in April and look forward to partnering with her and enjoying her continued success on and off the court," Nike said in a statement published by ESPN.
Mineral water brand Evian and racket maker Head, long-time backers, also released statements hailing the reduction.
Head chairman and CEO Johan Eliasch, a robust supporter of Sharapova throughout the scandal, said "justice" had been served.
"We are very proud to have stood by Maria for the right reasons throughout these difficult and testing times," he said in a statement posted on the company's social media accounts.
Five-times grand slam champion Sharapova, the world's highest-paid sportswoman, earned $29.7 million last year, according to Forbes magazine, most of it from endorsements, appearances and royalties rather than victories on court.
Sponsors' moves to rekindle their relationships with Sharapova were viewed dimly by some sports fans on social media.
"So boss of Head reckons drug taking is fine. Tennis is a mess with sponsors like this!" tweeted David Cooke