Spain-based striker Park Chu-young has been left out of South Korea's 23-man squad for this month's World Cup qualifier against Qatar, the country's football association said on Monday.
Celta Vigo took Park on loan from Arsenal for the ongoing season but the 27-year-old has failed to score since November.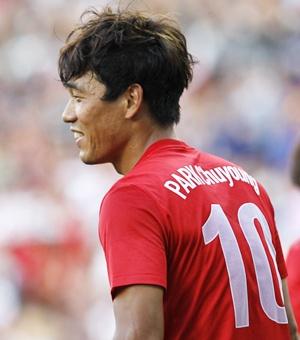 South Korea, second behind Uzbekistan in Group A, will host Qatar on March 26 in the final stage of Asian qualifiers for Brazil 2014.
"We build our roster based on our opponent on a game-by-game basis," head coach Choi Kang-hee was quoted as saying by the Yonhap news agency. "I think we have plenty of winning combinations in midfield and upfront."
Former South Korea captain Park, who played in the 2006 and 2010 World Cups, enjoyed three seasons with AS Monaco in France before joining English Premier League side Arsenal in 2011.
Choi named Kim Shin-wook and Lee Dong-gook as the striking pair in the squad which includes 11 foreign-based players.
South Korea suffered a humiliating 4-0 loss at the hands of Croatia in an international friendly last month, which forced the coach to ring in the changes.
"After the loss, I felt we needed to start anew," Choi said. "When the opponent plays a defensive-minded game, we have to try different things offensively.
"We're also prepared for a situation when we're trailing and have to play catch-up."
The team lost 1-0 to Iran and drew 2-2 with Uzbekistan in their last two fixtures of the World Cup qualifiers.
Photographs: Alessandro Garofalo/Reuters