Bayern have so far played a lacklustre season, lying in fourth place in the Bundesliga for their worst standing in 10 years.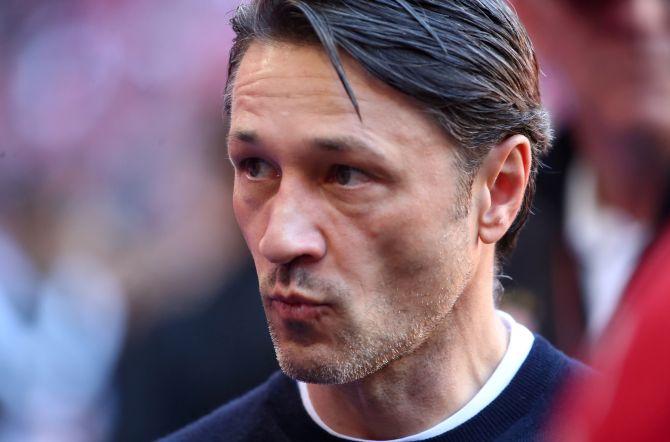 German champions Bayern Munich have parted company with coach Niko Kovac, a day after a 5-1 thrashing away to Eintracht Frankfurt in the Bundesliga, the club said on Sunday.
A statement from Bayern said Kovac had gone after "mutual agreement" between him and the club, which dropped to fourth in the league after their heavy defeat.

Bayern president Karl-Heinz Rummenigge said: "The performance of our team in recent weeks and the results have shown us that there was need for action.

"I had an open and serious conversation with Niko on this basis on Sunday with the consensual result that Niko is no longer coach of Bayern."

Defeat by Eintracht was Bayern's second of the season but they have also drawn three matches.

"We all regret this development. I would like to thank Niko Kovac on behalf of FC Bayern for his work, especially for winning the double this past season," added Rummenigge.

Assistant coach Hans Flick will take charge of Bayern's Champions League clash with Olympiakos on Wednesday and for next Saturday's key clash with Borussia Dortmund.

Kovac, who took over at Bayern in 2018 after a spell in charge of Eintracht Frankfurt where he won the German Cup, said it is the "right decision".

"The results, and also the way we last played, made me come to that decision," he said.

"During this time, our team has won the championship, the DFB Cup and the Super Cup. It was a good time. I wish the club and the team all the best."

Bayern have so far played a lacklustre season, lying in fourth place in the Bundesliga for their worst standing in 10 years and have conceded more goals than in any of the past decade at this stage.

While topping their Champions League group thanks to three wins, including a 7-2 demolition of Tottenham Hotspur, Bayern have not hit the form that has seen them dominate the league for the past seven seasons and win the 2013 Champions League crown.

Lacking any attacking plan they have largely relied on the goals from Robert Lewandowski to get them out of trouble with the Pole scoring 14 times in 10 league games alone.

They have been also been leaking goals despite a backline that includes French world champions Benjamin Pavard and now-injured Lucas Hernandez, while big close season transfer Philippe Coutinho has yet to shine in the Bundesliga.

Kovac had been brought in as an inexpensive option after a string of big-name predecessors, including Louis van Gaal, Jupp Heynckes, Pep Guardiola and Carlo Ancelotti.

German media have been speculating about a possible successor to Kovac for weeks, with Ajax Amsterdam coach Erik ten Haag seen as a possible target.
Everton's Gomes to have surgery on broken ankle
Everton midfielder Andre Gomes will have surgery on Monday after suffering a fracture-dislocation to his right ankle in their Premier League match against Tottenham Hotspur, his club have said.
The Portugal international sustained the injury in the 1-1 draw at Goodison Park on Sunday after landing off balance at speed following a tackle from Spurs forward Son Heung-min.
Everton released a statement confirming Gomes would need surgery but did not set out a timeline for his return.
Manager Marco Silva has backed the 26-year-old to make a full recovery.
"We will give all support to Andre and his family," Silva told reporters. "As a group we have to stay together."
"He is seriously injured but I am 100% sure Andre will become stronger as a football player and as a man because he is a fantastic lad, a fantastic professional."
Son was shown a red card for his part in the incident and was in tears in the dressing room afterwards.
On Monday, the 27-year-old was called up to the South Korea squad for two matches later this month and national team coach Paulo Bento said his international team mates would rally around him.
"What happened in that match is really unfortunate," Bento told Yonhap News Agency. "It doesn't matter which country a player is from. You never want to see anyone get hurt that seriously, but it's also part of the game."
"Heung-min has to pick things up and move forward, and we'll try to help him the best we can."
South Korea play Lebanon in a World Cup qualifier on Nov. 14 before facing Brazil in a friendly five days later in Abu Dhabi.
Support for tearful red-carded Son after Gomes injury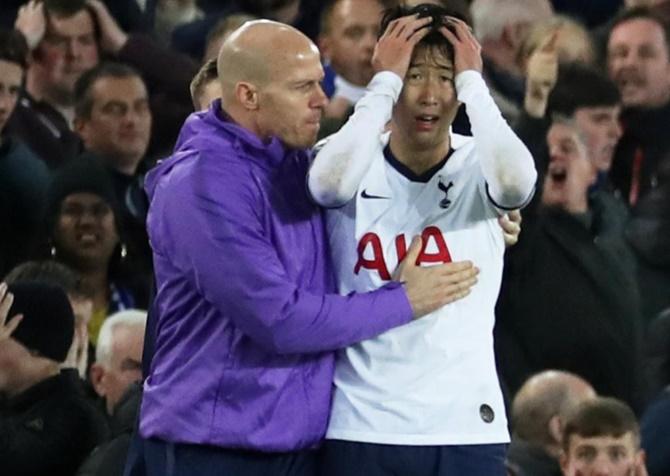 Tottenham Hotspur forward Son Heung-min was left in tears after being involved in an incident that resulted in a sickening injury to Everton's Andre Gomes.
Son was shown a red card after Gomes collapsed to the ground with what looked like a serious injury to his lower right leg.
He was clearly distraught, although his manager Mauricio Pochettino said the decision to send off Son was "unfair" — a view echoed by many former players and pundits alike.
Tottenham's Dele Alli, who scored his side's goal in the 1-1 draw at Goodison Park, said Son was inconsolable.
"Sonny is devastated and in tears. It's not his fault. Son is one of nicest people you've ever met. He can't even lift his head up, he's crying so much," Alli told Sky Sports.
It was a confusing situation all round as Son's attempted tackle made minimal contact with Gomes but the Portuguese midfielder then landed off balance at speed.
Referee Martin Atkinson initially showed a yellow card but then produced a red, apparently after a VAR intervention.
A Premier League statement said: "The red card for Son was for endangering the safety of a player which happened as a consequence of his initial challenge."
Twitter went into overdrive after the incident.
"Shocking decision to send Son off but that's insignificant in the scheme of things," former Liverpool and England striker Michael Owen said.
"Son clearly massively upset. Without the injury he wouldn't have been shown a red card," added former Everton and Tottenham striker Gary Lineker who also attacked VAR.
"In its present state it is killing the game. It's being used to referee the game rather than something in the background to correct the absolute howler," Lineker said.
Pochettino said his thoughts were with Gomes and that Everton's players had been into the dressing room to console Son.
"I think Son is devastated because of the consequences. I want to send my best wishes to Gomes. What's important now is that he recovers well."
"It is a bad moment for us as a group and as a team. It's more than a football game, this is the most important thing right now," he said.
Gomes's injury was not the only talking point from a drab match as VAR again found itself in the spotlight.
Shortly after scoring Tottenham's goal, VAR was used to decide whether Alli had touched the ball with his hand when he jumped to defend a cross into the box by Yerry Mina.
Despite replays suggested a penalty, while harsh, should be given against Alli, a VAR check taking three minutes decided in favour of the Tottenham player to boos from the home crowd.
Marco Silva said he was "100% sure what happened" after watching the same replays seen by VAR.
"I don't know why they needed two or three minutes and then decided what they decided," he said.