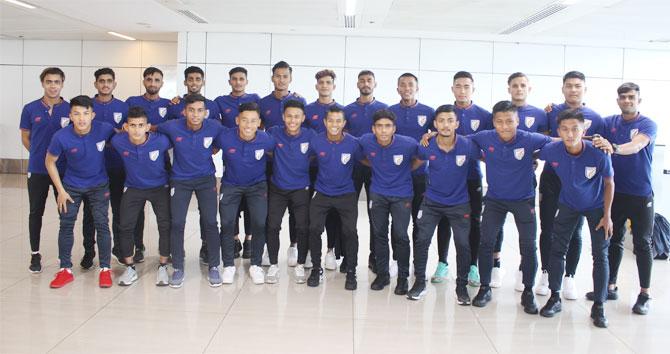 India were held to a goalless draw by Bangladesh in their opening match of the SAFF U-18 Championship in Kathmandu on Monday.
India started the match on an attacking note but an injury to goalkeeper Prabhsukan Singh Gill in the ninth minute forced coach Floyd Pinto to make an early change.
With Bangladesh committing bodies in defence, the Indians found it difficult to get past their opponent's backline.
India's chances came through set pieces. In the 36th minute, Sumit Rathi's header came close to giving India the lead, but it flew inches over the bar.
Changing over, India continued to dominate the possession but failed to create clear goal chances.
Despite ringing in two changes in the attacking line, India failed to create goal scoring opportunities and even failed to convert half chances.
"Bangladesh defended with 10 men, and I have to give credit to the boys for not stopping to put in the effort," Pinto said.
"We have got a point from this match but it is a minor thing. But these boys will improve as the tournament progresses, and their quality of football will also improve."
India play Sri Lanka in their last group stage match of the Championship on September 25.
Sri Lanka had earlier lost 0-3 to Bangladesh and the top two teams from the group will qualify for the semi-finals slated for September 27.
It's not a great start: Kante after Liverpool beats Chelsea
After losing to Liverpool, Chelsea's N'Golo Kante has admitted that the club did not have the great start in the Premier League.
Chelsea faced a 1-2 defeat against Liverpool on Sunday in the Premier League. Chelsea is on the 11th position on the points table with just eight points while Liverpool top the table with 18 points.
"It is not a great start, we have work to do. We are not where we want to be but we can fight and change this in the next games," the club's official website quoted Kante as saying.
After the conclusion of the first half, Liverpool took a 2-0 lead over Chelsea. Although Kante managed to score a goal in the second half, he failed to level the scores.
Kante said they played well in the second half.
"We played very well in the second half. We were able to score one but not to equalise, but there were some good points in the performance and we need to take those points on to have a good result in the next game. If we keep working this way we can get a win in our next game," he said.
Chelsea will now compete against Brighton in Premier League on September 28.
Hungary, Slovakia get stadium bans for fans' racist behaviour
Hungary and Slovakia will play their next Euro 2020 qualifiers behind closed doors after both national federations were sanctioned by European soccer's governing body UEFA on Monday for racist behaviour by their supporters.
Riot police were called into action in Budapest after trouble erupted in the stands during the Euro 2020 Group D qualifier between the teams on September 9, which Slovakia won 2-1.
In addition to the racism charge, the Hungarian federation was also sanctioned for their fans throwing objects and setting off fireworks and was fined 67,125 euros ($73,710).
Slovakia's federation was fined 20,000 euros.
Slovakia's next UEFA match is a Euro 2020 qualifier at home to Wales on Oct. 10 while Hungary's qualifier against visiting Azerbaijan on Oct. 13 will also be played behind closed doors.
Slovakia and Hungary both have nine points from five games, one point behind Croatia and three ahead of Wales.
The Romanian Football Federation was fined 83,000 euros and ordered to play its next two games behind closed doors for failing to control fans in Group F games with Spain and Malta.
Romania was sanctioned for pitch invasions, setting off fireworks, throwing objects and racist behaviour by their supporters, including offensive banners and chants.
Romania's next home game is against Norway on Oct. 15 but UEFA said in a statement that the punishment related to the second match was suspended for one year.
Romania are third in the standings with 10 points from six games, eight adrift of leaders Spain and and one behind Sweden.
The top two qualify for next year's finals.
British workers jailed for taking photos of body of dead soccer player Sala
Two workers from a British CCTV firm were jailed on Monday for accessing graphic mortuary footage, later circulated on social media, of the body of the late Argentine soccer player Emiliano Sala, who was killed in a plane crash in January.
Sala, 28, was flying from his previous club Nantes in western France to Wales to join Cardiff City when the Piper Malibu aircraft disappeared over the English Channel.
After his body was recovered, Sherry Bray, 48, and Christopher Ashford, 62, accessed footage of his body in the mortuary and the images later appeared on social media.
"Sherry Bray and Christopher Ashford caused immense suffering to Mr Sala's family and friends with their deeply offensive actions," said Anthony Johns of Britain's Crime Prosecution Service.
"It is impossible to imagine why anyone would wish to record or view these sorts of images in such a flagrant breach of confidentiality and human decency. It was truly appalling and they both now face time in prison as a consequence."
Police launched an investigation in February after officers became aware that a graphic image of the post-mortem of Sala was appearing on social media.
They raided the officers of the closed circuit TV firm which held the out-of-hours contract to monitor the mortuary and discovered that the company's director, Bray and another member of staff, Ashford, had illegally accessed the footage.
Bray had taken photographs of the footage on her mobile phone and then sent the pictures to another person on Facebook Messenger, police said. Evidence showed Bray had also taken pictures of another body in the mortuary.
Bray, who pleaded guilty in August to three counts of computer misuse and perverting the course of justice, was jailed for 14 months at Swindon Crown Court.
Ashford, who admitted three counts of computer misuse, was sentenced to five months in prison.