News of all that's transpired on and off the football field
Former Liverpool striker Daniel Sturridge has been fined 75,000 pounds and banned for six weeks, four of which are suspended, for breaching betting regulations, the Football Association said on Thursday.
The FA said the 29-year-old had been charged with 11 alleged breaches of its betting rules, nine of which were dismissed by an independent regulatory commission.
Sturridge, who was released by Liverpool after his contract expired last month, can resume playing from July 31, but the FA added that it disagreed with the commission's findings and would appeal the decision to dismiss most of the charges against him.
"I am pleased that 9 of the 11 charges were dismissed and that the panel found me to be an honest and credible witness, and that my actions on one particularly difficult day were out of character," Sturridge said in a statement.
"The case was heard over 7 days by a distinguished panel, which resulted in a lengthy and carefully considered decision, and followed an extensive investigation by The FA. It is therefore extremely disappointing to hear that the FA will be appealing this decision."
Sturridge was accused of passing on inside information about his potential transfer moves away from Liverpool in January 2018 to close friends and relatives that was then used for, or in relation to, betting.
The commission found Sturridge guilty of two of the charges, which alleged he had instructed his brother, Leon, to bet on a possible move by him to La Liga side Sevilla.
Arsenal edge Bayern in ICC match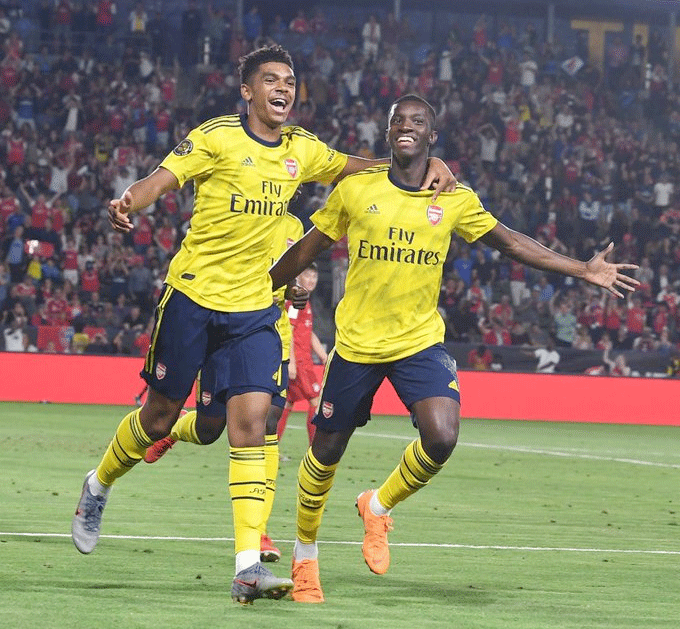 Eddie Nketiah scored a late goal for Arsenal to beat Bayern Munich 2-1 in their opening clash of the International Champions Cup at DignityHealthSportsPark in Carson, California on Wednesday. After a scoreless first half, the Gunners took the lead in the 49th minute when Bayern left back Louis Poznanski steered the ball into his own net.
The German champions, however, were back on level terms in the 71st minute when Robert Lewandowski nodded home Serge Gnabry's cross.
Both teams had chances to take control late before Arsenal's Tyreece John-Jules won possession and provided a nice cross to Nketiah to score the winner with two minutes remaining.
The International Champions Cup features 12 teams playing friendly matches in venues in North America, Europe and Asia.
Juventus snare De Ligt from Ajax for 75 million euros
Juventus announced the signing of Dutch teenager Matthijs de Ligt from Ajax Amsterdam on Thursday, having secured one of the most sought-after young players in world soccer for 75 million euros ($84.25 million).
The 19-year-old Netherlands international, who captained his former club in their thrilling run to the Champions League semi-finals last season, has signed a five-year deal with the Serie A champions.
"It's the news all Bianconeri fans have been waiting to hear all summer: Matthijs de Ligt is officially a Juventus player!" the club said in a statement on their website.
The contract includes a buyout clause of 150 million euros that will be activated in its third year, broadcaster Sky Italy reported on Wednesday.
De Ligt becomes one of the most expensive defenders in the world, with his national team captain Virgil van Dijk top of the list following his move to Liverpool from Southampton for 75 million pounds ($94 million) in 2018.
After breaking into the Ajax first team aged 17 in 2016, De Ligt established himself as a regular starter over the following season and soon became the most coveted defender in Europe due to his strength, anticipation and ability on the ball.
He played 90 minutes in 17 of Ajax's 18 Champions League matches last season, scoring three times in a run which culminated in a semi-final defeat to Premier League side Tottenham Hotspur on away goals.
De Ligt did win the Eredivisie title and Dutch Cup in his final campaign at Ajax, alongside team mate Frenkie De Jong, who has since joined Barcelona.
Spanish media reported that De Ligt had also been courted by the Catalans, but the player's agent Mino Raiola said at Juventus' headquarters on Wednesday that the Italian club were always the preferred destination.
"It's not a question of who wanted him most, but Juve are the best team for him. For a defender it is important to come to Italy," Raiola told reporters.
"If you are to become the greatest in the world, it is a necessary stage.
"He's the number one among the youngsters. He's like (Pavel) Nedved, maybe more than him, for his mentality and he's like Zlatan (Ibrahimovic) for his ambition. He has it all."
De Ligt had told Netherlands' NOS television in June that Juventus forward Cristiano Ronaldo asked him to join the Turin-based club at the end of the Nations League final after Portugal beat the Netherlands 1-0.
Guardiola hails Sane but wants only 'happy players' at Man City
Manchester City will strive to unlock the full potential of Germany international Leroy Sane but can only develop players happy to be with the Premier League champions, manager Pep Guardiola said.
The 23-year-old winger has long been linked with a switch to German giants Bayern Munich. He has been offered a contract extension at City but is yet to sign, having struggled to hold down a regular starting spot last season.
"The club made him an offer last year... I have said many times, we want people happy to be here," Guardiola told a news conference after City defeated West Ham United 4-1 in their Premier League Asia Trophy clash in Nanjing.
Sane, whose contract expires in 2021, provided an assist in the match to earn praise from Guardiola who said City could still improve the 2017-18 PFA Young Player of the Year.
"We are going to help him be the best, we know his potential and what level he is. He has a special quality that is difficult to find around the world," Guardiola added.
"He knows, they all know... how difficult it is to play (regularly), because of the quality we have.
"But at the same time, I spoke to the club 10 times (to say) I want people here to be happy. If they don't want, they go. The desire to have him... is always there."
City start their title defence away at West Ham on August 10.
AS Roma sign defender Gianluca Mancini from Atalanta
AS Roma have signed Italy defender Gianluca Mancini from Atalanta in a deal that could be worth up to 23 million euros ($25.82 million), the Rome-based Serie A club said on Wednesday.
Roma will sign Mancini on an initial one-year loan deal for a fee of 2 million euros but subsequently have to make the 23-year-old's move permanent for an additional 13 million euros.
The deal also includes a number of performance-related clauses worth a maximum of 8 million euros.
"The arrival of Gianluca allows us to boost our defensive options with a young defender that has great talent and is coming off a very impressive season," AS Roma sporting director Gianluca Petrachi said in a statement.
Mancini, capped twice by Italy, made 30 league appearances last season, scoring five goals.
The Fiorentina youth product made his move to the Bergamo-based club permanent last year.
If Mancini moves to another club, Roma will have to pay Atalanta 10% of any potential future profit made on the player.
Sports Ministry commits extra financial help for football
Sports Minister Kiren Rijiju has committed to provide "extra financial help" to boost growth of Indian football, according to the All India Football Federation (AIFF).
Rijiju made the statement on the sidelines of the Hero Intercontinental Cup in Ahmedabad.
"We have seen certain improvements in our men's as well as women's football in recent times. From the sports ministry, we will provide extra financial help wherever it's possible to scout, and nurture young talents as well as for the professional training, and other events," Rijiju said in an interview to the AIFF.
The Minister didn't hide his affinity for football and said his ministry will put more attention to better training, coaching and facilities.
"The ministry of sports will provide whatever is required for better training, coaching, facilities, and other demands and requirements whichever will be placed by the AIFF. We'll always be there," Rijiju said.
"I'm very enthusiastic about supporting any kind of sport in India, and football is very special for me,"he added.
He also praised the senior Indian women's team for its recent rise in the FIFA rankings which were released on July 12.
"I must compliment the women's team for rising to 57 in the FIFA rankings recently. That's a huge jump. I'm very confident that the standard of the women's team will rise further," Rijiju said.
"Football is the biggest game in terms of popularity, reach, size. We also have to put a lot of effort to improve our football. Be it a village or a city, football is a game which can be played anywhere. I'm very hopeful that the standard of Indian football will rise in the years to come."
Infantino rejects 'colonialism' criticism
FIFA president Gianni Infantino has rejected comments that the global soccer body has taken a "colonialist" attitude towards African football and its governing organisation CAF (Confederation of African Football).
FIFA last month took the unprecedented move of announcing it would jointly administer African football with CAF and would send it its Senegalese secretary general Fatma Samoura on a ninth-month secondment to overhaul the African body.
The move followed corruption allegations against CAF president Ahmad Ahmad which he has denied.
Some African officials have opposed the move while former FIFA president Sepp Blatter, in a recent interview with the BBC, described it as a "new aspect of colonialism".
Blatter has been banned from football for six years for ethics violations during his presidency. He denies wrongdoing.
"I have heard about colonialism, that FIFA is colonising Africa again," Infantino told CAF's general assembly on Thursday, adding that he was "puzzled" by the remarks.
"What does it mean, colonialism? I don't know. It's not part of my vocabulary.
"I know what it means to work, to team up, to roll up your sleeves, to go on the pitch and help and that is what we are doing," he added. "(Samoura's) heart is beating for Africa and we all suffer when we see what is going on here."
Infantino said that it was important that African football had competitions where "people trust the organisation, where the stadium is secure and it is safe, where matches are not manipulated, where people trust the referees -- these are some of the issues that African football is facing."
Infantino added that CAF needed to think about growing the sport in the region without depending on FIFA handouts.
"The point is to generate revenues for African football from Africa," he said.
Ahmad was reported in March to FIFA's ethics committee by CAF general secretary Amr Fahmy, who was then fired.
Further allegations of fraud have recently been made against Ahmad, who was detained and questioned by French authorities in June as part of a corruption investigation.
Ahmad has denied wrongdoing in several media interviews but has not responded to repeated requests by Reuters for comment on the specific allegations against him.
The CAF Champions League final, played in May, remains unresolved after one team walked off the pitch in protest at a refereeing decision while the Africa Cup of Nations has been played against a backdrop of empty stadiums in Egypt.
Ahmad, in a speech to the assembly, said it was his decision to ask for FIFA's help.
"When I went to ask for help, I found a man (Infantino) well aware of the problems of Africa, I found a man who loves Africa and his behaviour proves it," he said.