'The 10 metre air pistol final is a blur to me; I couldn't feel my fingers during that.'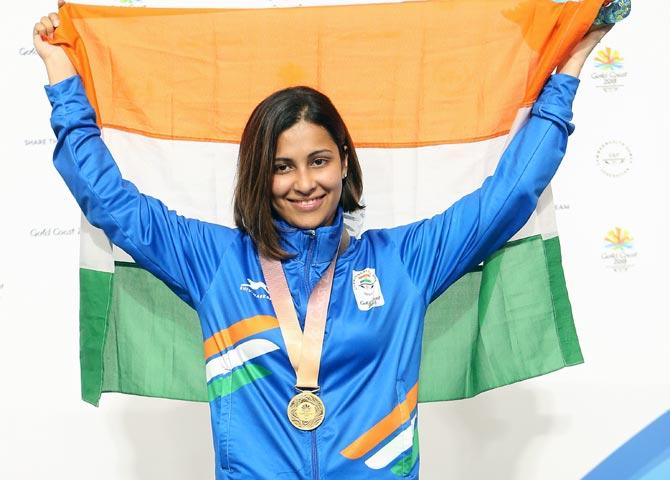 Heena Sidhu gave India its third gold medal in shooting at the ongoing Commonwealth Games, leaving a host of seasoned campaigners in the shade in the women's 25 metres pistol event on Tuesday.
In doing so, the 28-year-old dentist from Mumbai also bettered the Games record.
Sidhu finished with a final score of 38, two shots in the series being perfect fives, well ahead of Australia's Elena Galiabovitch (35),who won silver.
Malaysia's Alia Azahari (26) took bronze.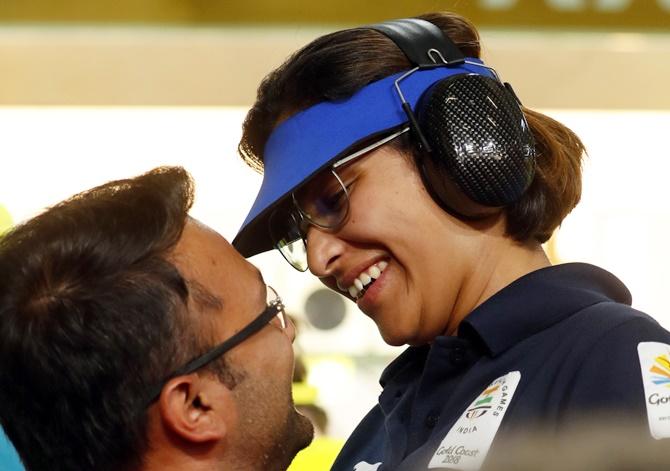 This was Sidhu's second medal at the ongoing Games, having won silver in the 10 metres air pistol event, behind 16-year-old compatriot Manu Bhaker.
Incidentally, this is her first major medal in the 25m pistol category, most of her other podium finishes being in 10m air pistol.
"I am exhausted! Those are my thoughts on today's performance," declared Sidhu after clinching gold.
Annuraj Singh placed sixth in the event after being eliminated in the second stage of the final. She was the third shooter to be eliminated in the final round after a poor tally of 15.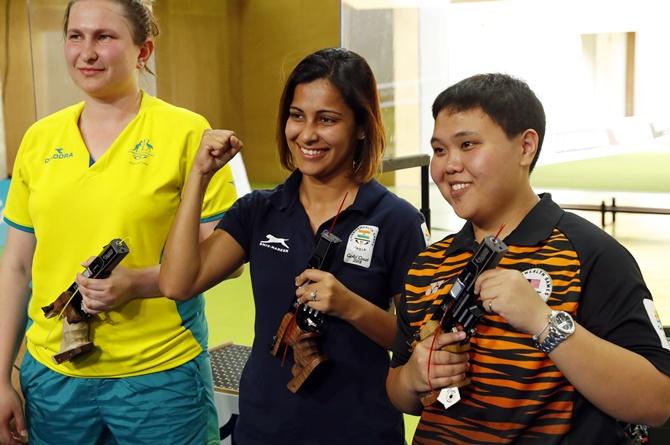 Sidhu, who revealed she struggled in the 10 metre air pistol final with her trigger finger due to a nerve problem, placed third in the qualification round with a score of 579.
"Thankfully, my trigger which has been giving me some trouble because of a tingling sensation was alright today. I didn't feel that tingling too much," she said.
"The 10 metre air pistol final is a blur to me; I couldn't feel my fingers during that. I have been undergoing physiotherapy for this problem, but for today I told my physio not to touch me. I just let it be and to my relief it went off well," she added.
Her coach, husband and the Indian shooting team's manager Raunak Pandit was by her side as she spoke and when asked what went into maintaining consistency at the highest level, Sidhu turned to her better half for answers.
"I guess it's about ensuring that whether you compete at the Olympics or the State championships, the intensity and process remains the same. If an athlete can achieve that, the results will automatically come," said Pandit.
Earlier, defending silver medallist Gagan Narang signed off a disappointing seventh while debutant Chain Singh finished fourth in the 50 metres rifle prone event.
Narang, who qualified third for the final with a score of 619.4, went out after the first stage of elimination.
He was tied for the second spot at the end of the first series. However, a gentle breeze perhaps affected the shots he fired after that and things went haywire for him. He ended with a final score of 142.3.
Competing in just one event at the ongoing Games, the 34-year-old Narang will return without a Commonwealth Games medal for the first time in his career. He has to his credit, a stellar eight gold medals, one silver and bronze from the quadrennial Games.
On the other hand, Chain Singh shot well for most part but lost his footing in the second elimination stage and ended up fourth with a score of 204.8. Singh had qualified sixth for the event with a score of 614.2.
Apart from Sidhu and Bhaker, Jitu Rai won gold in shooting, finishing top in the 10 metres air pistol men's event with a Games record on Monday.