Athens Olympics silver medalist Rajyavardhan Singh Rathore failed to find a place while rising talents Heena Sidhu and Joydeep Karmakar got the nod in the 11-member Indian shooting team, announced on Sunday for the London Olympics.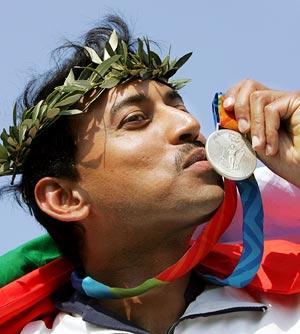 While Rathore's name did not go beyond the discussion stage in the selection meeting, which took place at Rudrapur in Uttarakhand, Heena and Karmakar were rewarded for their consistency.
Missing out were Hariom Singh and Army's Imran Hasan Khan, as the calculations of various scores the shooters had managed, were also taken into account while picking the team.
Heena figured in the list after the selection committee exchanged the quota won in 50M Rifle 3 Position (Imran) with Air Pistol women event as it felt that India has a better chance of winning a medal in air pistol.
As per International Shooting Sport Federation rule, a country is allowed to exchange one quota won by its shooters with another, subject to its availability and confirmation by ISSF.
Imran, despite having a quota, was left out as India has already reserved a maximum two slots in the 50M Rifle 3 Position category -- that of Gagan Narang and Sanjeev Rajput who are ranked higher than Imran and have also qualified for the Games.
For 50-metre Rifle Prone, Karmakar was favoured over Hariom Singh as the former is leading in this event.
For the record, it is for the first time that a woman trap shooter would participate in Olympic Games since the start of quota system in 1988, with Shagun Chowdhary representing India in this event.
"The decision was unanimous. We looked at who is a better prospect and who can win medals," said NRAI advisor Baljit Singh Sethi.
The selected shooters would be participating in nine events -- rifle/pistol and shotgun.
The NRAI would be sending its request to ISSF for exchange of quota of 50-metre Rifle 3 Position with Air Pistol Women shortly.
Selected shooters would also be participating in other events where they have obtained MQS (Minimum Qualification Score). Narang would be participating in three events although he has won quota in Air Rifle event. Annuraj Singh will be participating in Sports Pistol women.
Eight coaches will be accompanying the team to London.
It was also decided to keep one shooter as reserve category in each event for unforeseen circumstances.
The selection was held in Rudrapur since the federation president, Raninder Singh, was occupied with some other important work there.
List of selected shooters:
Air Rifle Men and 50M Rifle 3 Position Men: Gagan Narang, Abhinav Bindra, Sanjeev Rajput
50M Rifle Prone and Air Pistol Women: Joydeep Karmakar, Annuraj Singh, Gagan Narang, Heena Sidhu
Sports Pistol: Rahi Sarnobat, Annuraj Singh
Trap Men: Manavjit Singh Sandhu
Double Trap: Ronjan Sodhi
Trap Women: Shagun Chowdhary
Rapid Fire Pistol: Vijay Kumar
Reserves: 3 P Men: Imran Hasan Khan, Prone Men: Sushil Ghaley, Air Rifle Men: Sateyendra Singh, Rapid Fire Pistol: Pemba Tamang, Sports Pistol: Anisa Sayyed, Air Pistol Women: Shweta Chaudhary, Trap Men: Anirudh Singh, Double Trap: RVS Rathore, Trap Women: Seema Tomar
Coaches: Stanislav Lapidus – Rifle Coach, Anatoly Piddubnyl – Pistol Coach, Smirnov Pavel – Pistol Coach, Marcello Dradi – Shotgun Coach, Heniz Reinkemier – Rifle Coach, Sunny Thomas – National Coach, Amarjang Singh – Shotgun Coach, Moraad Ali Khan – Shotgun Coach.