The Army on Wednesday charged the National Rifle Association of India of having a "biased selection policy" after one of its officer Lt Col Rajyavardhan Singh Rathore was excluded from the 2012 London Olympics shooting squad.
Rathore, who won a silver in men's double trap event in the 2004 Athens Olympics, failed to figure in the 11-member Indian shooting squad for London Olympics announced on February 19.
"With declaration of final list of names of shooters to represent the country in London Olympics, the NRAI has finally brought the cat out of bag. The irony is the shooters who have won the quota for the nation have been mercilessly axed. The most deserving and experienced shooters have not been considered defying all logic," Army officials said.
"The names miss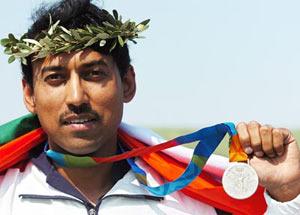 ing were of RVS Rathore, 50m Rifle Prone position quota winner Hariom Singh and 3 Position Rifle quota winner Imran Hasan Khan. The name considered for the quota swap are Heena Siddhu in 10m Air Pistol and Joydeep Karmakar in 50m Rifle Prone Position.
"The interesting angle is that both these shooters selection seems to have been influenced by interested groups lobbying and neither national interest nor the merit and competence have been kept in mind," the officials added.
"There is no explanation from the NRAI on why Rathore has not been considered fit to represent the nation in spite of his having equalled World Record Score in Malaysia in November 2011 and being in form.  On the other hand, in 50m Rifle Prone Position event Sushil Ghaley is in much better form in head to head comparison with Joydeep Karmakar but his name also does not figure," they further stated.
The Army also lashed out at the NRAI for changing the selection criteria frequently.
"In last 16 months the Olympic selection policy of the NRAI has been changed thrice without any logical justification. On detailed analysis a pattern has emerged which clearly points out to a trend of modifying the policy to favour certain individuals," they concluded.