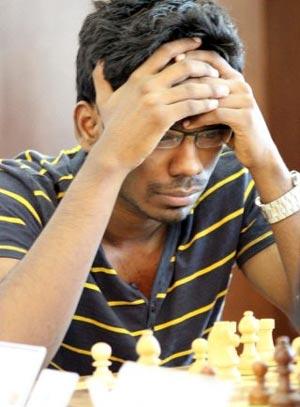 Indian Grandmaster S P Sethuraman came back into the reckoning for top honours after defeating Duda Jan-Krzysztof of Poland in the seventh round of the World Junior Chess Championship in Kocaeli.

After losing the sixth round against Yu Yangyo of China, Sethuraman needed to win to stay in contention and he did that in style with white pieces to take his tally to 5.5 points.

Playing the white side of a Queen pawn game, Sethuraman got the initial advantage and he capitalised on it well to win a pawn by force in the middle game. Jan-Krzysztof, however, came up with some real resistance and it was only in the nick of time that Sethuraman found a brilliant queen sacrifice to march to glory.

Yu Yangyi of China, meanwhile, stayed ahead of the rest with another fine performance against Russian Urii Eleseev. The Chinese took his tally to a commanding 6.5 points out of a possible seven and stayed a half point clear of defending champion and local hero Alexander Ipatov.

India's Sahaj Grover and Sethuraman share a four-way tie for the third spot along with Jorge Cori of Peru and Idani Pouya of Iran with six rounds still to go in the premier event for under-20 players in the world.

Grandmaster Vidit Gujarathi also scored a comeback victory over Turkey's Dastan Muhammed Batuhan while, after initial hiccups, Asian junior champion N Srinath played a fine game to cruise past Martin Romero Martinex of Colombia. Both Gujarathi and Srinath have five points apiece.

Among other Indians in the fray, S L Narayanan moved to four points, Sameer Kathmale secured 3.5 after a draw while Rakesh Kulkarni took his tally to three points with his second victory.

Padmini Rout defeated G K Monnisha to reach five points in the girls' championship being played simultaneously. Irina Bulmaga of Romania defeated overnight leader Aulia Warda Melina of Indonesia to emerge as the new sole leader on six points from seven games in this section.

It was a mixed day for the Indian girls as Rucha Pujari met her nemesis in Zhansaya Abdumalik of Uzbekistan while Ivana Maria Furtado was held to a draw by Aisa Imeeva of Russia. J Saranya also ended on the losing side while Anjana Krishna and Riya Sawant won their games.

Important and Indian Results of Round 7 Open (Indians unless stated):

Urii Eliseev (Rus, 5) lost to Yu Yangyi (Chn, 6.5); Alexander Ipatov (Tur, 6) beat Debashis Das (5); Vladislav Kovalev (Blr, 5) drew with Sahaj Grover (5.5); Andry Stukopin (Rus, 4.5) lost t Jorge Cori (Per, 5.5); S P Sethuraman (5.5) beat Duda Jan-Krzysztof (Pol, 4.5); Aleksandar Indjic (Srb, 4.5) lost to Idani Pouya (Iri, 5.5); Vidit Gujrathi (5) beat Dastan Muhammed Batuhan (Tur, 4); Martin Romero Martinez (Col, 4) lost to N Srinath (5); S L Narayanan (4) beat Carneiro Vitor Roberto Castro (Bra, 3); Sameer Kathmale (3.5) drew with Diyap Buyukasik (Tur, 3.5); Yargici Mazhar Kutay (Tur, 2) lost to Rakesh Kulkarni (2).

Girls: Aulia Warda Medina (Ina, 5.5) lost to Irina Bulmaga (Rou, 6); Wang Jue (Chn, 4.5) lost to Alina Kashlinskaya (Rus, 5.5); Deysi Cori (Per, 5.5) beat Zhai Mo (Chn, 4.5); Dinara Saduakassova (Kaz, 4.5) lost to Meri Arabidze (Geo, 5.5); Padmini Rout (5) beat G K Monnisha (4); Zhansaya Abdumalik (Uzb, 5) beat Pujari Rucha (4); J Saranya (3.5) lost to Xiao Yiyi (Chn, 4.5); Ivana Maria Furtado (4) drew with Aisa Imeeva (Rus, 4); Anjana Krishna (3.5) beat Barbara Racki (Cro, 2.5); Gulay Ayca Nuriye (Tur, 2) lost to Riya Savant (3).
Image: S P Sethuraman
Photograph courtesy: World Junior Chess Championship 2013