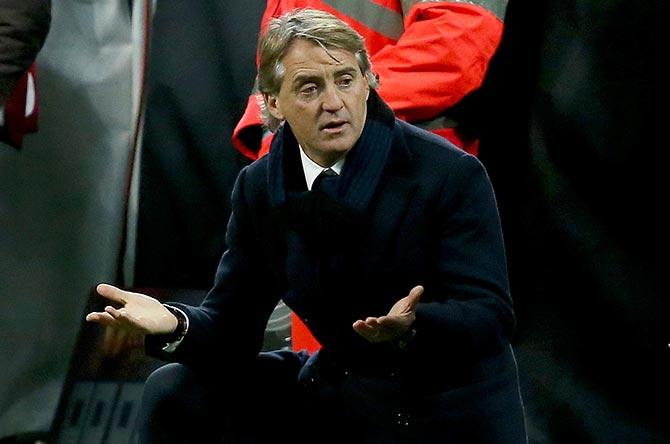 Inter Milan's coach Roberto Mancini reacts. Photograph: Alessandro Bianchi/Reuters
San Siro has become a hindrance rather than a help for Inter Milan, coach Roberto Mancini said following their 2-1 home defeat by champions Juventus.
"It does weigh on you. We should win all the time here but instead we struggle," Mancini told Inter's website (www.inter.it) after their fifth home league defeat of the season on Saturday.
"The stadium should be our fortress but we're not incisive enough. We should be winning nearly all our games here."
The defeat left Inter eighth in the table and in danger of missing out on European football for the second time in three seasons.
"The Europa League is clearly much further away from us after this game," said Mancini.
"We have lots of work to do to build a team with experienced, quality players who can lift the side in matches like this simply because they're used to playing in them."
Inter, who drew 1-1 at Juventus earlier in the season, are 31 points behind their rivals, although Mancini said the difference between his side and Juventus was not as big as the gap suggested.
"The real difference isn't that great, as you could see in the two matches we played," he said. "They're the best team at the moment but if we do a good job in the transfer market we'll keep growing."