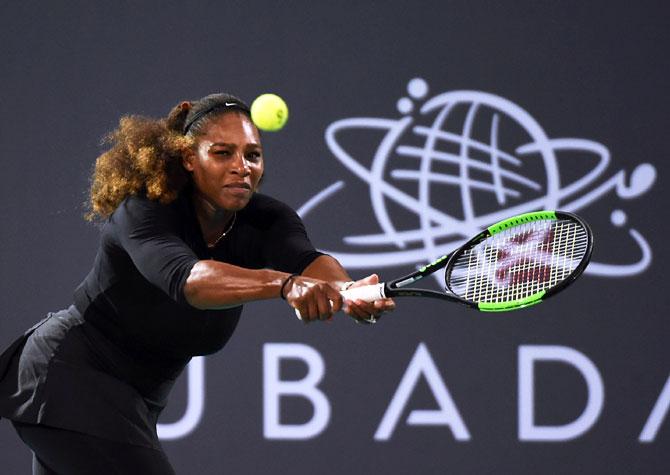 IMAGE: USA's Serena Williams plays a backhand during her match against Latvia's Jelena Ostapenko on Day 3 of the Mubadala World Tennis Championship at International Tennis Centre Zayed Sports City in Abu Dhabi, United Arab Emirates, on Saturday. Photograph: Tom Dulat/Getty Images
A heavy-footed Serena Williams suffered defeat on her comeback, losing to French Open champion Jelena Ostapenko in Abu Dhabi on Saturday.
Serena returned from a maternity break to lose 6-2, 3-6, 10-5 to the 20-year-old Latvian.
It was Williams's first outing since winning her 23rd grand slam singles title at the Australian Open in January, while pregnant, before taking time out to have the baby.
But she failed to fully rediscover her rhythm and quickly dropped the first set 6-2 to the Latvian Ostapenko, the French Open champion.
The 36-year-old American roared back to win the second set 6-3 before losing the decisive tiebreak 10-5 in the exhibition match.
Williams admitted her mind wandered to her child, Alexis Olympia Ohanian Jr., during the match.
"Motherhood is phenomenal. I was a little worried out there and I looked at my camp and I was like 'Is Olympia ok?'. But it's really good," she said in her on-court interview.
"I'm excited, it's good to be back on the court. This was such a good time for me.
"It's my first time playing in Abu Dhabi so thank you guys for the support. First matches back are always super incredibly hard, especially after having a baby but it was great, I'm glad I could do it here."
The former world No.1 will vie to defend her Australian Open title when the tournament gets underway January 15.