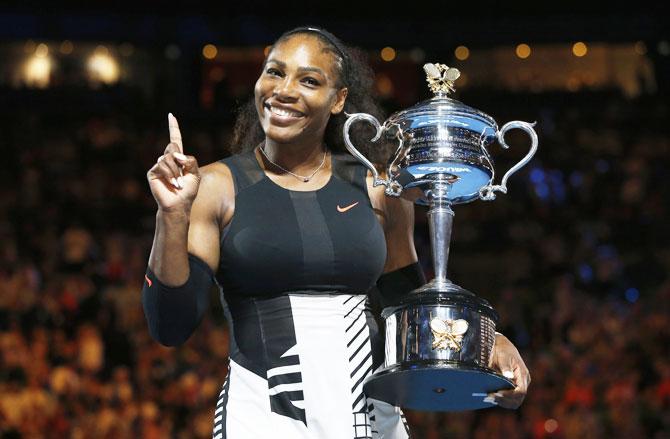 IMAGE: Serena Williams with her historic Australian Open title she won on January 28, 2017. Photograph: Issei Kato TPX IMAGES OF THE DAY/Reuters
Former world number one and new mum Serena Williams is targeting a return to MelbournePark next year to defend her Australian Open title, tournament director Craig Tiley said on Tuesday.
Williams, who won her 23rd grand slam title when pregnant at the 2017 tournament in January, gave birth to daughter Alexis Olympia Ohanian Jr. on September 1. She has just three months to get fit if she is to defend her title.
"Serena will be back," Tiley told reporters in Melbourne.
"She wants to come back in 2018 and defend her title and she's in training now.
"There's several months to go and obviously it will be up to her as to where she is with her fitness."
The 36-year-old would be competing for a tournament record A$4 million ($3.11 million) winner's purse in 2018, with total prize money hiked 10 percent to A$55 million.
Venus to headline Sydney International tournament in January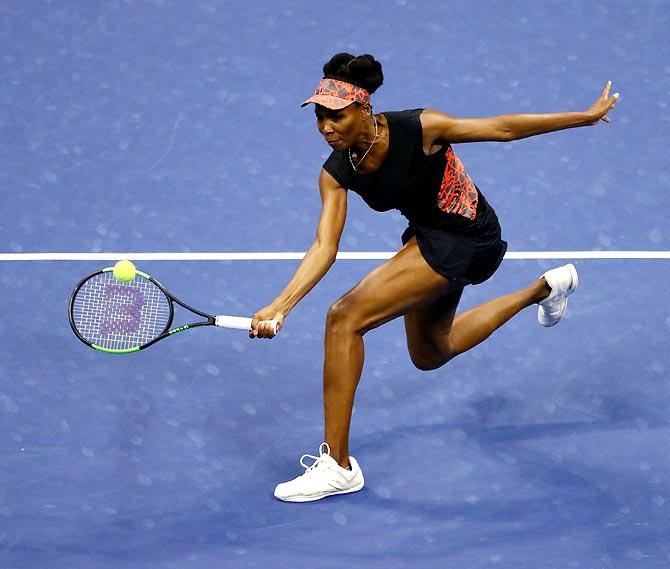 IMAGE: Venus Williams to return to Sydney after 20-year absence. Photograph: Al Bello/Getty Images
Venus Williams has committed to playing at the Sydney International in January to kick off her 2018 season.
She will be returning to the tournament after a 20-year absence.
The American veteran, 37, enjoyed one of her best seasons this year, having reached the Wimbledon and the Australian Open final and has returned to the Top 5 in the WTA rankings for the first time since 2011 when she was diagnosed with strength-sapping Sjogren's Syndrome.
"This was one of the earliest tournaments I ever played and has always held a special place in my heart," Venus was quoted as saying in a statement issued through the organisers.
"The last time I played in the Sydney International I was 18 years old, so a lot has changed in this time."