FIFA president Sepp Blatter ruled out a January World Cup in Qatar in 2022 and said on Friday November/December was the only alternative to a summer tournament.
"The FIFA World Cup can only be played in November/December 2022, no way it's going to take place in January/February," he said.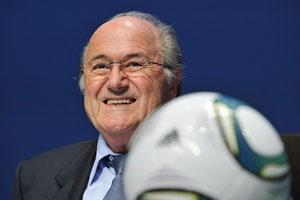 "We have to see how we can have the FIFA World Cup played in winter, but only Nov/Dec are possible."
Last month, FIFA announced it would hold a consultation process involving clubs, leagues, players and continental federations to decide in which months of 2022 the tournament should be played.
At that point, world soccer's governing body had not ruled out any particular period of the year.
The International Olympic Committee is closely monitoring FIFA's deliberations, fearing a World Cup in January 2022 could encroach on the Winter Games that year.
FIFA said that, in principle, Qatar was awarded the World Cup on the basis that it would be staged in the summer despite the searing heat in the country.
Qatar has insisted that a summer World Cup is viable thanks to cooling technologies it is developing for stadiums, training areas and fan zones, but there is still widespread concern over the health of the players and visiting supporters.
Blatter, who will meet the Emir of Qatar, Sheikh Tamim bin Hamad al-Thani, in Doha on Saturday, said he would discuss the situation of migrant workers in the country.
"We are very concerned about the situation of the workers in Qatar, though most of them are not related to the World Cup but to European entrepreneurs and companies," he said.
"I will report about this trip to the FIFA executive committee at our next meeting in December. Tomorrow (Saturday), I am leaving to Qatar to meet the Emir to discuss the current situation in Qatar."
Britain's Guardian newspaper reported recently that dozens of Nepali workers have died during the summer in Qatar and labourers were not given sufficient food and water, were housed in cramped and unhygienic conditions and had their passports confiscated.
The International Trade Union Confederation (ITUC) has criticised FIFA's response so far and described Qatar's labour practices as abhorrent.
Blatter told the United Arab Emirates that there was no chance for the country to host some of the 2022 games.
"If the UAE want to host the FIFA World Cup, they have to wait some years because of the rotation within the confederations and as Qatar is hosting the 2022 edition," he said.
Image: Sepp Blatter
Photograph: Arnd Wiegmann/Reuters