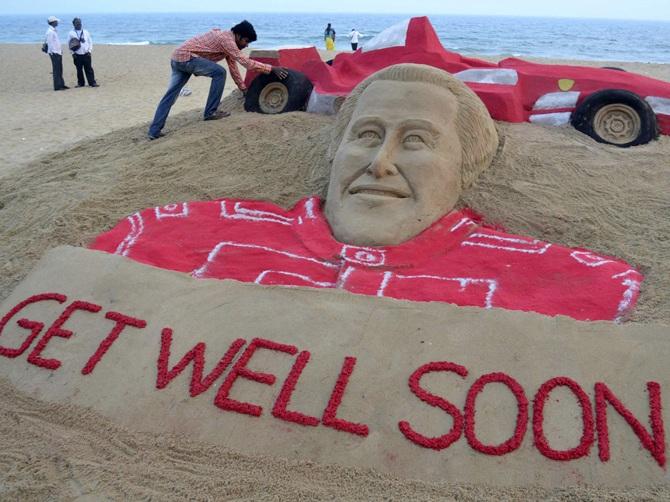 Indian sand artist Sudarshan Pattnaik works on a sand sculpture of Michael Schumacher to wish him a speedy recovery at Puri. Photograph: Reuters
Former Formula One driver Philippe Streiff has revealed that racing legend Michael Schumacher is paralysed and has difficulty with his speech and memory, almost a year after a horror skiing accident.
Streiff, who is Schumacher's good friend, was seriously injured in pre-season testing for a race in Brazil in 1989, leaving him a quadriplegic and confined to a wheelchair ever since.
The Frenchman said that it's very difficult; Schumacher can't speak, adding that like him, the stricken German is in a wheelchair. He added that Schumacher has memory problems and speech problems, Stuff.co.nz reported.
Schumacher's family has released very little information to the media about the former world champion's accident.
Schumacher's spokeswoman Sabine Kehm would not confirm or deny Streiff's comments, saying only that the Frenchman did not have contact with them and that the comments were his opinions.
Jean-Francois Payen, one of the doctors who has been treating Schumacher, said in October that he could need years to recover.
Schumacher received life-threatening brain injuries while skiing in the French Alps on December 29 last year.
On September 9 Schumacher left hospital to continue his recovery at home but the former Formula One champion faces "a long and difficult road ahead" after his skiing accident.
The family home is along Lake Geneva in the Swiss town of Gland, where he has lived quietly for years with his German wife Corinna and their two teenaged children.