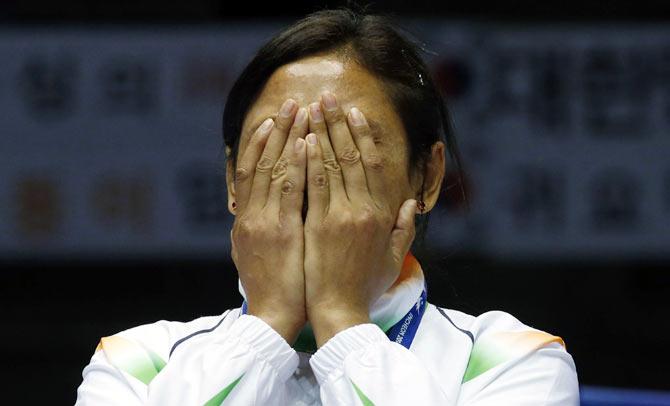 India's Sarita Devi reacts during the medal ceremony at the Asian Games. Photograph: Kim Kyung-Hoon/Reuters
Boxer Sarita Devi's emotional refusal to wear the bronze medal at the Asian Games podium inside the Seonhak Gymnasium in Incheon on Wednesday has not gone down well with some members of the Indian contingent.

Sarita, who lost a controversial 56 kg semi-final bout against South Korea's Jina Park, did not allow the medal to hang on her neck and after accepting it by hand she handed it over to Jina, who stood second on the podium.

Contingent sources told PTI that at least one top international boxer, among quite a few who are in Incheon, feels that the Manipur boxer should not have behaved the way she did and that it sets a bad precedent.

"We all sympathise with her but she should realise that winning and losing is a part and parcel of sports, you win some and lose some. What happened today sets a bad precedent. She's a top boxer and her behaviour will give wrong ideas to youngsters who look up to her," said one official, who refused to be named.

"It is also wrong to say she was not supported yesterday. The chief coach of boxing was there, the deputy chef de mission was there. But the fact is, as per the rules you cannot lodge a protest. The boxing authorities refused to accept the protest or the money to go with it, then where's the question of the money being returned," the official wondered.
Also read:
- Boxer Sarita faces AIBA probe for returning bronze medal
- The decision against Sarita was atrocious: Mary Kom
- Robbed of final berth, inconsolable Sarita refuses bronze!