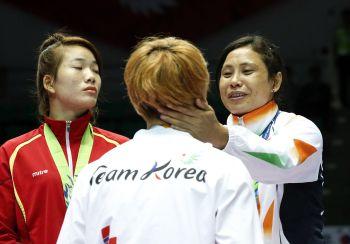 Former World Boxing champion Aruna Mishra alleged that the adverse decision against Sarita Devi has robbed her off a gold in the Asian Games, but opined the boxer should have accepted the bronze medal as it was for the nation.
"The decision against her was atrocious. It was a clear bout in favour Sarita. But it was shown as a close affair before knocking her out of the gold medal contention," Aruna said.
The nine-time national champion said, "We expected two gold medals - one from Mary Kom and another from Sarita. But the referee disappointed us."
"I understand what a sportsperson goes through during such circumstances. But she should have accepted the bronze medal without any protest on the podium as she represents the country and the medal is for India," added the 2005 world women's champion and gold medallist in the 2011 World Police Champions.
Aruna, who had been a member of Indian boxing teams in which Mary Kom was a member several times, was hopeful of making a comeback in the sport after she had a baby.
"Mary Kom's is 54 kg and I fight in the 62 kg category. We have been in the Indian team several times. I am very happy for her and I wish she continues with her gold medal winning spree.
"I took a break last year for delivery before participating in the Indian Police Championships in November, 2013 and won the gold medal," Aruna said expressing optimism that she would work hard to be back in the ring at the international level.
Image: India's bronze medallist Laishram Sarita Devi (R) talks with South Korea's silver medallist Park Ji-na during the medal ceremony for the women's light (57-60kg) boxing competition
Photograph: Kim Kyung-Hoon/Reuters