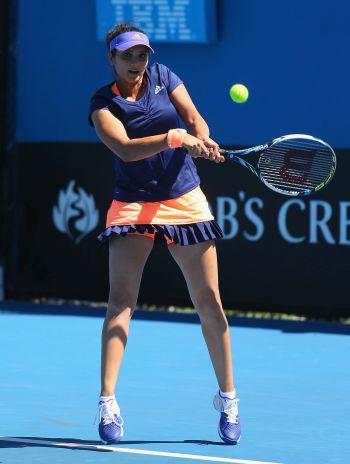 Outside Bollywood films, Sania Mirza might be the only Indian success welcomed as warmly in neighbouring Pakistan and the 28-year-old expects her doubles feats to inspire girls on both sides of the border to pick up a tennis racquet.
Mirza has long been the face of the women's game in India and her high-profile cross-border wedding to Pakistani cricketer Shoaib Malik five years ago placed her in a unique position.
Her rise to the top ranking in WTA doubles was hailed in both countries, though they remain suspicious of each after fighting three wars since independence in 1947.
Malik's international career has stalled since his last one-day match two years ago, but Mirza last month became the first Indian to climb to the top after winning the Family Circle Cup in Charleston, South Carolina, her third successive title partnered with Martina Hingis.
"It feels good," Mirza told Reuters in an interview.
"Me and my husband, we live in a kind of extraordinary situation because we both are professional athletes from different countries who still represent their own country after marriage and I don't think that happens very often.
"We both are very active, still playing and it's great if it can inspire not just people in India and Pakistan but hopefully girls can pick up tennis racquets in the whole subcontinent, really think that sports can be a career option.
"That does not come first to the head of any girl or parent ... Whether it's India, Pakistan or anywhere in the subcontinent, I'd like to believe people hopefully will get a little inspired by this and hopefully things change."
Once a top 30 singles player with a potent forehand, Mirza was the first Indian to win a WTA singles title in 2005, but after battling knee and wrist injuries, feels her switch to doubles has been vindicated.
"I ended my singles career solely for the reason that my body was not just able to take it anymore," said Mirza, calling it a "surreal feeling" to top the doubles rankings.
"I had three surgeries in seven-eight years and in those years ... it was either playing doubles or not playing tennis at all. I love tennis too much to have given up on it so soon."
Finally at peace, Mirza has set herself a couple of goals.
"It would be great to try and get records on how long I stay there and definitely try and win a women's doubles grand slam which has not happened. (I) have come close so many times even though (I) won mixed grand slams. Hopefully try and end the year at one, if not this year, next year."
Image: Sania Mirza
Photograph: Wayne Taylor/Getty Images