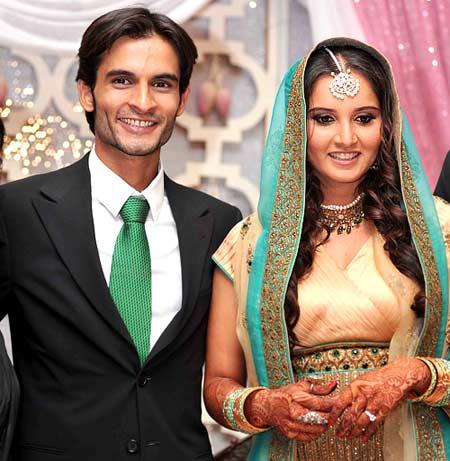 Tennis sensation Sania Mirza looked stunning in a specially-created green and gold outfit as she got engaged to childhood friend and family acquaintance Mohammed Sohrab Mirza at a private ceremony, amid tight security, at the Taj Krishna hotel in Hyderabad on Friday night.
Sohrab, wearing a black Armani suit, was accompanied by his parents. He presented Sania a Rs 10 lakh 2-carat diamond solitaire ring at the ceremony, marked by Muslim tradition and a touch of Deccan and Iranian culture.
Sohrab's family originally hails from Iran and the same was evident both in the ceremony and impressive dinner laid out for more than 300 guests, mostly relatives and friends.
Though the list of invitees included big names like Sachin Tendulkar and Yuvraj Singh, the cricketers were not among those present.
Mahesh Bhupathi, Sania's mentor and mixed doubles partner, Telugu film star Vishnuvardhan and his wife Veronica witnessed the ceremony.
Sania and Sohrab's families came with loads of gifts on trays covered with red satin cloth, embroidered in gold. In purely Hyderabadi style, the trays were loaded with outfits, jewellry, fruit, dry fruit and bangles, among other gifts.
While Sohrab's family gifted Sania 11 outfits of different styles, designed by various designers, Sania's family presented six outfits and a diamond watch to their would-be son-in-law.
Interestingly, famous anchor and film personality Rakhshanda Khan accompanied Sania as her bridesmaid.
After the ceremony was over, the guests enjoyed delicacies that included a variety of famous Hyderabadi biryani.
The police had a tough time keeping away the huge media contingent as well as a motley crowd of local fans.
The media, which was kept away from the ceremony, literally laid siege on the entrance of the hotel trying to photograph the occupants of every arriving car.
While Sania, sitting in the rear seat of her car, ducked to avoid the camera glare, other important guests used the back entrance of the hotel to avoid attention.
Some fans and admirers of Sania flooded her home with cakes that had messages expressing their feelings on it.
"Congrats Sania and Sohrab," was one of them.
Photograph: Snaps India