World Junior bronze-medallist Sachin Singh (49kg) became only the third Indian boxer ever to strike gold at the AIBA Youth World Championships with a stunning unanimous victory over Cuban national champion Jorge Grinan in the summit clash at St Peterburg, Russia, on Saturday.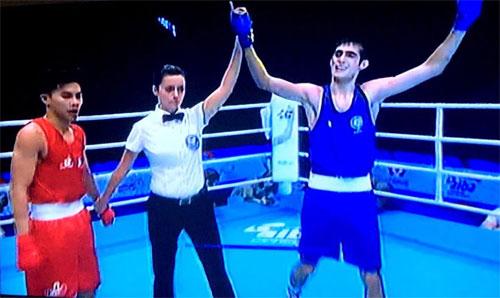 The 17-year-old outpunched his fancied rival 5-0 to record a rare Indian triumph over a Cuban boxer.
"Two of my fellow Indian boxers had lost to Cubans earlier in the tournament, I wanted to extract revenge and I am glad I could do it. It is very satisfying to beat stronger and better rivals, especially if it happens to be a Cuban," Sachin told PTI from St Petersburg after the brilliant triumph.
"It is a huge moment in my career. I fought five bouts in this tournament and I am glad I could give a performance like this. The Cuban was also good but it's just that he could not trap me in his strategy. I never allowed him to get close to me," the confident youngster said.
As promised at a send-off function before the boxers' departure to Russia, the newly-formed Boxing Federation of India was quick to announce a Rs 1 Lac cash award for Sachin, while Naman will be presented Rs 25,000. The BFI has also promised to suitably reward the coaches travelling with the team.
"Our young boxers Sachin and Naman have made India proud by winning medals in the Youth World Championships. I hope these cash awards will encourage them to do even better in future. This is the first step towards our country reclaiming its rightful place as a boxing power in the world," BFI President Ajay Singh said.
The lanky teen, who once again put his powerful left jab to good use, displayed brilliant ring-craft against his shorter and often clueless opponent.
India thus finished the tournament with one gold and a bronze, a marked improvement from the solitary bronze won in the 2014 edition.
Naman Tanwar (91kg) took the bronze after losing in the semi-final on Friday.
The Bhiwani lad, whose formative coaching took place at the HawaSinghAcademy, joined Thokchom Nanao Singh and Vikas Krishan in the Indian youth world championships gold club. While Nanao had finished on top in the 2008 edition in the now phased out 48kg category, Vikas had brought home the welterweight gold in 2010.
The class 12th student, who had been in peerless form through the tournament, was not the least bit intimidated by the higher-rated Cuban.
With his height and reach giving Sachin a distinct advantage, the Indian controlled the bout with flawless footwork.
In fact, his strategy of swaying back and forcing Grinan to lunge forward worked brilliantly as the Cuban found it difficult to keep his balance.
Grinan tumbled twice, quite awkwardly, during the bout.
"Sachin used his height advantage quite well. He was in tremendous form through the tournament. It was truly an exceptionally good performance," said coach Lalit Prased, who is with the team in Russia.
"We would like to thank BFI, SAI and and Sports Ministry for extending support to the boys," he added.
Image: A video grab shows India's Sachin Singh declared winner of the gold medal bout against Cuba's Jorge Grinan at the Youth World Boxing Championships in St. Petersburg, Russia, on Saturday
Photograph: BFI/Twitter