'If you look at the big picture, when you compete without Isinbayeva it can't be a proper gold medal.'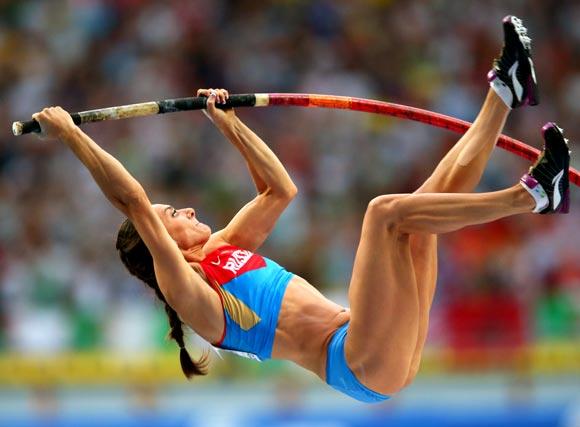 IMAGE: Russian pole vault champion Yelena Isinbayeva. Photograph: Ian Walton/Getty Images.
Barred from competing at the Rio Games, Russia's double Olympic champion Yelena Isinbayeva announced her retirement on Friday and said whoever won the women's pole vault in her absence would not have achieved a proper gold medal.
At a combative news conference, Isinbayeva also said God would be the judge of whether athletics' governing body was right to exclude almost the entire Russian track and field team, including herself, over what it said was incontrovertible evidence of state-sponsored doping.
Isinbayeva said she had been confident of winning the pole vault after clearing 4.90 metres on June 2 on her first competitive appearance for three years after giving birth to a daughter.
She said she and her coach had been confident she would achieve 5.10, four centimetres higher than her own world record, and well above the season's best of 4.93 set by American Sandi Morris.
"I really believed in my victory, because everything was heading towards that," Isinbayeva said. "When the girls jump today without me, do you think that will be honest?
"If you look at the big picture, when you compete without Isinbayeva it can't be a proper gold medal."
Whoever wins, she said, "I will congratulate the new pole vault champion, of course, but I'm sure she will feel it's not entirely gold because goal number one is to beat Isinbayeva."
OLYMPIC ROLE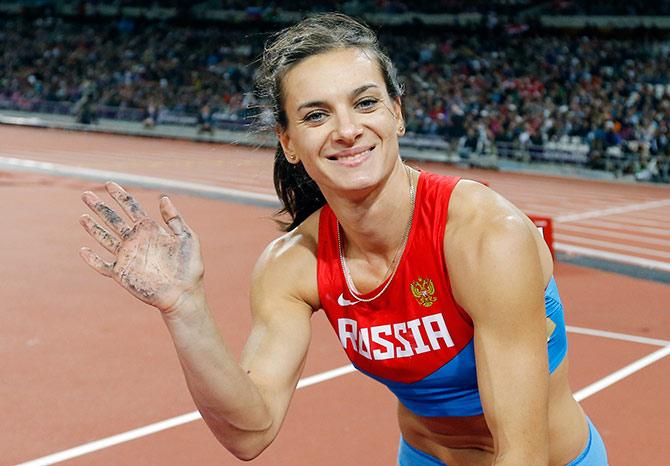 Isinbayeva, 34, was elected by her peers on Thursday to the International Olympic Committee's athletes' commission, and the IOC will vote on Sunday on whether to confirm her as one of its 100-odd members.
In that role, she will be an influential and outspoken player at a time of crisis in relations between Russia and the wider Olympic movement. Many Russians believe the exclusion of more than 100 of their athletes from Rio is part of a Cold War-style political plot to punish Moscow for opposing the West over conflicts in Ukraine and Syria.
Answering questions for an hour with her impassioned, quick-fire delivery, Isinbayeva said she did not deny Russia had a doping problem but only on a par with any other country.
She avoided criticism of the IOC, focussing instead on the IAAF athletics body which took the decision in June to ban Russia's track and field team from Rio.
"I am no judge, I am not God, so if the president and all the members of the IAAF believe they behaved honestly towards me and all the clean Russian track and field athletes, let that be on their conscience, God will be their judge," she said.
After several times deflecting questions about her future plans, the 2004 and 2008 Olympic champion, an idol in her home country, finally announced her retirement.
"Today in Rio on August 19, 2016, Yelena Isinbayeva is finishing her professional career, this is my statement," she said.
"I'm very happy that I fulfilled my dreams, I won all possible medals, all possible titles, I won the trust and love of all the fans in the world."