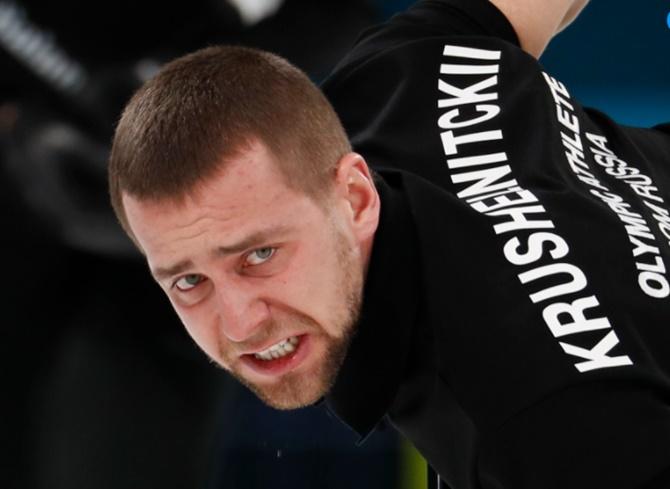 IMAGE: Russian curler Alexander Krushelnitsky. Photograph: Cathal McNaughton/Reuters
The Court of Arbitration for Sport (CAS) said on Thursday that Russian curler Alexander Krushelnitsky has been found guilty of an anti-doping violation after testing positive for the banned substance meldonium.
CAS said that the Olympic Athletes from Russia mixed doubles curling team, who won bronze at the Games, had been disqualified from the competition.
The athlete, who won the medal with his wife, had accepted a provisional suspension beyond the period of the Games, it said.
Earlier, CAS said the decision to drop the hearing had been made at the request of the International Olympic Committee, the World Curling Federation and the curler.
Krushelnitsky, who won bronze in Pyeongchang with his wife in mixed doubles curling, tested positive for meldonium, a drug that can aid endurance.
Krushelnitsky and his wife Anastasia Bryzgalova will hand back the Olympic medals they won in Pyeongchang, the Russian news agency TASS reported, citing a Russian curling Federation spokeswoman.
TASS quoted Krushelnitsky saying he "formally broke the anti-doping rules" and a spokeswoman for the curling federation said the admission made it certain they would return the medals won.
"The court would have made the decision to strip us of our medals anyway. But since we really admit the fact that his doping probe was positive for meldonium, we hand back the medals," TASS quoted Valentina Parinova as saying.