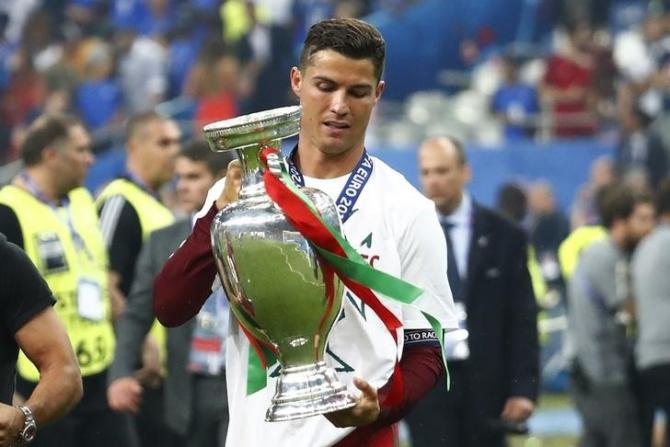 Cristiano Ronaldo is a colossal figure in club football having completed a hat-trick of Champions League title victories (1 Manchester United, 2 Real Madrid).
The three-time Ballon d'Or winner, Ronaldo has won several league titles.
But the Portuguese magician tasted success for the first time with the national team as Portugal defeated hosts France to lift the 2016 Euro title.
It was also Portugal's first major title in football history.
Portugal captain Ronaldo, who made his Euro debut as a 19-year old in 2004, has had a remarkable impact on the tournament.
Ronaldo has broken a plethora of records during his four appearances at the European continental championship.
Highest Euro finals scorer
Level with a clutch of players on six goals before Euro 2016, Ronaldo climbed up the table and equalled all-time leader Michel Platini with his header against Wales in the semifinal.
9 goals: Cristiano Ronaldo (Portugal), Michel Platini (France)
7 goals: Alan Shearer (England)
6 goals: Ruud van Nistelrooy (Netherlands), Patrick Kluivert (Netherlands), Wayne Rooney (England), Thierry Henry (France), Nuno Gomes (Portugal), Zlatan Ibrahimović (Sweden), Antoine Griezmann (France)
Most Euro finals appearances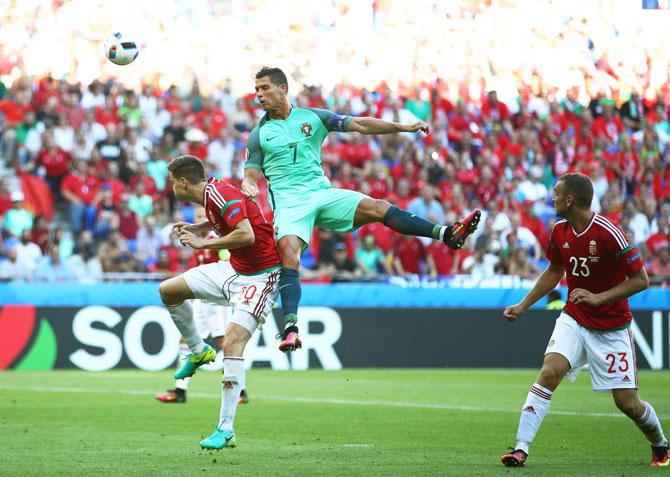 IMAGE: Portugal's Cristiano Ronaldo and Hungary's Richard Guzmics in an aerial duel during their Euro 2016 Group F match at Stade des Lumieres in Lyon. Photograph: Clive Brunskill/Getty Images.
Ronaldo traveled to France having contested 14 games at the finals already, and soon enough he eclipsed Dutch goalkeeping great Edwin van der Sar and former France defender Lilian Thuram's record with his 17th outing – in the 3-3 Group F draw with Hungary. A starter in the final against France, he has now set the bar at 21 Euro appearances.
21: Cristiano Ronaldo (Portugal)
18: Bastian Schweinsteiger (Germany)
17: Gianluigi Buffon (Italy)
Most appearances for Portugal
Although he missed a penalty during Portugal's match day two stalemate with Austria, he broke new ground in that game, nudging ahead of Luis Figo as Portugal's most-capped player on 128 matches.
133: Cristiano Ronaldo (2003–)
127: Luís Figo (1991–2006)
110: Fernando Couto (1990–2004)
103: Nani (2006–)
First player to score in four Euro tournaments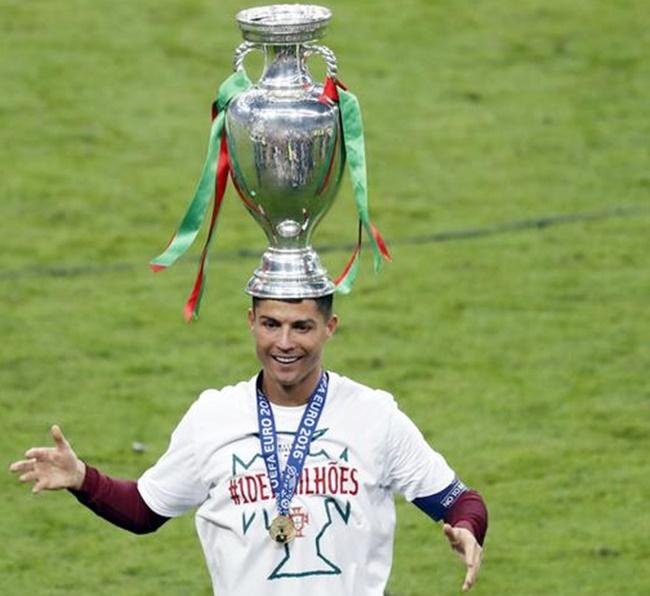 IMAGE: Portugal's Cristiano Ronaldo celebrates after winning the Euro 2016. Photograph: Charles Platiau/Reuters.
Ronaldo began the 2016 edition as one of seven players to have scored in three separate UEFA European Championships – and in a race with Zlatan Ibrahimović to become the first to register in a fourth.
He had to wait until his third fixture in France to do it, but with his Swedish rival unable to find the net, Ronaldo made the record his own with a superb double against Hungary. When he got another in the semi-final with Wales, he became the first player to amass three goals at different EUROs.
Ronaldo's Euro goals
2004 v Greece (1), Netherlands (1)
2008 v Czech Republic (1)
2012 v Netherlands (2), Czech Republic (1)
2016 v Hungary (2), Wales (1)
All-time leading EURO goalscorer (qualifiers included)
The Portugal talisman also leads Ibrahimović in the overall UEFA European Championship goalscoring chart, with his nine finals strikes combining with another 20 notched during qualifying – five of which came on the road to France – to make 29.
29: Cristiano Ronaldo (Portugal)
25: Zlatan Ibrahimovic (Sweden)