'The RF logo is with Nike at the moment, but it will come to me at some point. I hope rather sooner than later, that Nike can be nice and helpful in the process to bring it over to me.'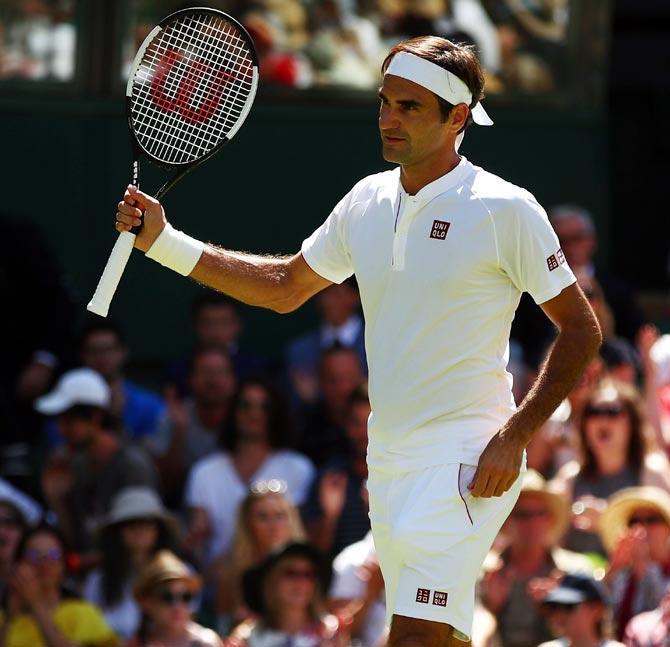 Roger Federer's 20-year association with Nike was hanging by a shoestring on Monday as the Wimbledon champion walked on to Centre Court to open the defence of his title wearing a Uniqlo branded outfit.
Gone was the Nike swish from his bandana and the RF logo that usually appears on his jacket was also missing.

While thousands of fans around Centre Court wore baseball caps displaying the RF emblem, Federer can no longer use it as the design is owned by the American apparel and equipment company that had sponsored the Swiss during all of his previous record 20 Grand Slam wins.

Federer, who wore a plain white bandana with two small red squares on the side while defeating Serbia's Dusan Lajovic 6-1, 6-3, 6-4 in the first round, said he is "excited" at being sponsored by the Japanese casual wear designer.

It was the absence of the RF logo, though, that concerned fans.

"The RF logo is with Nike at the moment, but it will come to me at some point. I hope rather sooner than later, that Nike can be nice and helpful in the process to bring it over to me," the eight-times Wimbledon champion told reporters.

"They are my initials. The good thing is it's not theirs forever. In a short period of time, it will come to me."

The top seed, however, hopes to retain some ties with Nike as he was still wearing the swish-marked footwear on Monday since Uniqlo do not manufacture shoes.

"I don't have a shoe deal. For now, I will be wearing Nike," he said.

"They have shown interest to have a shoe deal with me, as well. Ties are not broken there. I have deep roots with Nike. I've had a great relationship over the last 20 years.

"But everything is open. It's very exciting also again to see what's out there, who wants to do something with me."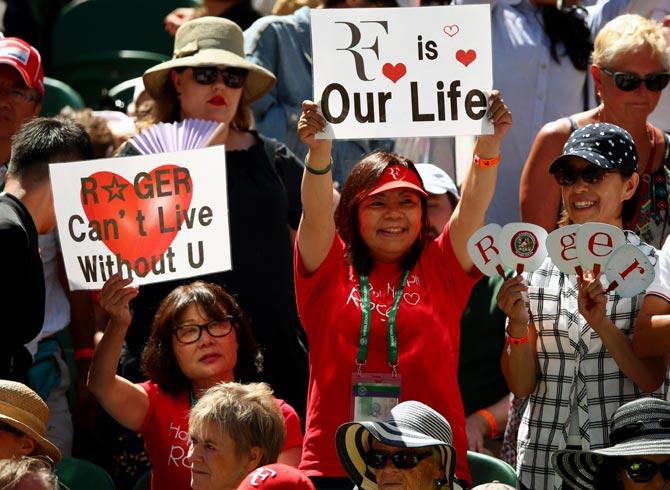 Uniqlo issued a statement to confirm it has signed the 36-year-old Swiss as a global brand ambassador.

"UNIQLO, the Japanese global apparel retailer, announces today a partnership with Roger Federer, the greatest tennis player of all-time and one of the world's most influential and universally admired people, as its newest Global Brand Ambassador," it said.

"The new partnership means that Mr Federer will represent UNIQLO at all tennis tournaments throughout the year, starting with The Championships, Wimbledon 2018."

While no financial details were revealed, media reported the new deal will be worth around $30 million a year, compared with the $10 million dollars a year agreement Federer had with Nike.

During last month's grasscourt event in Halle, Federer confirmed his deal with Nike had expired in March but he kept his arrangement with Uniqlo firmly under wraps until Monday.

On Sunday, he turned up at the traditional champion's pre-tournament news conference at the All England Club in a white shirt, grey blazer and navy trousers instead of the usual tennis whites he has sported in previous years. The only logo on show was the purple Wimbledon members' badge pinned to his lapel.

Even though it will be a while before fans can buy the Swiss's new gear, one little girl on Centre Court was left jumping for joy when Federer spotted her banner which pleaded "Roger, can I have your headband pleeese!!" and he rummaged through his unbranded white bag to hand over the prize item.

Uniqlo also sponsor Japan's number one men's player Kei Nishikori. Former world number one Novak Djokovic had previously been sponsored by them.

Nike sponsors Federer's long-time rival Rafael Nadal as well as leading women's players Serena Williams and Maria Sharapova.

Nike could not be immediately reached for comment.