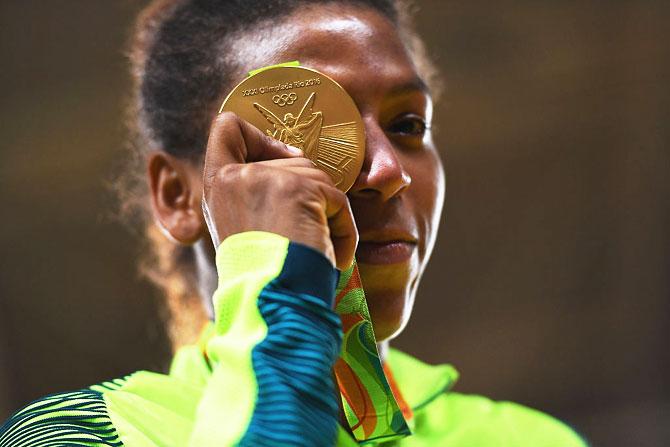 IMAGE: Brazil's Rafaela Silva celebrates after winning the gold medal in the Women's 57 kg judo gold medal contest on Day 3 of the Rio 2016 Olympic Games at Carioca Arena 2 in Rio de Janeiro, on Monday. Photograph: David Ramos/Getty Images
Brazil's first gold medallist of the Rio Olympics basked in her new-found fame on Tuesday, with Judoka Rafaela Silva taking aim at the racism that first threatened to defeat her and then became the affront that spurred her to greatness.
Silva, who grew up in the City of God favela, the community made famous in the 2002 film, was disqualified in London for an illegal move and was described online as a monkey and taunted with other abuse.
She considered giving up but friends -- and the help of a psychologist -- convinced her to keep going.
The 24-year-old proved them right and the doubters wrong on Monday evening when she delighted the home crowd by winning Brazil's first gold of the games in the 57kg judo final.
"I can serve as an example for the children of the community, because just being black means that people look at you in a different way. You walk down the street and people hold on to their bags," Silva told a news conference on Tuesday.
"(The victory) shows the value that a child from a favela can have.
"I just remembered that sensation I had and the suffering of that defeat and I wanted to have a different feeling," Silva added.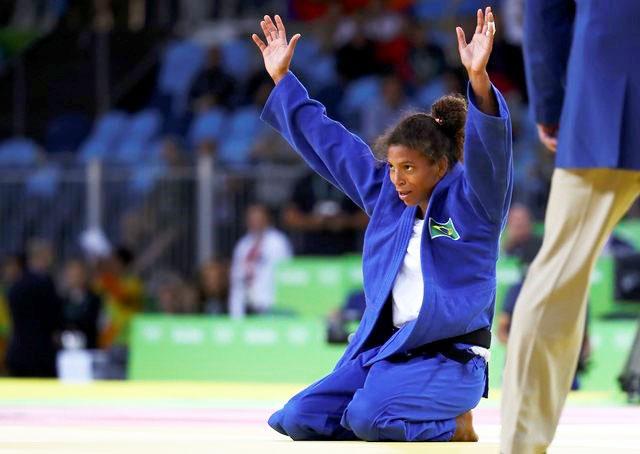 IMAGE: Brazil's Rafaela Silva celebrates after her win on Monday. Photograph: Kai Pfaffenbach/Reuters
"Judo has its favourites but the one that wins on the mat is the one who wants it most and in my house no one wants it more than me."
Silva was encouraged to take up judo as a way of channeling her natural aggression and she learnt her trade at the Instituto Reacao (Reaction Institute), an NGO set up by Flavio Canto, the Brazilian who won bronze in Athens in 2004.
Her win delighted a crowd that was patiently waiting for a local winner. Silva climbed into the stands to hug her family and coach who had travelled just a few minutes from her nearby favela home to the Olympic Park.
Silva, who was woken after four hours of sleep by friends desperate to see her medal, promised to keep going and defend her title in Tokyo in 2020.
"I am still young and I want to feel like I did yesterday more times," she said.
"I intend on carrying on competing and my sister will continue in the Instituto Reacao to give back what people gave to us."