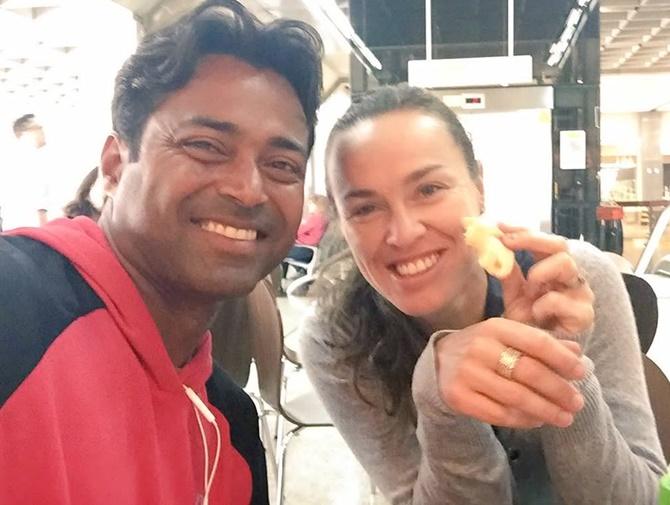 IMAGE: India's Leander Paes with Switzerland's Martina Hingis in Rio. Photograph: Twitter.
While every other team was training hard in the few hours left for the Rio Olympics 2016 to get underway, the Indian contingent was left looking for rooms, extra jerseys and chairs.
Indian tennis legend Leander Paes reached Rio de Janeiro to find out that he was not allotted a room to stay in the Games Village by the organising committee.
When the six-time Olympian reached the Village, he reportedly had to use the room of Rakesh Gupta, India's Chef de Mission at the Games, to change.
A disappointed Paes told the Times of India that he did not expect such a treatment.
"I am slightly disappointed that having played six Olympics for India, I haven't been given a place to stay.
"I was playing a tournament in New York and took the first flight on its completion. The match got over at 8 and took a 10.45 flight to Rio," he said.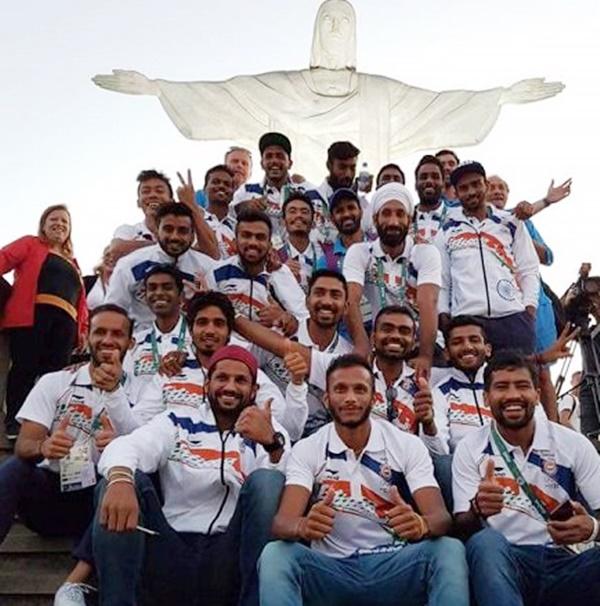 IMAGE: India's hockey team. Photograph: Twitter.
Even India's men and women's hockey teams have run into roadblocks.
The teams will not participate in the march-past because their jerseys are not ready, a news channel reported.
They were left hapless when they found out that more than eight of their jerseys were not suitable for the players to wear. As the march-past will be televised live worldwide, the hockey players have decided to skip the event for fear of being embarrassed on the global stage.
Earlier, the Indian hockey team's high performance director, Roelant Oltman, was fighting for something more basic, like tables, chairs and television sets in the rooms of his players.
Oltmans complained that "the apartments of the Rio Olympics are not furnished properly".
With team-mates sharing living quarters, Oltmans said they require "proper chairs and tables in the apartments for six persons", while only two chairs are provided in each.
In response to his outcry, the Chef de Mission was quick to assure that things would be taken care of.
He said he followed up on the request made by the hockey teams to provide them with more chairs and television sets by speaking to the Organising Committee.