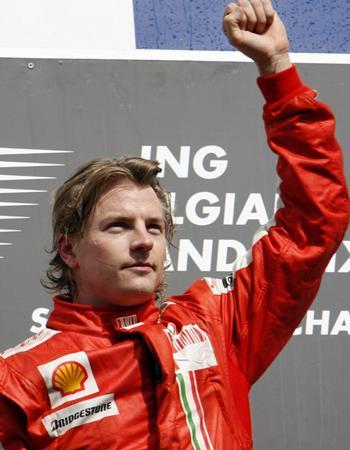 Kimi Raikkonen is not assured of racing for Ferrari in Formula One next season, team president Luca di Montezemolo said on Wednesday.
Rumours have swirled for months that Raikkonen will be replaced by Renault's Fernando Alonso for next year despite the Finn's contract with Ferrari running until the end of 2010.
Brazil's Felipe Massa is poised to return for Ferrari next season after suffering a fractured skull in July's Hungarian Grand Prix.
"We will have a Brazilian driver because he deserves another chance given that, thank God, he is fine. Otherwise, we are mulling the best choice but we still have time. We will decide in a few weeks," Montezemolo told reporters.
Ferrari had always previously said 2007 world champion Raikkonen was contracted for 2010 but had not gone as far as to stay he would drive for the Italian team.
DISTANT FIFTH
The laid back 29-year-old has been linked in the media with former team McLaren or championship leaders Brawn for next year.
Raikkonen won the world championship by a point in his first season with Ferrari but last year finished third and this season stands a distant fifth with four races left including Sunday's Singapore Grand Prix.
Giancarlo Fisichella is filling in for the injured Massa for the rest of the year and will then be Ferrari's reserve driver next season.
Ferrari's new sponsorship deal with Spanish bank Santander has further fuelled speculation that double world champion Alonso would move to Maranello.
The Spaniard will first have to find a new manager after Flavio Briatore was banned for life from any F1 activity by the governing International Automobile Federation (FIA) on Monday for his role in fixing last year's Singapore race.
The FIA ruled that Briatore, who was also Renault team boss, ordered Nelson Piquet to crash so that Alonso could win. Race winner Alonso had no knowledge of the plot, the FIA said.
Montezemolo, whose team were victims of a spy scandal involving McLaren in 2007, made a cryptic remark when asked about Italian Briatore.
"Ferrari has won eight titles out of 10 against the big car firms. What happened two years ago or a few months ago make me want to make a joke, but I won't," he said.