National football team coach Bob Houghton on Wednesday compared Indian captain Bhaichung Bhutia with legendary cricketer Sachin Tendulkar for the influence they have on their respective team-mates "on and off the field".
"Bhaichung has won a celebrity dance competition in India, he is a celebrity in India," Houghton said in a lighter vein when asked if the 'Sikkimese Sniper' can be compared with Tendulkar.
On a more serious note, Houghton told a press conference on the eve of India's second match against Bahrain that both are role models in their respective sports.
"Comparison between Bhaichung and Sachin must be going over the heads of a lot of people here who don't know cricket," Houghton said.
"The best cricketer in the world is in India. Tendulkar is a very fine role model, a fine person. Comparison with Bhaichung is similar.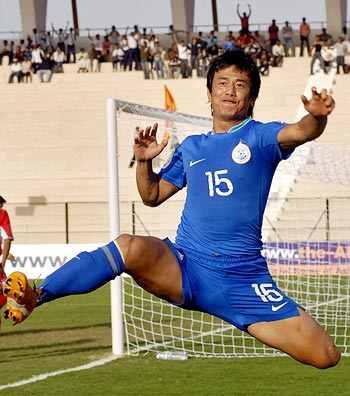 "They are of the same age, they keep going. Bhaichung retired a few years ago (in 2006) but came back. This man is a major influence on the team on and off the field. He is a leader. If we can get him out on the field, he could make a difference for us," said the 63-year-old Englishman.
Houghton said that Bhutia's influence on the team is such that having him in the ongoing Asian Cup squad despite the skipper being not fully fit was "worth a gamble".
Ruled out of Friday's match against Bahrain after missing out on the country's opening Asian Cup fixture against Australia due to a calf muscle injury, Bhutia is expected to play in the third match against South Korea on Januray 18.
Bhaichung was the first Indian to play professional football in Europe in the post-independence era, when he spent three years with English Championship side FC Bury between 1999 and 2002.
The 34-year-old has played 104 international matches for India since 1995 and is the record goal-scorer.
Tendulkar, 37, is the leading runs scorer and century maker in both Test and one-day international cricket.