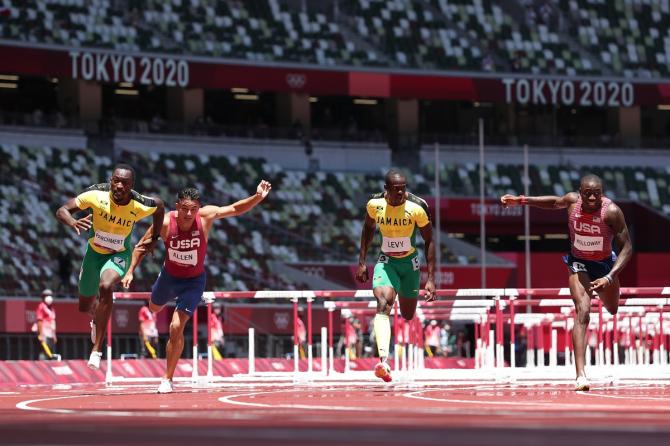 Jamaican Hansle Parchment delivered one of the biggest shocks of the Tokyo Olympics athletics competition by beating world champion Grant Holloway in the men's 110 metres hurdles final on Thursday.
Holloway had not lost a hurdles race since August last year and was the overwhelming favourite after breaking the world indoor record over 60m hurdles this year and missing the 110m record by one-hundredth of a second at the U.S. Olympic trials.
The 23-year-old burst out of the blocks and looked set for gold until losing momentum over the final two hurdles.
Parchment, 31, surged past him to win in a season-best time of 13.04 and add the gold medal to his London Olympic bronze.
Holloway came home in 13.09 to take silver with Jamaican Ronald Levy third in 13.10.
Parchment was stunned to have toppled Holloway.
"The greatest feeling, the greatest feeling, I've worked so hard. It's unbelievable that I caught this guy," he added.
"A lot of times, after the final hurdle, I'm kind of leaning too early, and my coach reminded me to run through the line -- and that's what I did."
The man who was supposed to pose the biggest challenge to Holloway in Tokyo was not in the race. Omar McLeod, the 2016 Olympic champion, hit the first hurdle at the Jamaican trials in late June and failed to make the cut.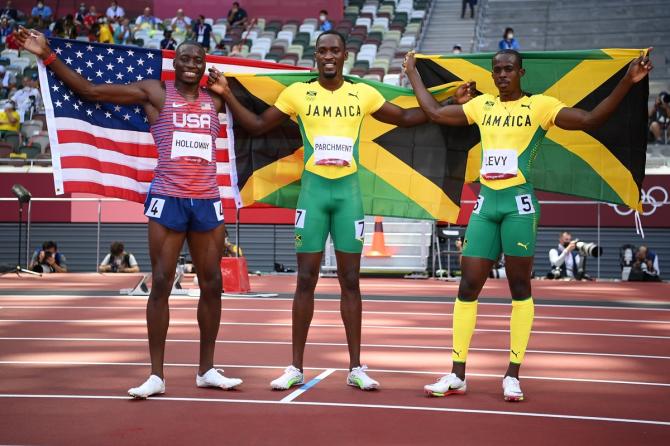 Parchment did not run a 110 hurdles race at all last year due to injury. In his first race in 2021 he clocked 13.49 in June, his time again affected by injury.
Parchment was only third at the trials and finished second in his heat and semi-final in Tokyo but managed to bring his best when it mattered to ensure the gold medal will remain in Jamaica.
The United States has dominated the 110 hurdles at the Olympics, winning 19 of the 28 gold medals on offer before Tokyo.
On a hot and humid morning at the Olympic Stadium, Holloway came into the race under considerable pressure.
The United States have won a gold medal in a men's individual running event at every Olympics dating back to the inaugural Games in 1896, excluding 1980 when they boycotted.
But they have drawn a blank in Tokyo so far.
Holloway said the Olympic pressure got to him a little.
"Everybody knows I'm going to get out strong. Now it just comes to a point where I've got to finish strong," said Holloway.
"I just think the nerves, the big atmosphere got the best of me a little bit. But I'm young, I've got a lot of races under my belt so I'll take this with a grain of salt and I keep moving forward.
"This was not the outcome that I wanted but it enables me to say I'm an Olympic medallist."
Crouser wins men's shot put gold, breaks Olympic record thrice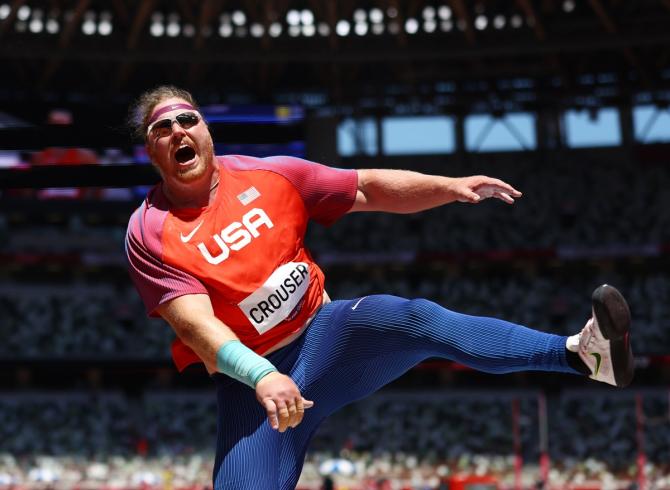 Ryan Crouser of the United States retained his title as he won gold in the men's shot put in Tokyo on Thursday, breaking his own Olympics record three times in the final and finishing with a mark of 23.30 metres.
He set the previous record of 22.52m at the Rio Games five years ago when he won the title.
His compatriot Joe Kovacs took silver and Tomas Walsh of New Zealand claimed bronze with a season's best mark of 22.47. The final results mirrored the 2016 final.
After the result was clear, Crouser held up a card to a camera that read "Grandpa, we did it, 2020 Olympic champion".
Crouser, who broke the world record in June with a 23.37 mark, started the final in blistering fashion, breaking his Olympic record with a 22.83 mark on his first attempt and then improving on that with a 22.93m throw.
At that point, it looked like his own world record was in danger of falling. But he calmed down slightly in his later attempts before unleashing a 23.30m throw, breaking his Olympic record again, and coming within a whisker of the world record.
This is only the third time that an athlete has broken the Olympic record three times during the shot put competition.
Parry O'Brien of the United States did it in 1956 at the Melbourne Games and Ulf Timmermann of then East Germany at the Seoul Games in 1988.
Canada's Warner breaks Games record on way to decathlon gold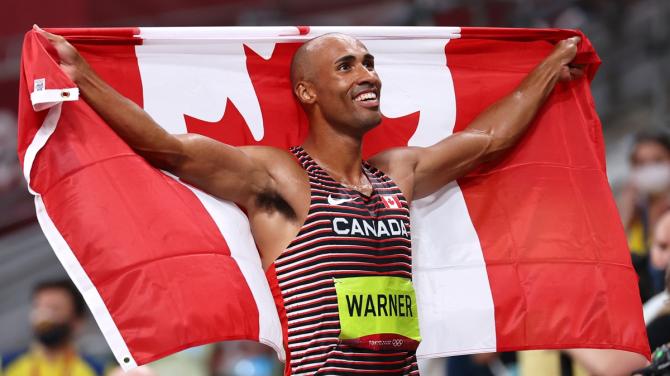 Damian Warner of Canada led from start to finish to win the men's decathlon gold at the Tokyo Olympics on Thursday with a new Games record score of 9,018 points.
Warner arrived in Tokyo as the leading decathlete in the world in 2021 after scoring 8,995 points at a meet in May - the fifth highest total in history.
The 31-year-old kicked off his campaign by tying his own world record in the 100m and bettering the Games mark in long jump on Wednesday.
On Thursday he set a Games record 13.46 seconds in the 110 metres hurdles, threw the javelin 63.44 metres - close to his personal best of 64.67 - and ran the 1,500m in 4:31:08 to become only the fourth man to score 9,000 points, after Kevin Mayer, Ashton Eaton and Roman Sebrle.
Frenchman Mayer took his second successive Games silver with 8,726 points and 21-year-old Australian Ash Moloney won bronze with 8,649.
Belgium's Thiam retains heptathlon title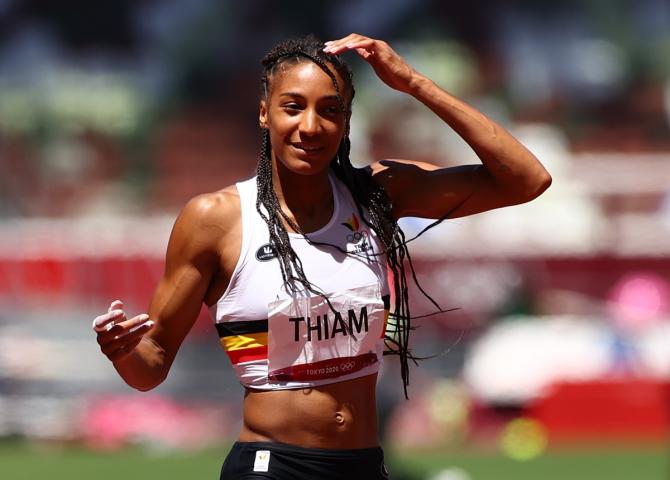 Belgium's Nafi Thiam won her second consecutive gold medal in the Olympic heptathlon on Thursday, dominating in the javelin and the long jump events to secure victory.
The Netherlands' Anouk Vetter and Emma Oosterwegel won the silver and bronze medals respectively.
After ending Wednesday's programme third in the standings, Thiam launched a 54.68m throw in the javelin on her second attempt, her best performance this season, and came up with a 6.60m leap in the long jump before finishing with 6,791 points.
She beat Vetter by 102 points despite finishing seventh in the 800 metres in 2:15.98. Oosterwegel earned 6,590 points overall during the two-day competition.
Thiam, 26, became the first woman since Jackie Joyner-Kersee in 1992 to win back-to-back Olympic heptathlon titles.
Her fellow Belgian Noor Vidts produced a gutsy performance to win her 800m heat in an attempt to get on the podium, finishing more than two seconds ahead of Oosterwegel but ending up fourth in the standings.
The finale was without 2019 world champion Katarina Johnson-Thompson after the Briton's gold medal bid ended on Wednesday due to a calf injury.
Portugal's Pichardo wins men's triple jump gold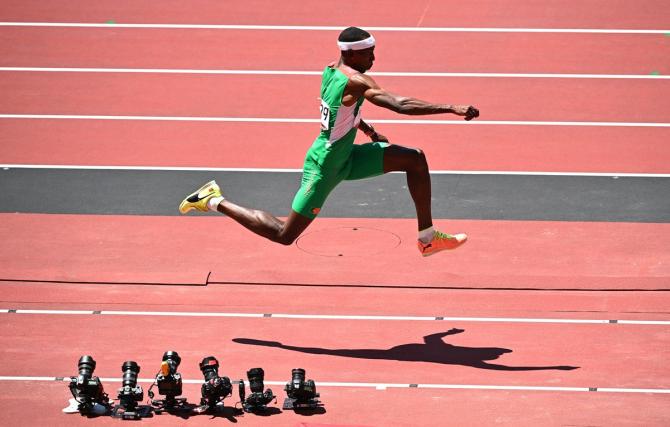 Portugal's Pedro Pichardo won gold in the men's triple jump at the Tokyo Games on Thursday with a leap of 17.98 metres, giving his country its fifth Olympic gold medal.
China's Zhu Yaming produced a personal best of 17.57 for silver and Hugues Fabrice Zango of Burkina Faso finished with bronze (17.47).
Pichardo took the lead with his first attempt of 17.61m and no other competitor could match it. He set the national record on his third jump.
American Will Claye, who finished second in London and Rio behind compatriot Christian Taylor, finished fourth. Taylor was unable to defend his title in Tokyo after suffering an Achilles injury in May.
Italy's Stano wins 20km race walk with late surge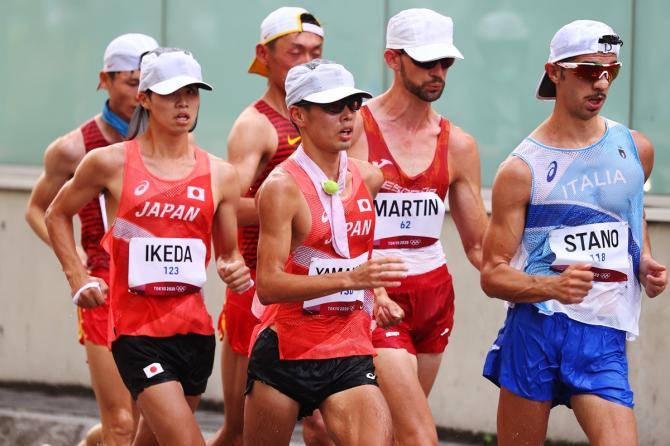 Italy's Massimo Stano won the Olympic men's 20km race walk on Thursday, pulling ahead of the pack in the final stages to claim his country's third gold medal in the event.
Japan's Koki Ikeda secured the silver medal and compatriot Toshikazu Yamanishi claimed bronze, the first Olympic medals for Japan in the 20km race walk.
Stano had never won a major international race so the fact the victory came on the world's biggest sporting stage made it all the sweeter for the 29-year-old.
"It's beautiful to cross the finish line first. In my life, in international races, never first. Fourth, third, sixth, never first. But in the best race, in the Olympic Games, I'm first. It's the best," he told reporters.
"It's unbelievable. I haven't woken up now, it's like a dream."
Stano made a thumb-sucking gesture on the winner's podium, in reference to his six-month-old daughter to whom he dedicated his victory.
He also exclaimed in Japanese as he crossed the finish line, "Watashi wa Olympic champion desu!" (I am Olympic champion), noting he had begun studying the language because of his love for Japanese anime.
Ikeda said he was spurred on to capture Japan's first medal in the event.
"The fact that this was in my own country was a big source of encouragement and I kept a sense of pride. I had pressure but this pressure worked well for me," he said.
World champion Yamanishi, however, came away disappointed that he had to settle for third.
"I was aiming for gold for myself and for Japan but I couldn't make it so it's very frustrating," Yamanishi said.
"Next time I want to win the gold medal."
Yamanishi was leading in the early going until China's Wang Kaihua took over through the 12km mark.
Stano moved to the front at the 16km stage, just ahead of Ikeda and Yamanishi, until he put distance between himself and his Japanese rivals to cross the line one hour, 21 minutes and five seconds, nine seconds ahead of Ikeda and 23 clear of Yamanishi.
Olympic organisers decided in 2019 to move the venue for the race walk and marathon events some 800 km north to Sapporo to escape Tokyo's summer heat, although the northern city has also been experiencing a heat wave.