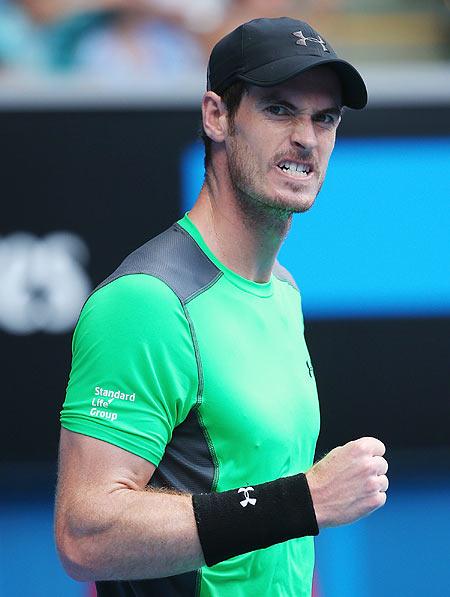 Andy Murray of Great Britain celebrates winning his second round match against Marinko Matosevic on Wednesday. Photograph: Quinn Rooney/Getty Images
Andy Murray trounced Marinko Matosevic 6-1, 6-3, 6-2 to reach the third round of the Australian Open on Wednesday but insisted there was no edge to the match after the Australian's criticism of his decision to hire Amelie Mauresmo as coach.
- Aus Open PHOTOS: Federer, Sharapova scrape to wins; Murray mauls Matosevic
The Briton's appointment of the French two-time grand slam winner was a surprise to many in the game, but Matosevic's response was slammed by pro-women's groups.
The 81st-ranked Matosevic said in June last year: "I couldn't do it because I don't think that highly of the women's game ... It's all equal rights these days, politically correct. Someone's got to give it a go, but it won't be me."
A merciless Murray wrapped up the match at Margaret Court Arena in a quick-fire 102 minutes, needing only 21 to seal the first set in which his opponent won only eight points.
Asked if he had proved a point against the Australian, Murray told reporters: "No. I get on well with Marinko. I spoke to him a little bit about what he said.
"He didn't mean any harm. Everyone's entitled to their opinion on anything.
"If he wants to get coached by a man, that's absolutely fine. I have absolutely no issue with it at all. I still think he's a good guy.
"I get on well with him. I wasn't trying to prove a point at all when I was playing Marinko today. I was trying to win the match."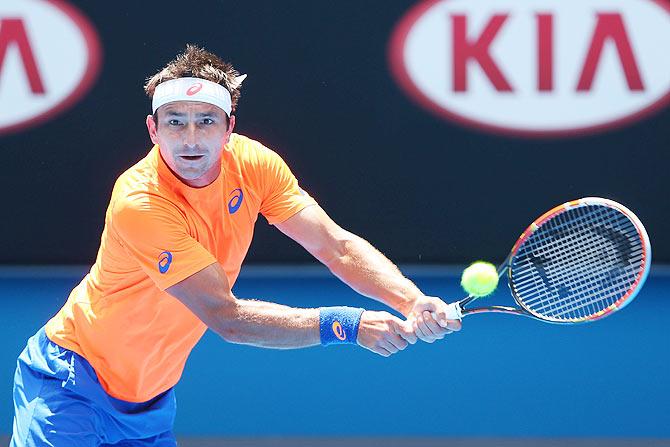 Marinko Matosevic of Australia plays a backhand in his second round match against Andy Murray of Great Britain. Photograph: Quinn Rooney/Getty Images
Showcasing a sound defence, Murray was broken only once in the second set and was pleased to get off court quickly with temperatures rising above 32 degrees Celsius (90F).
The Scot will next play Portugal's Joao Sousa before a possible fourth round showdown with Russian Grigor Dimitrov.
With Australian media trumpeting after 10 local players made it past the first round across the men's and women's draws, the best result in years, Murray deflated the bubble a little bit in improving his unbeaten record against Australians to 10-0.
"I love Aussies, I get on well with a lot of the players from Australia," said Murray, playing to the crowd and noting the excitement around young Australian tyros Nick Kyrgios and Thanasi Kokkinakis.
"I'm not sure I'll be able to keep that record for much longer."